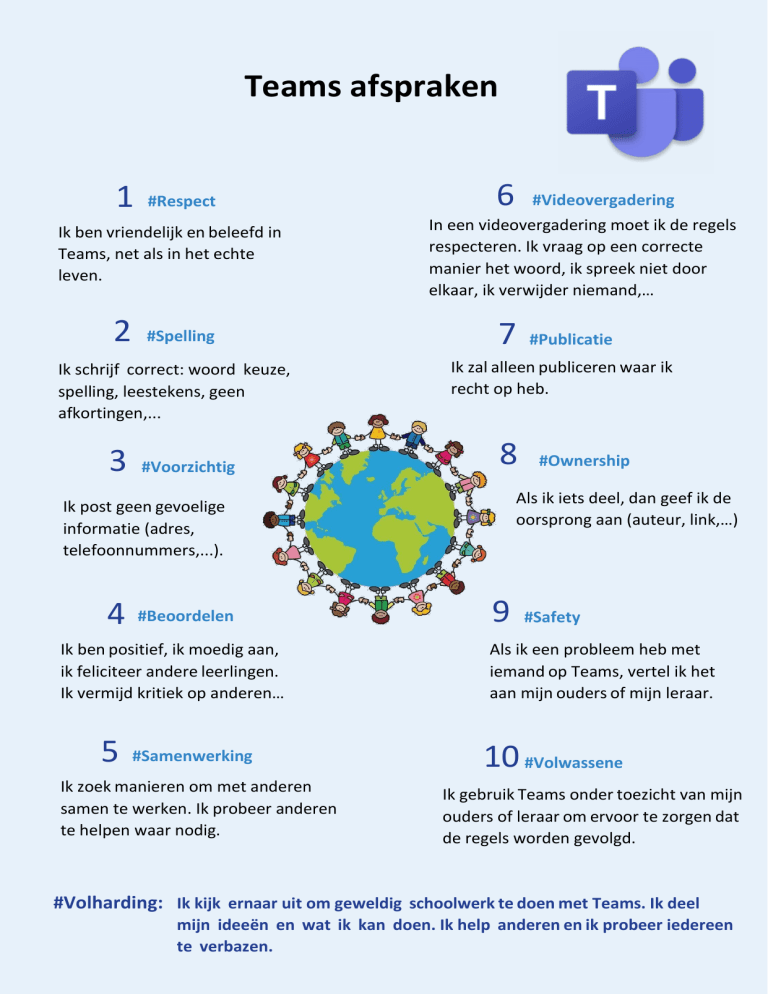 Teams afspraken
1
#Respect
Ik ben vriendelijk en beleefd in
Teams, net als in het echte
leven.
2
#Spelling
Ik schrijf correct: woord keuze,
spelling, leestekens, geen
afkortingen,...
3
#Voorzichtig
6
In een videovergadering moet ik de regels
respecteren. Ik vraag op een correcte
manier het woord, ik spreek niet door
elkaar, ik verwijder niemand,…
7
#Beoordelen
Ik ben positief, ik moedig aan,
ik feliciteer andere leerlingen.
Ik vermijd kritiek op anderen…
5
#Samenwerking
Ik zoek manieren om met anderen
samen te werken. Ik probeer anderen
te helpen waar nodig.
#Publicatie
Ik zal alleen publiceren waar ik
recht op heb.
8
#Ownership
Als ik iets deel, dan geef ik de
oorsprong aan (auteur, link,…)
Ik post geen gevoelige
informatie (adres,
telefoonnummers,...).
4
#Videovergadering
9
#Safety
Als ik een probleem heb met
iemand op Teams, vertel ik het
aan mijn ouders of mijn leraar.
10 #Volwassene
n
Ik gebruik Teams onder toezicht van mijn
ouders of leraar om ervoor te zorgen dat
de regels worden gevolgd.
#Volharding: Ik kijk ernaar uit om geweldig schoolwerk te doen met Teams. Ik deel
mijn ideeën en wat ik kan doen. Ik help anderen en ik probeer iedereen
te verbazen.