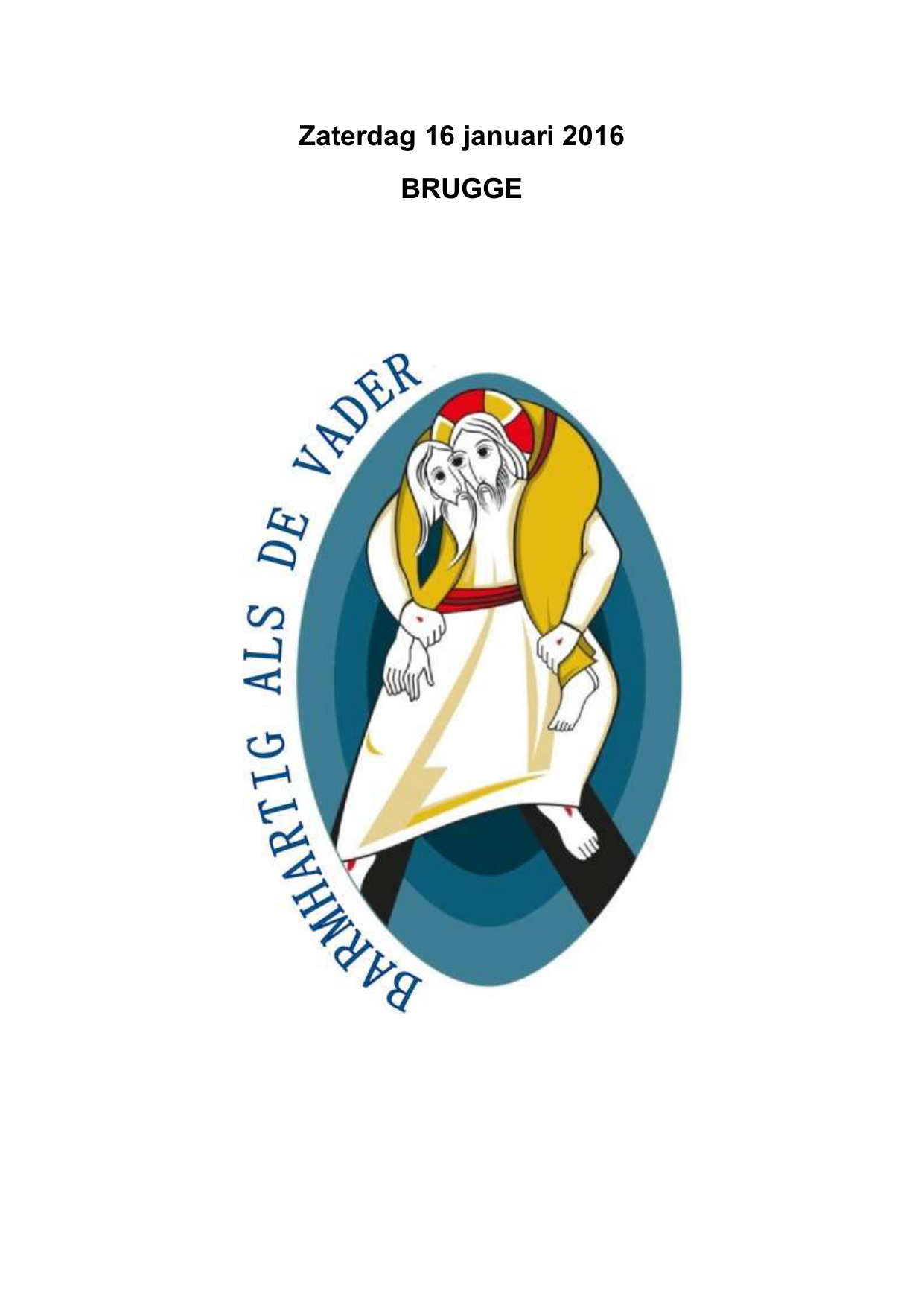 Zaterdag 16 januari 2016
BRUGGE
Verloop van de viering
Intredelied
P28 Laudate si
Welkom en Openingswoord
Moment van inkeer
Lied
P6
Neem mij aan zoals ik ben
Openingsgebed
Lied voor evangelie G8
Alleluia (Theresia)
Evangelie (Lucas 3,1-6)
Lied na evangelie
J6
Amor
Homilie
Voorbeden: tussen de voorbeden wordt in stilte een kaars ontstoken
Lied bij de voorbeden
M8
El Senyor
Ophalen ciborie
Inleiding op het Onze Vader
Vredeswens
Vredeslied
P6
Ik wens je vrede van God
Inleiding op communie
Lied
J4
Day by day
Of (af te spreken met de voorganger)
Jesus Christ bread of life
Jesus Christ, bread of life
Those who come to you will not hunger
Jesus Christ, Risen Lord
those who trust in you will not thirst
Jezus Christus Levend Brood.
Wie naar Jou toe komt kent nooit meer honger.
Jezus Christus, verrezen Heer,
wie op Jou vertrouwt heeft nooit meer dorst
Communie
Lied
J1
Als je gelooft
Slotgebed
Slotlied
P15 Als de vreugde van de Heer je hart vult
In de Heer vind ik heel mijn sterkte
In mijn God de vreugdezang
Gij die mijn bevrijding bewerkt,
op U vertrouw ik en 'k ken geen angst
Op U vertrouw ik en 'k ken geen angst
In the Lord I'll be ever thankfull,
In the Lord I will rejoice!
Look to God, do not be afraid.
Lift up your voices: the Lord is near.
Lift up your voices: the Lord is near.