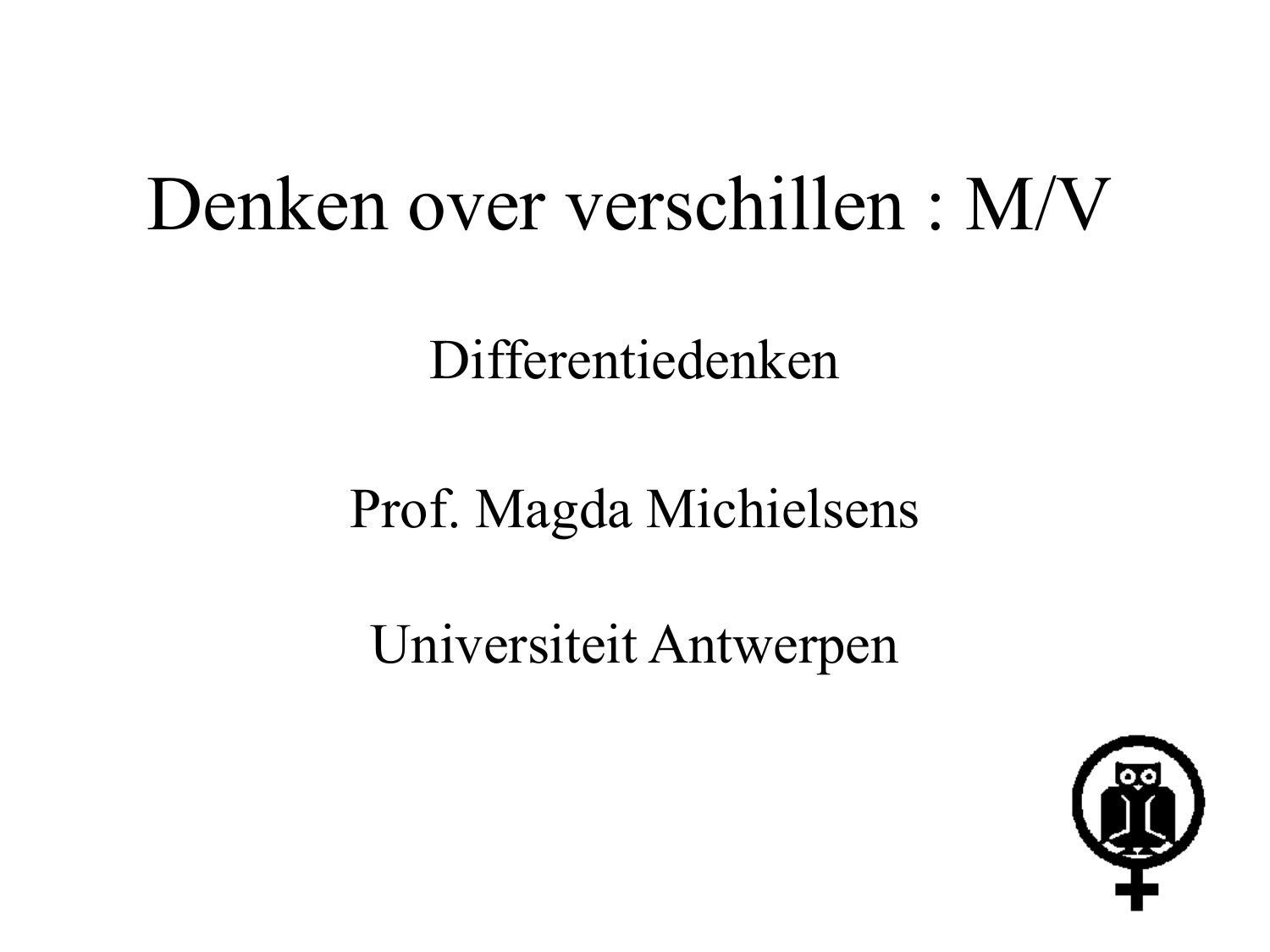 Denken over verschillen : M/V
Differentiedenken
Prof. Magda Michielsens
Universiteit Antwerpen
M/V
• Androcentrisme
• Androgynie
• Gelijkheid
– Evenwaardig
– Gelijke rechten
• Differentie
– Evenwaardig
– Gelijke rechten
– Bewust verschillend – différer (Derrida)
Gelijkheid/ Verschil: sleutelvraag
in genderstudies
• Zwaarte van de gelijkheid/verschil-discussie
• Implicaties van de discussie
• Voorbeelden
Simone de Beauvoir
http://www.vrouwenstudies.be/DeBeauvoir/
Soorten verschil-denken
• Franse filosofie: Luce Irigaray, Hélène
Cixous, Julia Kristeva
• Amerikaanse sociale wetenschapsters:
Carol Gilligan, Nancy Chodorov
• Pragmatici
Luce Irigaray
•
•
•
•
Belgische
Geboortejaar ? 1932 ?
Psycho-analytica
Lacan
Sprekende titels
• Ce sexe qui n'en est pas un
• Parler n'est jamais neutre
• L'une ne bouge pas sans l'autre
'een vrouwelijke'
•
•
•
•
•
•
Lichaam  Essentialisme ?
Taal Symbolische orde ?
Fallische markering
(Mondige) hysterie
Ecriture féminine
Mimesis
Citaat 1
"Zij is in haarzelf ondefinieerbaar
en oneindig anders.
Ongetwijfeld is dit de reden dat men
haar wispelturig, ondoorgrondelijk,
rusteloos en grillig noemt..."
Irigaray, Luce, Dit geslacht dat niet (één) is,
1981:23
Citaat 2
Jouer de la mimésis, c'est donc, pour une
femme, tenter de retrouver le lieu de son
exploitation par le discours, sans s'y laisser
simplement réduire. C'est se resoumettre [...]
à des 'idées', notamment d'elle, élaborées
dans/par une logique masculine, mais pour
faire 'apparaître', par un effet de répétition
ludique, ce qui devait rester occulté: le
recouvrement d'une possible opération du
féminin dans le langage. (uit: Irigaray, Luce,
Ce sexe qui n'en est pas un, Paris: Minuit,
1977:74)
Citaat 3
"Vrouwen zijn door hun vaders, broers,
minnaars, pooiers fallisch gemarkeerd."
– Cfr. the angel of the house Virginia Woolf
– Cfr. de Ander van Simone de Beauvoir
– Cfr. meisjes proberen niet het vraagstuk op te
lossen maar de meester
Epistemologisch
• "is daar iemand"
• niet uitgesloten derde
• verschillen laten bestaan = einde van de
kracht van de cognitieve dissonantie
(Festinger)
• Le sujet de la science sera toujours été
masculien (voltooid verleden toekomende
tijd)
Judy Chicago
Commentaar
The Crowning images the moment the baby's head first appears during the
birth process. In Chicago's conception, she has transformed that
moment into one of spiritual and philosophical significance. The
woman turns her head downward to look at and learn from her own
processes. Her action makes The Crowning a potential metaphor for
any creative moment in a woman's life. The Crowning image is also a
marriage of a number of forms and symbols, each meant to add
meaning to the reading of the whole. This woman is part male; a penile
form extends between the woman's breasts. Her position, arms holding
legs open, creates a lepidopteran outline. Her body interior contains the
suggestion of plant pistils and stamens. Her hair becomes energy,
streaming to form an alternating pattern of light and dark lines.
Postmodern
einde van het sterke subject
• Winst
• Verlies
• Post post post
Carol Gilligan
• Medewerkster van Kohlberg
• Cognitieve morele ontwikkelingstheorie:
moreel redeneren
• Ethics of Care i.p.v. Ethics of principle
 opwaarderen van vrouwelijkheid
Nancy Chodorov
• Amerikaanse Freudiaanse psycho-analytica
• Waarom vrouwen moederen ?
'zwakke ego-grenzen'
 opwaarderen van vrouwelijkheid
• Vrouwenlijke waarden ipv vrouwelijke
zwaktes
• Cfr. Margarethe Mitscherlich :
'de toekomst zal vrouwelijk zijn of niet'
FEMINISMEN
aanklagen
dat het er
niet is
androgynie
gelijkheid
verschil
er voor
vechten
gewoon
doen
vieren
Vragen
• Welke gelijkheid maakt een verschil ?
• Acceptatie van welk verschil maakt
gelijker ?