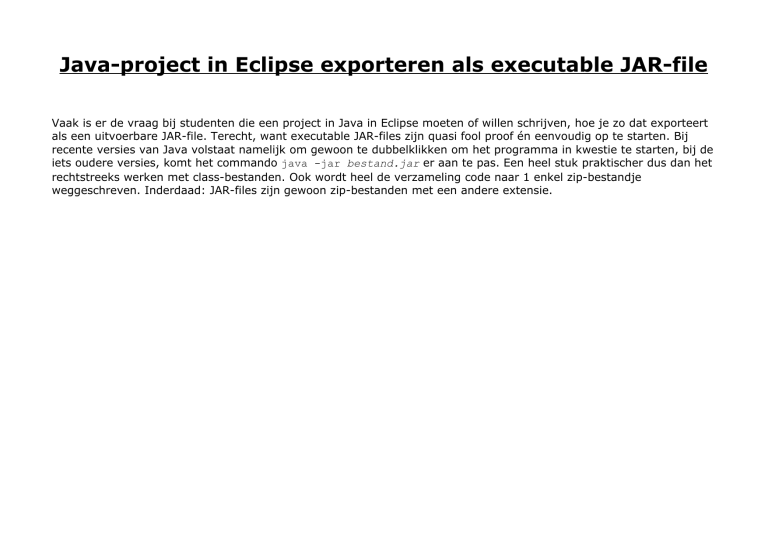 Java-project in Eclipse exporteren als executable JAR-file
Vaak is er de vraag bij studenten die een project in Java in Eclipse moeten of willen schrijven, hoe je zo dat exporteert
als een uitvoerbare JAR-file. Terecht, want executable JAR-files zijn quasi fool proof én eenvoudig op te starten. Bij
recente versies van Java volstaat namelijk om gewoon te dubbelklikken om het programma in kwestie te starten, bij de
iets oudere versies, komt het commando java -jar bestand.jar er aan te pas. Een heel stuk praktischer dus dan het
rechtstreeks werken met class-bestanden. Ook wordt heel de verzameling code naar 1 enkel zip-bestandje
weggeschreven. Inderdaad: JAR-files zijn gewoon zip-bestanden met een andere extensie.
1. Ga naar File -> Export.
2. Op het venster dat vervolgens verschijnt, selecteer je
in de Java-map "Jar file". Ga vervolgens door (knop
"Next").
3. Selecteer je project en deselecteer dan de bestanden
".classpath" en ".project", aangezien die specifiek zijn
voor Eclipse en niet voor Java. Daaronder staan een
paar opties:
● Export generated class files and resources
● Export java source files and resources
De eerste opties dient alleszins aangevinkt te zijn.
Als het een project is waarvan de labobegeleider je
code dient te bekijken, dan is het allicht wenselijk om
optie 2 ook aan te vinken.
Je kiest dan de naam en de lokatie voor je JARbestand. Compressie is een handige feature en die
zal je wellicht ook willen aanvinken.
4. Indien er klassen zijn die compileerfouten of
-waarschuwingen geven, maar eigenlijk correct
functioneren, vink dan de eerste twee opties aan die
in de afbeelding links getoond worden.
5. Neem de zaken over zoals ze in de afbeelding
hiernaast staan. Kies nu de "main"-klasse door te
klikken op "Browse..." in de laatste optie.
6. Kies je hoofdklasse en bevestig.
7. Links het resultaat. Eindig met Finish en probeer je
JAR-file uit.