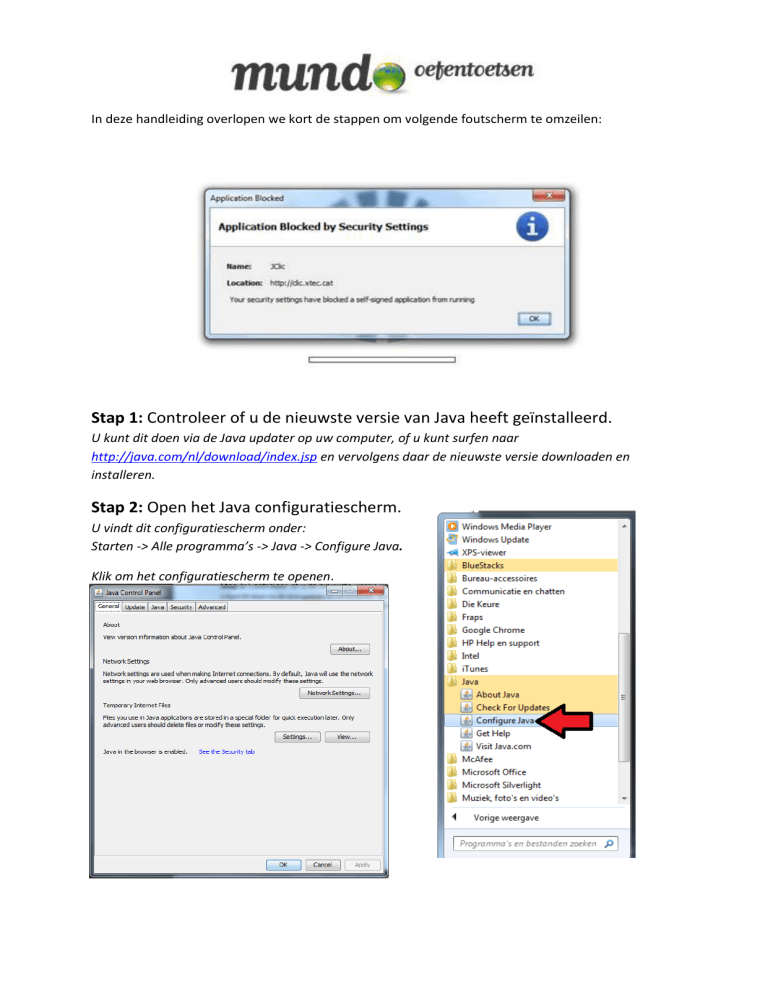 In deze handleiding overlopen we kort de stappen om volgende foutscherm te omzeilen:
Stap 1: Controleer of u de nieuwste versie van Java heeft geïnstalleerd.
U kunt dit doen via de Java updater op uw computer, of u kunt surfen naar
http://java.com/nl/download/index.jsp en vervolgens daar de nieuwste versie downloaden en
installeren.
Stap 2: Open het Java configuratiescherm.
U vindt dit configuratiescherm onder:
Starten -> Alle programma's -> Java -> Configure Java.
Klik om het configuratiescherm te openen.
Stap 3: Stel uw security level in op medium.
Ga naar het tabblad security.
Klik en sleep het pijltje van High naar Medium. Klik daarna op OK.
Stap 4: Ga opnieuw naar de oefentoetsen en start een oefentoets naar keuze.
Eens u de gekozen oefentoets opent, krijgt u een nieuw scherm te zien. Klik op het vinkje en kies
daarna voor Run. Vervolgens kunt u aan de slag met de oefentoets.
Opgelet!
Deze laatste stap zal u moeten herhalen telkens u een oefentoets opstart.