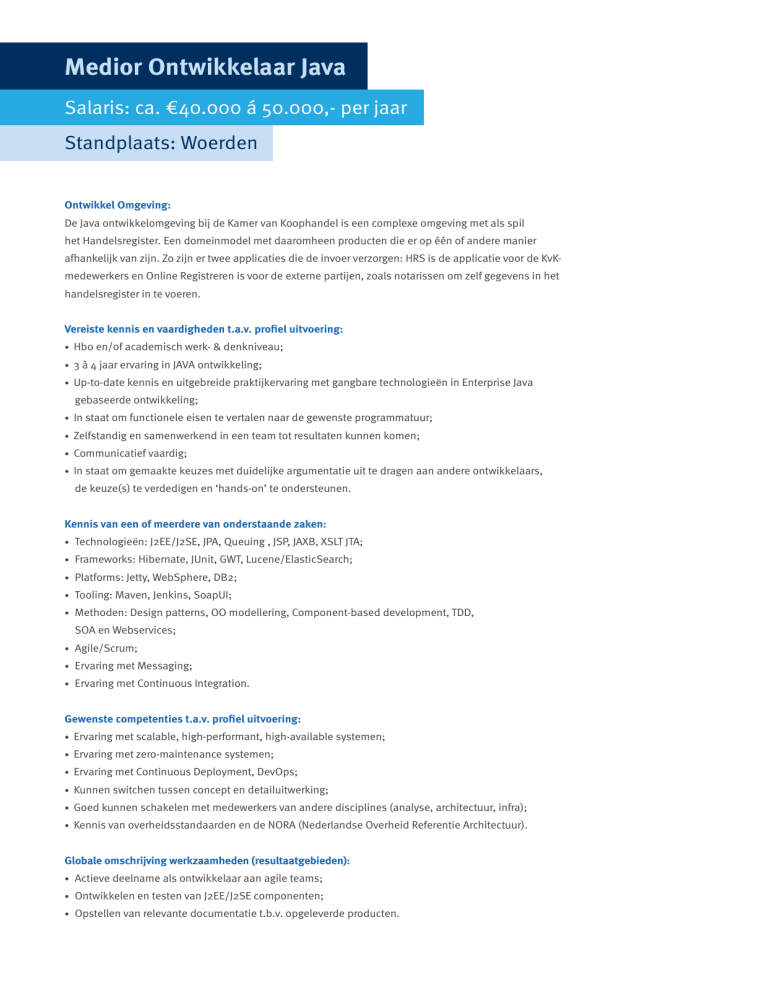 Medior Ontwikkelaar Java
Salaris: ca. €40.000 á 50.000,- per jaar
Standplaats: Woerden
Ontwikkel Omgeving:
De Java ontwikkelomgeving bij de Kamer van Koophandel is een complexe omgeving met als spil
het Handelsregister. Een domeinmodel met daaromheen producten die er op één of andere manier
afhankelijk van zijn. Zo zijn er twee applicaties die de invoer verzorgen: HRS is de applicatie voor de KvKmedewerkers en Online Registreren is voor de externe partijen, zoals notarissen om zelf gegevens in het
handelsregister in te voeren.
Vereiste kennis en vaardigheden t.a.v. profiel uitvoering:
•
Hbo en/of academisch werk- & denkniveau;
•
3 à 4 jaar ervaring in JAVA ontwikkeling;
•
Up-to-date kennis en uitgebreide praktijkervaring met gangbare technologieën in Enterprise Java
gebaseerde ontwikkeling;
•
In staat om functionele eisen te vertalen naar de gewenste programmatuur;
•
Zelfstandig en samenwerkend in een team tot resultaten kunnen komen;
•
Communicatief vaardig;
•
In staat om gemaakte keuzes met duidelijke argumentatie uit te dragen aan andere ontwikkelaars,
de keuze(s) te verdedigen en 'hands-on' te ondersteunen.
Kennis van een of meerdere van onderstaande zaken:
•
Technologieën: J2EE/J2SE, JPA, Queuing , JSP, JAXB, XSLT JTA;
•
Frameworks: Hibernate, JUnit, GWT, Lucene/ElasticSearch;
•
Platforms: Jetty, WebSphere, DB2;
•
Tooling: Maven, Jenkins, SoapUI;
•
Methoden: Design patterns, OO modellering, Component-based development, TDD,
SOA en Webservices;
•
Agile/Scrum;
•
Ervaring met Messaging;
•
Ervaring met Continuous Integration.
Gewenste competenties t.a.v. profiel uitvoering:
•
Ervaring met scalable, high-performant, high-available systemen;
•
Ervaring met zero-maintenance systemen;
•
Ervaring met Continuous Deployment, DevOps;
•
Kunnen switchen tussen concept en detailuitwerking;
•
Goed kunnen schakelen met medewerkers van andere disciplines (analyse, architectuur, infra);
•
Kennis van overheidsstandaarden en de NORA (Nederlandse Overheid Referentie Architectuur).
Globale omschrijving werkzaamheden (resultaatgebieden):
• Actieve deelname als ontwikkelaar aan agile teams;
• Ontwikkelen en testen van J2EE/J2SE componenten;
• Opstellen van relevante documentatie t.b.v. opgeleverde producten.