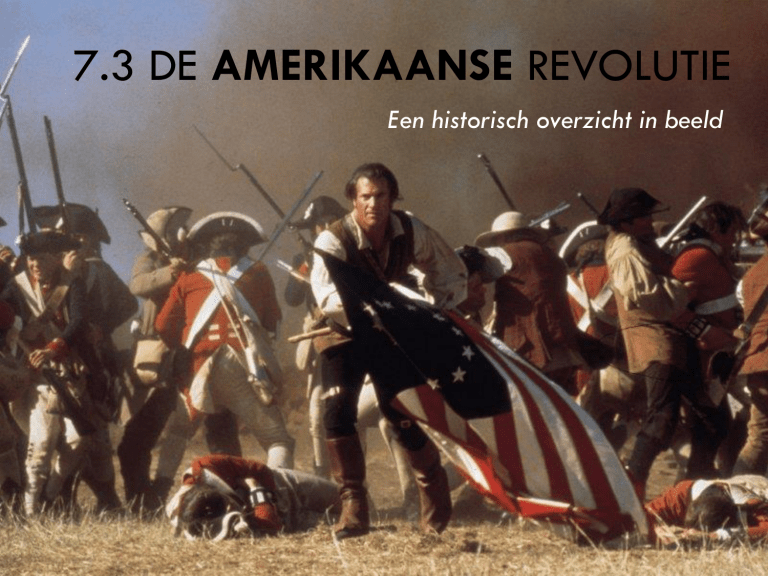 7.3 DE AMERIKAANSE REVOLUTIE
Een historisch overzicht in beeld
13 Britse staten in Noordwest-Amerika, 1763
Overzicht van de koloniale bezittingen van Groot-Brittannië aan de oostkust van
Noord-Amerika.
"Geen belastingverhoging zonder vertegenwoordiging"
Reactie van de kolonisten op de belastingverhoging van King George III in 1764.
The Boston Tea Party, 1773
De Boston Tea Party was een protest van Amerikaanse kolonisten tegen de Britse
overheid op 16 december 1773. Kisten thee, geïmporteerd door de Britse East
India Trading Company, werden in de haven van Boston gegooid om te protesten
tegen de torenhoge invoerrechten.
Spotprent op de Boston Port Bill (1774)
Als gevolg van de Tea Party werd de haven van Boston gesloten op bevel van het
Britse bewind, ondanks protesten en petities van de Amerikaanse bevolking.
Founding Fathers
Grondleggers van de onafhankelijkheid en het bestuur van de Verenigde Staten:
Benjamin Franklin
George Washington
Thomas Jefferson
'Join or Die', politieke cartoon van Benjamin Franklin
1775
De acht delen van de slang vertegenwoordigen de 8 Amerikaanse
staten - South Carolina, North Carolina, Virginia, Massachucets,
Pennsylvania, New Jersey, New York, en New England – die tegen de
Britten in opstand kwamen. NB New Engeland was een samenvoeging
van 6 oorspronkelijke staten.
De Declaration of Independence, 1776
De Amerikaanse onafhankelijkheidsverklaring, opgesteld door o.a. de Founding Fathers
Thomas Jefferson en Benjamin Franklin. De verklaring was sterk geïnspireerd door de
ideeën van de Verlichting, getuige de zin: […] All Men are created equal, they are
endowed by their Creator with certain unalienable Rights, that among these are Life,
Liberty, and the pursuit of Happiness.
Yorktown, 1783
Met steun van de Fransen verslaan de Amerikaanse troepen het Engelse leger bij
Yorktown.
Vrede van Parijs, 1783
In Parijs ondertekenen vertegenwoordigers uit Frankrijk en Engeland en een
Amerikaanse delegatie o.l.v. Benjamin Franklin een vredesverdrag waarin GrootBrittannië de Amerikaanse onafhankelijkheid erkend.
De Amerikaanse grondwet, 1787
Eerste geschreven grondwet ter wereld. Bevatte o.a. de machtenscheiding á la
Montesquieu: President – Congres – Hooggerechtshof.
Later werd de Bill of Rights toegevoegd, waarin de klassieke grondrechten zijn
opgenomen – vrijheid van godsdienst, vergadering, meningsuiting, etc.
Dollar heads:
Wie is wie?