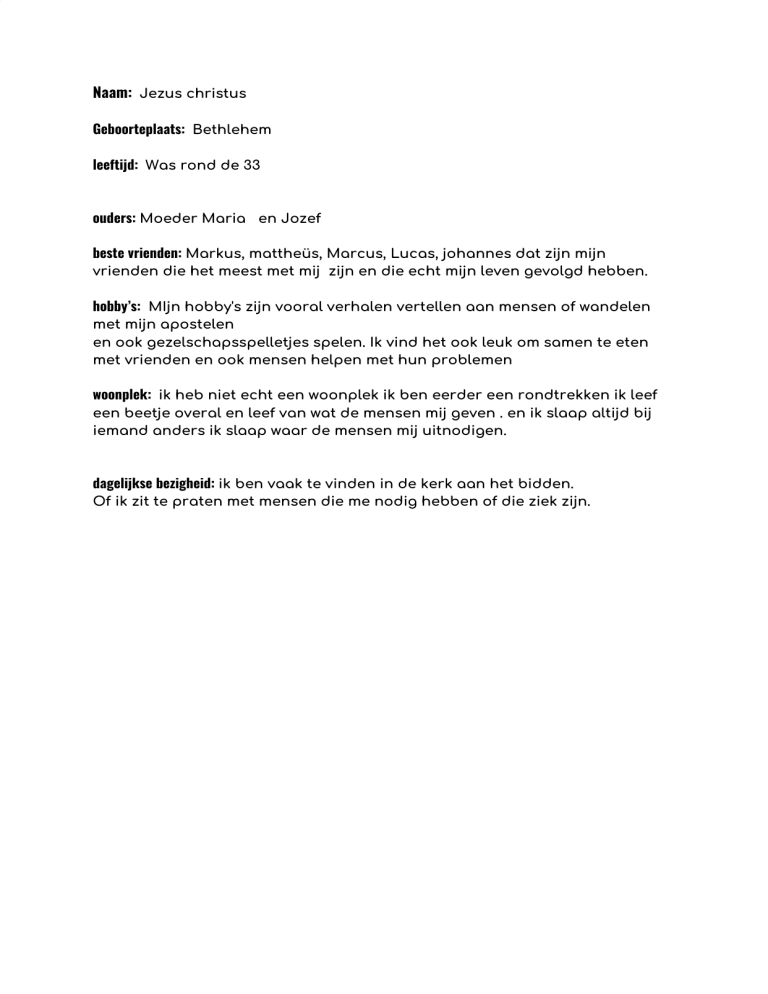 Naam:​ ​Jezus christus
Geboorteplaats: ​Bethlehem
leeftijd: ​Was rond de 33
ouders: ​Moeder Maria en Jozef
beste vrienden: ​Markus, mattheüs, Marcus, Lucas, johannes dat zijn mijn
vrienden die het meest met mij zijn en die echt mijn leven gevolgd hebben.
hobby's: ​ MIjn hobby's zijn vooral verhalen vertellen aan mensen of wandelen
met mijn apostelen
en ook gezelschapsspelletjes spelen. Ik vind het ook leuk om samen te eten
met vrienden en ook mensen helpen met hun problemen
woonplek: ​ik heb niet echt een woonplek ik ben eerder een rondtrekken ik leef
een beetje overal en leef van wat de mensen mij geven . en ik slaap altijd bij
iemand anders ik slaap waar de mensen mij uitnodigen.
dagelijkse bezigheid: ​ik ben vaak te vinden in de kerk aan het bidden.
Of ik zit te praten met mensen die me nodig hebben of die ziek zijn.