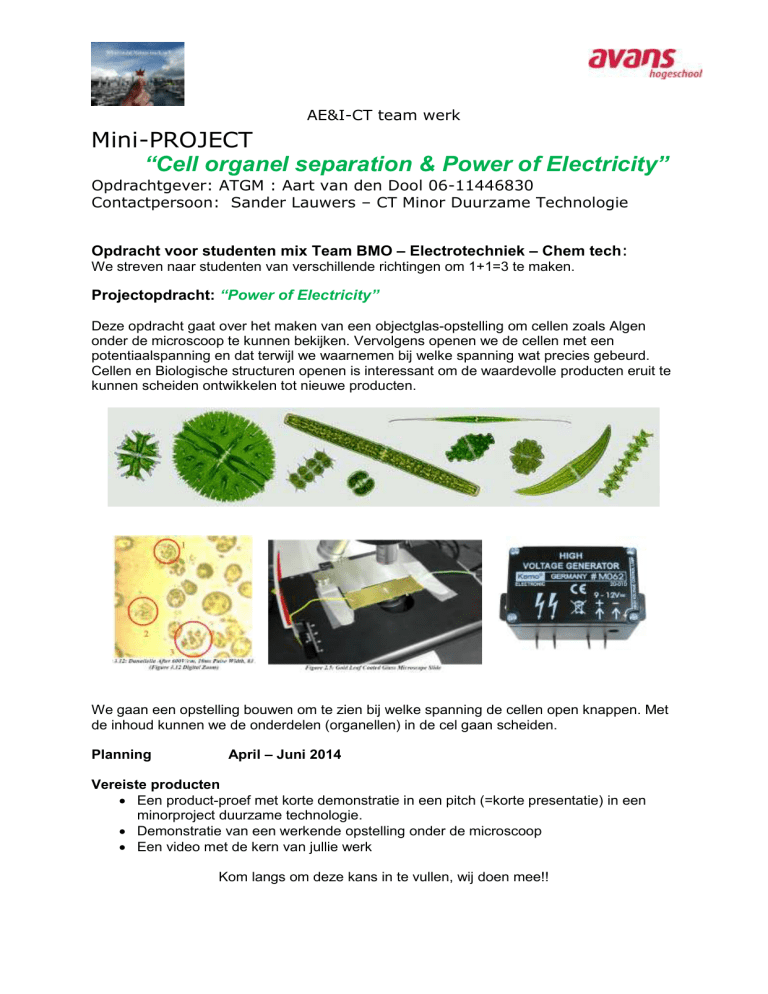 AE&I-CT team werk
Mini-PROJECT
"Cell organel separation & Power of Electricity"
Opdrachtgever: ATGM : Aart van den Dool 06-11446830
Contactpersoon: Sander Lauwers – CT Minor Duurzame Technologie
Opdracht voor studenten mix Team BMO – Electrotechniek – Chem tech:
We streven naar studenten van verschillende richtingen om 1+1=3 te maken.
Projectopdracht: "Power of Electricity"
Deze opdracht gaat over het maken van een objectglas-opstelling om cellen zoals Algen
onder de microscoop te kunnen bekijken. Vervolgens openen we de cellen met een
potentiaalspanning en dat terwijl we waarnemen bij welke spanning wat precies gebeurd.
Cellen en Biologische structuren openen is interessant om de waardevolle producten eruit te
kunnen scheiden ontwikkelen tot nieuwe producten.
We gaan een opstelling bouwen om te zien bij welke spanning de cellen open knappen. Met
de inhoud kunnen we de onderdelen (organellen) in de cel gaan scheiden.
Planning
April – Juni 2014
Vereiste producten
 Een product-proef met korte demonstratie in een pitch (=korte presentatie) in een
minorproject duurzame technologie.
 Demonstratie van een werkende opstelling onder de microscoop
 Een video met de kern van jullie werk
Kom langs om deze kans in te vullen, wij doen mee!!