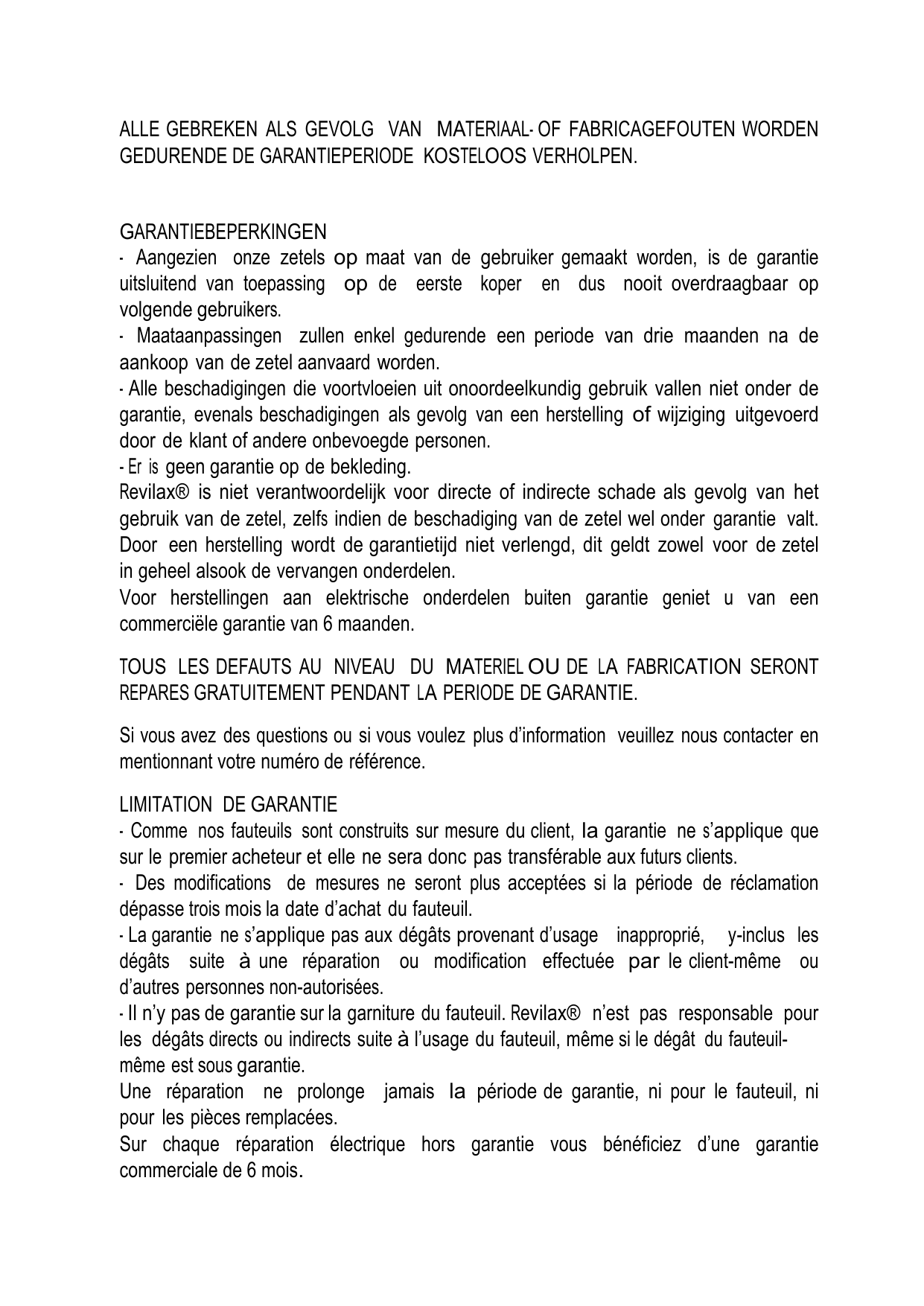 ALLE GEBREKEN ALS GEVOLG VAN MATERIAAL- OF FABRICAGEFOUTEN WORDEN
GEDURENDE DE GARANTIEPERIODE KOSTELOOS VERHOLPEN.
GARANTIEBEPERKINGEN
- Aangezien onze zetels op maat van de gebruiker gemaakt worden, is de garantie
uitsluitend van toepassing op de eerste koper en dus nooit overdraagbaar op
volgende gebruikers.
- Maataanpassingen zullen enkel gedurende een periode van drie maanden na de
aankoop van de zetel aanvaard worden.
- Alle beschadigingen die voortvloeien uit onoordeelkundig gebruik vallen niet onder de
garantie, evenals beschadigingen als gevolg van een herstelling of wijziging uitgevoerd
door de klant of andere onbevoegde personen.
- Er is geen garantie op de bekleding.
Revilax® is niet verantwoordelijk voor directe of indirecte schade als gevolg van het
gebruik van de zetel, zelfs indien de beschadiging van de zetel wel onder garantie valt.
Door een herstelling wordt de garantietijd niet verlengd, dit geldt zowel voor de zetel
in geheel alsook de vervangen onderdelen.
Voor herstellingen aan elektrische onderdelen buiten garantie geniet u van een
commerciële garantie van 6 maanden.
TOUS LES DEFAUTS AU NIVEAU DU MATERIEL OU DE LA FABRICATION SERONT
REPARES GRATUITEMENT PENDANT LA PERIODE DE GARANTIE.
Si vous avez des questions ou si vous voulez plus d'information veuillez nous contacter en
mentionnant votre numéro de référence.
LIMITATION DE GARANTIE
- Comme nos fauteuils sont construits sur mesure du client, la garantie ne s'applique que
sur le premier acheteur et elle ne sera donc pas transférable aux futurs clients.
- Des modifications de mesures ne seront plus acceptées si la période de réclamation
dépasse trois mois la date d'achat du fauteuil.
- La garantie ne s'applique pas aux dégâts provenant d'usage inapproprié, y-inclus les
dégâts suite à une réparation ou modification effectuée par le client-même ou
d'autres personnes non-autorisées.
- Il n'y pas de garantie sur la garniture du fauteuil. Revilax® n'est pas responsable pour
les dégâts directs ou indirects suite à l'usage du fauteuil, même si le dégât du fauteuilmême est sous garantie.
Une réparation ne prolonge jamais la période de garantie, ni pour le fauteuil, ni
pour les pièces remplacées.
Sur chaque réparation électrique hors garantie vous bénéficiez d'une garantie
commerciale de 6 mois.
ALLE SACHMÄNGEL DURCH MATERIAL ODER FABRIKATIONSFEHLER WERDEN
WÄHREND DER GARANTIEZEIT KOSTENLOS BEHOBEN.
Für Fragen oder Beratung kontaktieren Sie uns bitte unter der folgenden Telefonnummer
mit Angabe Ihrer Referenznummer.
GEWÄHRLEISTUNGSBESCHRÄNKUNGEN
- Da unsere Sessel für den Anwender maßgeschneidert werden gilt die Garantie nur für den
Erstkäufer, diese ist nicht übertragbar auf folge Nutzer.
- Größenanpassungen werden nur für einen Zeitraum von drei Monaten nach Kauf des
Sessels akzeptiert.
- Alle entstandenen Schäden durch unsachgemäßen Gebrauch fallen nicht unter die
Garantie, sowohl Schäden die durch eine Änderung oder Reparatur welche durch den
Kunden oder andere unbefugte Personen ausgeführt wurden.
- Kein Garantieanspruch auf die Polsterung.
Revilax ® ist nicht verantwortlich für direkte oder indirekte Schäden in Folge der
Nutzung des Sessels, selbst wenn der Schaden am Sessel dann unter Garantie behoben
wird. Durch eine Reparatur wird die Garantiezeit nicht verlängert, dies gilt für den Sessel
als Ganzes und deren ersetzten Teile.
Auf jeder elektrische Reparatur ohne Garantieanspruch gilt eine Garantie von 6 Monate.
ALL TECHNICAL DEFECTS OWING TO MANUFACTURING OR MATERIAL DEFECTS WILL
BE REPAIRED FREE OF CHARGE DURING THE WARRANTY PERIOD.
GUARANTEE LIMITATIONS
- Since our chairs are tailor made, the guarantee only covers the first
buyer and can never be transferred to future users.
- Measurement modifications will only be accepted during a limited
period of three month after the purchase.
- All damage caused by incompetent use is not covered by this
guarantee, as well as damage caused by repair or modification by
the customer or other unauthorised persons.
- The upholstery is not guaranteed.
Revilax® cannot be held responsible for direct or indirect damage as a result of the
operation of the chair, even if the damage itself is covered by this guarantee. Any
repair will not extend the warranty period, this covers the chair itself
as well as the replaced parts.
For all repairs of electrical parts after the warranty period Revilax® offers you a
commercial guarantee of 6 months.