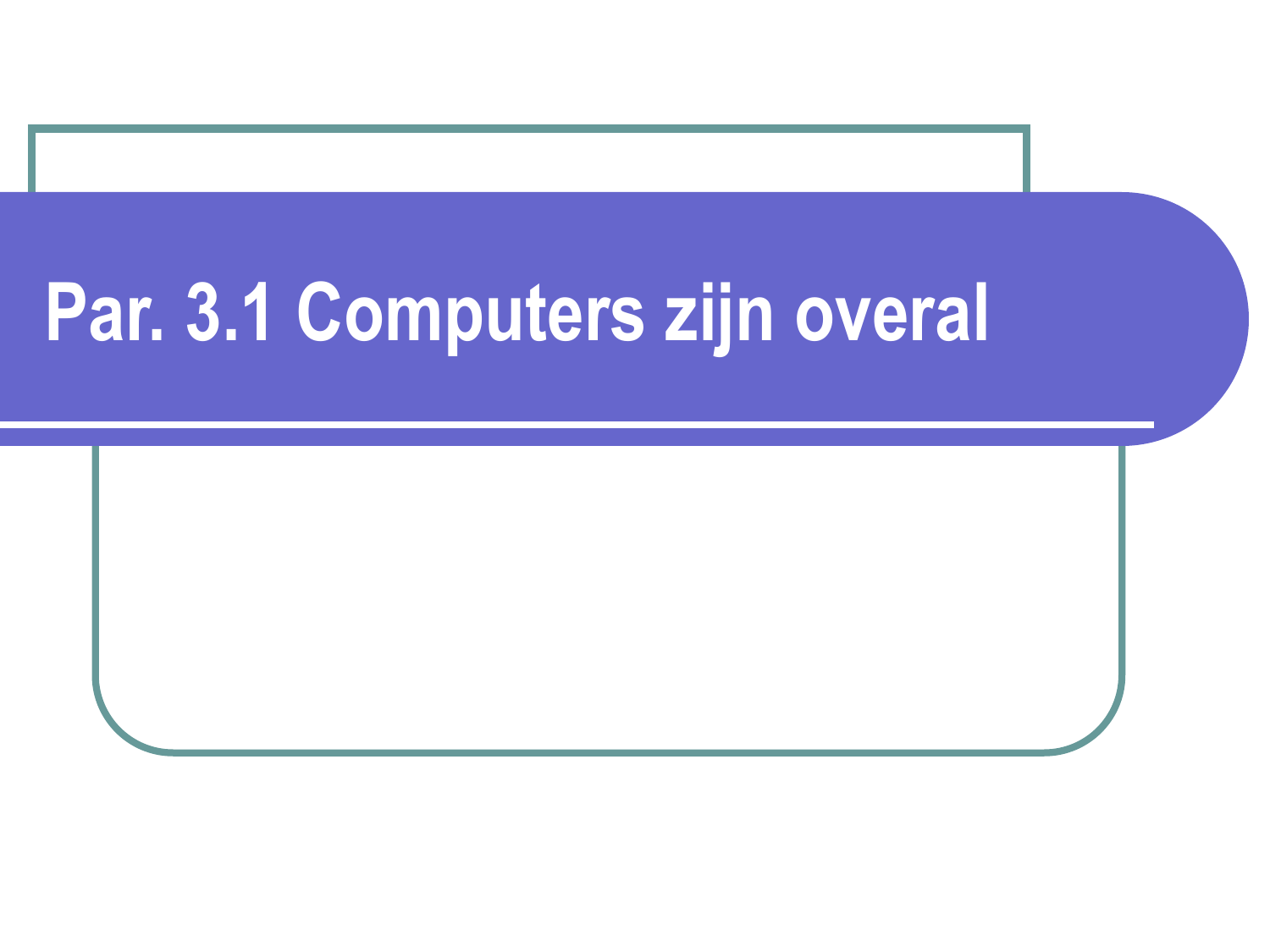 Par. 3.1 Computers zijn overal
3.1 Embedded systems

In heel veel apparaten zit
een chip ingebouwd






CV
Magnetron
Wasmachines
Fototoestellen
Mobiele telefoon
Enz.
3.1 Drie belangrijke onderdelen PC

Processor (CPU of CVE)
 Geheugen
 Verbindingen (naar buiten
voor lezen of aansturing)
Schematische opbouw computersysteem
Input/output:
voor
communicatie
met de
buitenwereld
Schematische opbouw computersysteem
A. Processor
processor
B. Geheugen
C. I/O
H. I/O
Par. 3.2 De processor
De processor: hart van de computer
• CPU - Central Processing Unit
• CVE - Centrale VerwerkingsEenheid
De CPU is de component die de programma's
uitvoert.
Daarvoor haalt de processor via de bus instructies
op (bijv. optellen) en voert die uit.
Computersystemen: processor
Address Bus
Processor
Control Unit
AMD
Athlon
CU
R1
R2
Arithmetic and
Logical Unit
R3
R4
ALU
R5
R6
R7
R8
Data bus
Registers
Von Neumann
basismodel
Opbouw processor
ALU
databus
adresbus
REGISTERS
CONTROL UNIT
controlebus
• ALU - Aritmetic and Logic Unit
voert de rekenkundige en logische bewerkingen uit.
• Registers
functioneren als een tijdelijk geheugen (kladblok) waar data kan
worden opgeslagen zodat de ALU die kan bewerken.
• Control Unit
gebruikt de ALU en de registers om de stroom instructies die
over de bus gaan uit te voeren.
Computersystemen: processor
Processor
Instruction
Pointer
CU
010
010
02
010 010
010
010
010 010
02
02
02
Register AX
1
ALU
MOV AX,0
Decode Unit
MOV AX,0
MOV AX,0
Execute Unit
MOV AX,0MOV AX,0
1
MOV AX,0
MOV AX,0
MOV AX,1
R1
0100
ADD AX,7
R2
0102
R3
R4
R5
R6
R7
R8
Instruction register
De instructiecyclus
Alle processoren werken volgens het principe van
instructie ophalen, decoderen en uitvoeren
1. De Control Unit kopieert de instructie waarvan
het adres in de Program Counter staat uit het
werkgeheugen naar het instructieregister.
De Program Counter wordt
met één verhoogd
2. De Control Unit decodeert de
Uitvoeren
instructie.
instructie
Ophalen
instructie
3. De ALU voert de instructie uit.
Dit proces wordt steeds herhaald: de INSTRUCTIECYCLUS
Decoderen
instructie
Op het ritme van de klok
Kloksnelheid: Mhz / GHz
 Steeds snellere processoren
-> Wet van Moore (medeoprichter van Intel)

De wet van Moore (1)
 De Wet van Moore stelt dat het aantal
transistors op een computerchip door de
technologische vooruitgang elk jaar
verdubbelt.
 Later stelde Moore dit bij tot elke
18 tot 24 maanden.
De wet van Moore (2)
De wet van Moore (3)
EINDE
Vragen????