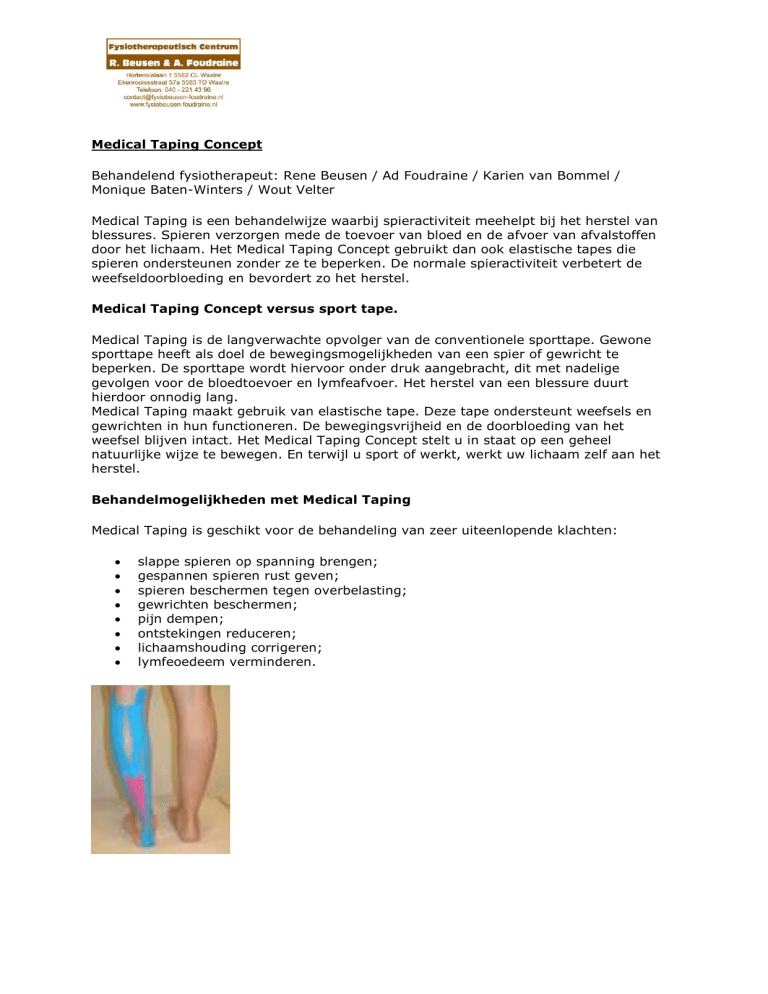 Medical Taping Concept
Behandelend fysiotherapeut: Rene Beusen / Ad Foudraine / Karien van Bommel /
Monique Baten-Winters / Wout Velter
Medical Taping is een behandelwijze waarbij spieractiviteit meehelpt bij het herstel van
blessures. Spieren verzorgen mede de toevoer van bloed en de afvoer van afvalstoffen
door het lichaam. Het Medical Taping Concept gebruikt dan ook elastische tapes die
spieren ondersteunen zonder ze te beperken. De normale spieractiviteit verbetert de
weefseldoorbloeding en bevordert zo het herstel.
Medical Taping Concept versus sport tape.
Medical Taping is de langverwachte opvolger van de conventionele sporttape. Gewone
sporttape heeft als doel de bewegingsmogelijkheden van een spier of gewricht te
beperken. De sporttape wordt hiervoor onder druk aangebracht, dit met nadelige
gevolgen voor de bloedtoevoer en lymfeafvoer. Het herstel van een blessure duurt
hierdoor onnodig lang.
Medical Taping maakt gebruik van elastische tape. Deze tape ondersteunt weefsels en
gewrichten in hun functioneren. De bewegingsvrijheid en de doorbloeding van het
weefsel blijven intact. Het Medical Taping Concept stelt u in staat op een geheel
natuurlijke wijze te bewegen. En terwijl u sport of werkt, werkt uw lichaam zelf aan het
herstel.
Behandelmogelijkheden met Medical Taping
Medical Taping is geschikt voor de behandeling van zeer uiteenlopende klachten:








slappe spieren op spanning brengen;
gespannen spieren rust geven;
spieren beschermen tegen overbelasting;
gewrichten beschermen;
pijn dempen;
ontstekingen reduceren;
lichaamshouding corrigeren;
lymfeoedeem verminderen.