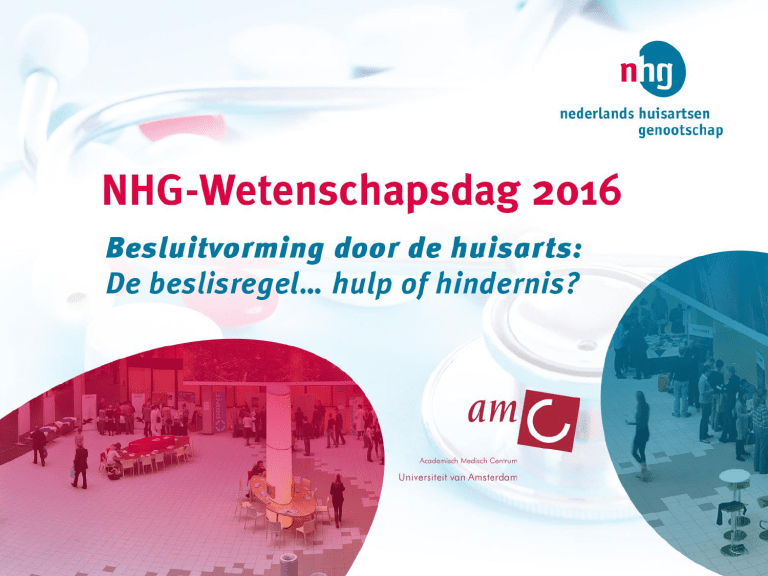 Kan diagnostische onzekerheid over
vulvovaginale candida-infectie
behulpzaam zijn bij de diagnostiek
van vulvodynie?
Peter Leusink
D. van Moorsel, Dr. E. Laan, Dr. D. Teunissen, Dr. P. Lucassen, Prof. Dr. A. Lagro-Janssen
Outline
• Achtergrond
• Methode
• Resultaten
• Discussie
• Conclusie
Definitie
Definitie provoked vulvodynie (PVD):
(focale vulvitis, vulvair vestibulitis syndroom)
'vulvar pain of at least 3 months duration,
without clear identifiable cause, which may
have potential associated factors '
Bornstein J, et al. 2015 ISSVD, Consensus terminology and classification of persistent vulvar pain and vulvodynia. Obstet Gynecol. 2016 Apr;127(4):745-51
PVD
• schrijnende branderige
vulva tijdens/na coïtus
• primair of secundair
bekkenbodemhypertonie
• primaire of secundaire
opwindingsstoornis
NHG-Werkgroep Seksuele klachten. NHG-Standaard Seksuele klachten (eerste herziening). Huisarts Wet 2015;58(11):586-97.
Vicieuze cirkel PVD
NHG-Werkgroep Seksuele klachten. NHG-Standaard Seksuele klachten (eerste herziening). Huisarts Wet 2015;58(11):586-97.
PVD geassocieerd met:1,2
•
•
•
•
•
Chronische pijnsyndromen (IBS, fibromyalgie)
Vulvovaginale candida-infecties
Psychische klachten (angst, depressie, slapeloosheid)
Seksuele problemen (minder opwinding/zin)
Seksueel en fysiek trauma
Niet geclassificeerd in ICPC > niet zichtbaar in de
huisartspraktijk
1.
2.
Reed BD, et al. Factors associated with vulvodynia incidence. Obstet Gynecol. 2014;123:225-31.
Basson R. The recurrent pain and sexual sequelae of provoked vestibulodynia: a perpetuating cycle. J Sex Med. 2012;9:2077-92.
Epidemiologie
Prevalentie PVD in diverse populaties:1
Prevalentie dyspareunie in Nederland:2
Incidentie dyspareunie HA-praktijk:3
1.
2.
3.
3 - 18%
4.9% (18-70 j.)
11.0% (< 25 j.)
0.10%
0.34% (20-25 j.)
Harlow BL, et al. Prevalence and predictors of chronic lower genital tract discomfort. Am J Obstet Gynecol 2001;185:545-57.
Kedde H. [Sexual dysfunctions in the Netherlands. Prevalence and associated functions]. Tijdschr Seksuologie. 2012;36:98-108. Dutch.
Kedde H, et al. The incidence of sexual dysfunction in patients attending Dutch general practitioners. Int J Sexual Health 2011;23:269–277.
PVD en comorbide factoren
Retrospectieve cohort-analyse (Transitieproject, n= 959 episodes)
ICPC-gecodeerde suggestieve PVD-symptomen: genitale pijn,
dyspareunie, andere vulvovaginale klachten
Comorbide factoren: candida, psychische klachten, pijnsyndromen
en seksueel misbruik
IBS - PVD:
Candida – PVD:
OR 2,6 - 4,3
OR 3,5 - 7,7
Leusink P, Kaptheijns A, Laan E, van Boven K, Lagro-Janssen A. Comorbidities among women with vulvovaginal symptoms in family practice. Journal of
Sexual Medicine, 2016;13:220-225
Vulvovaginale candida en PVD
•
•
•
25% van vulvovaginale klachten heeft geen
microbiologische basis1,2
HA-en (2008) diagnosticeren VVC nauwelijks
conform NHG-Standaard3
Is er overdiagnostiek VVC 'ten koste' van PVD?
1. Lowe NK, et al. Accuracy of the clinical diagnosis of vaginitis compared with a DNA probe laboratory standard. Obstet Gynecol. 2009;
113(1):89-95. doi:10.1097/AOG.0b013e3181909f63.
2. Dekker J. Vaginal symptoms of unknown aetiology: a study in Dutch general practice. Br J Gen Pract. 1993;43:239-44.
3. Engberts MK, et al. Vulvovaginal candidiasis: diagnostic and therapeutic approaches used by Dutch general practitioners. Eur J Gen Pract. 2008;14(1):30-3
Onderzoeksvragen
•
Verschillen vrouwen met een onzekere VVC van
vrouwen met zekere VVC
•
Heeft de groep onzekere VVC kenmerken die
kunnen duiden op PVD?
•
Verschillen huisartsen in het handelen bij zekere
en onzekere VVC?
Methode
•
•
•
•
NIVEL Zorgregistratie database
cross-sectioneel, 2014
premenopausale vrouwen
zekere en onzekere VVC vergeleken op comorbide
symptomen suggestief voor PVD
Variabelen
• Onzekere VVC:
• recidiverende episodes VVC (RVVC) (≥3 X72);
• aanhoudende klachten X72 binnen 1 episode (8 w);
• Zekere VVC:
• vrouwen met ICPC-code X72 zónder kenmerken
onzekere VVC
Variabelen
• Comorbide factoren suggestief voor PVD:
• genitale symptomen
• SOLK-syndromen
• psychologische en seksuele symptomen
• mictieproblemen (hyperactieve
bekkenbodem)
• relationele problemen
Resultaten - 1
•
•
5.088 zekere VVC, 1.978 onzekere VVC
onzekere 28% van totale groep VVC
in de groep onzekere VVC tov zekere VVC:
• vaker dyspareunie, vulvovaginale klachten en nietgespecificeerde vaginitis/vulvitis (p<0.001)
• vaker IBS en chronische vermoeidheid (p<0.001)
• vaker angst, depressie en verminderd seksueel verlangen
(p<0.05)
• vaker frequente mictie/aandrang, blaasontsteking (p<0.05)
• vaker relatieproblemen (p<0.05)
Resultaten - 2
in de groep onzekere VVC tov zekere VVC:
•
•
•
•
meer consulten/patiënt (11,3 resp. 4,3)
meer telefoon/patiënt (3,1 resp. 1,2)
meer verwijzingen gyn. (17,7% resp. 4,4%)
meer recepten/patiënt (4,1 resp. 1,9)
Discussie
•
Sterkte:
• representatieve weergave
• nauwkeurige registratie
• in lijn met literatuur
•
Beperkingen:
• indirect bewijs PVD
• analyse op ICPC-subcode-niveau niet mogelijk
• beperkte registratie seksuele klachten
Conclusies
•
Er kan een subgroep met onzekere VVC
onderscheiden worden
•
Comorbide factoren in de groep onzekere VVC
kunnen onder andere wijzen op PVD
•
Huisartsen handelen in de groep onzekere VVC
anders, maar niet conform richtlijnen mbt PVD
Vervolgonderzoek
•
Kwalitatief onderzoek, Focusgroepen:
• Welke factoren belemmeren en faciliteren
huisartsen bij diagnostiek vulvovaginale
klachten?
• Welke factoren belemmeren en faciliteren
vrouwen met PVD in de diagnostiek van hun
klachten door de huisarts?
Vragen en discussie ?