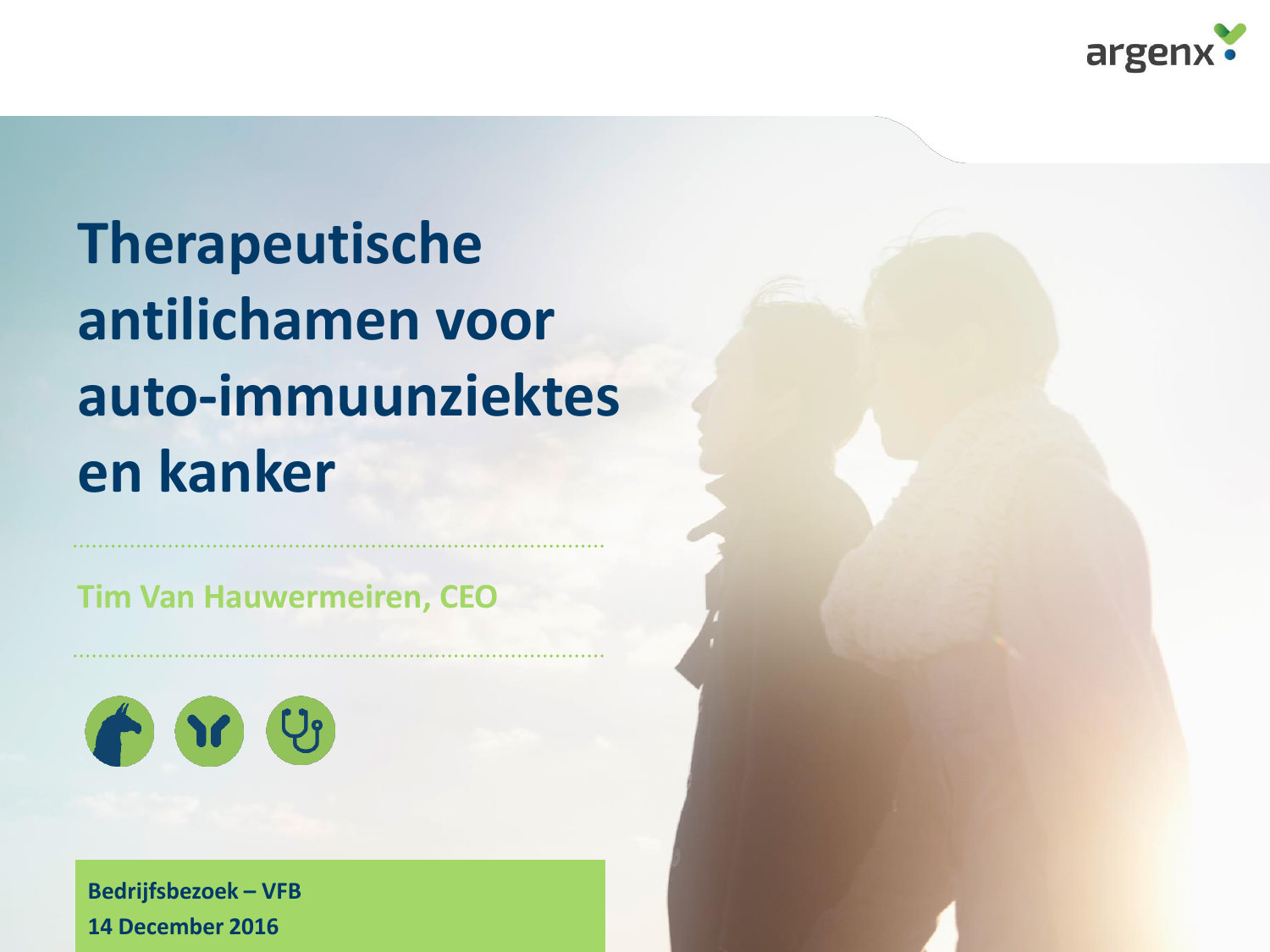 Therapeutische
antilichamen voor
auto-immuunziektes
en kanker
Tim Van Hauwermeiren, CEO
Bedrijfsbezoek – VFB
14 December 2016
Disclaimer
THIS PRESENTATION IS BEING PROVIDED TO YOU SOLELY FOR YOUR INFORMATION. BY ATTENDING THE MEETING WHERE THIS PRESENTATION IS
MADE YOU AGREE TO BE BOUND BY THE FOLLOWING TERMS AND CONDITIONS. THIS PRESENTATION, WHICH HAS BEEN PREPARED BY ARGENX
N.V. (THE "COMPANY") MAY NOT BE REPRODUCED IN ANY FORM, FURTHER DISTRIBUTED OR PASSED ON, DIRECTLY OR INDIRECTLY, TO ANY
OTHER PERSON, OR PUBLISHED, IN WHOLE OR IN PART, FOR ANY PURPOSE. ANY FAILURE TO COMPLY WITH THESE RESTRICTIONS MAY
CONSTITUTE A VIOLATION OF APPLICABLE SECURITIES LAWS.
For the purposes of this notice, "presentation" means this document, its
contents or any part of it, any question or answer session and any written or
oral material discussed or distributed in connection with this presentation
either before, after or during the presentation meeting.
This presentation does not, and is not intended to, constitute or form part of,
and should not be construed as, an offer to sell, or a solicitation of an offer to
purchase, subscribe for or otherwise acquire, any securities of the Company,
nor shall it or any part of it form the basis of or be relied upon in connection
with or act as any inducement to enter into any contract or commitment or
investment decision whatsoever. This presentation is not an offer of
securities for sale in the United States. The securities of the Company have
not been and will not be registered under the US Securities Act of 1933, as
amended (the "Securities Act") or with any securities regulatory authority of
any state or other jurisdiction of the United States and may not be offered or
sold in the United States unless registered under the Securities Act or
pursuant to an exemption from such registration.
This presentation is made available on the express understanding that it does
not contain all information that may be required to evaluate, and will not be
used by the attendees/recipients in connection with, the purchase of or
investment in any securities of the Company. This presentation is accordingly
not intended to form the basis of any investment decision and does not
constitute or contain (express or implied) any recommendation by the
Company or any of its directors, officers, employees, agents, affiliates or
advisers.
Certain information in this presentation is based on management estimates.
Such estimates have been made in good faith and represent the current
beliefs of applicable members of management. Those management members
believe that such estimates are founded on reasonable grounds. However, by
their nature, estimates may not be correct or complete. Accordingly, no
representation or warranty (express or implied) is given that such estimates
are correct or complete.
This presentation may include statements that are, or may be deemed to be,
"forward-looking statements". These forward-looking statements can be
identified by the use of forward-looking terminology, including the terms
"believes", "estimates", "anticipates", "expects", "intends", "may", "will", or
"should", and include statements the Company makes concerning the
intended results of its strategy. By their nature, forward-looking statements
involve risks and uncertainties and readers are cautioned that any such
forward-looking statements are not guarantees of future performance. The
Company's actual results may differ materially from those predicted by the
forward-looking statements. The Company undertakes no obligation to
publicly update or revise forward-looking statements, except as may be
required by law.
2
Technologiepark
Industriepark
18:45
Welkom
Agenda
- Patrick Verest, Afgevaardigd bestuurder VFB
- Joke Comijn, Communicatie en IR manager argenx
19:00
Bedrijfspresentatie / Labo-bezoek
19:40
Labo-bezoek / Bedrijfspresentatie
- Tim Van Hauwermeiren, CEO argenx
- Karen Silence, Senior Scientist argenx
20:20
Vraag & antwoordsessie
20:40
Receptie
Introductie
Antilichamen = succesvolle geneesmiddelen
•
Antilichaamtherapie: geneesmiddelen die
ons lichaamseigen immuunsysteem
nabootsen
•
"Targeted therapy" of "Immunotherapy":
• Mikken op een specifiek aspect van de
ziekte
• Zetten het immuunsysteem opnieuw in
werking
•
Heel belangrijke geneesmiddelen voor
kanker en auto-immuunziektes
•
5 van de 10 best verkochte
geneesmiddelen zijn antilichamen
(Herceptine, Humira, …)
•
Minder druk van generische
geneesmiddelen
Heel gericht:
• Minder bijwerkingen
• Betere resultaten
• Meer goedkeuringen
• Snellere ontwikkelingstijd
4
Waarde creëren uit gedifferentieerde antilichamen
Uitgebreide productpijplijn
•
•
Kanker en ernstige auto-immuunziektes
4 producten in klinische fase
Strategische samenwerkingen
•
•
Industriële partners
'Innovative Access Program'
Competitief technologieplatform
•
•
Antilichamen met verschillende functionaliteiten
Gebaseerd op het immuunsysteem van de lama en uniek FC design
Sterke financiële positie
•
•
Sterke cashpositie - € 103Mio Sept 2016
(AbbVie € 35MM April 2016, Private Placement € 30MM Juni 2016)
> € 2B potentiële toekomstige inkomsten van samenwerkingen
4
SIMPLE AntibodyTM
platform
& Fc Engineering
Lama-antilichamen
VH
VHH
VL
argenx
Ablynx
4
Van lama-immunisatie tot kandidaatgeneesmiddel
Immunisatie lama
Bloedafname
Selectie antilichamen
Kandidaatgeneesmiddel
Productontwikkeling:
preklinische en
klinische studies
Productie
door
hamstercellen
DNA inbouwen in
micro-organismen
4
Uniek technologieplatform
Versterken van natuurlijke antilichaamfunctionaliteiten
Monoklonale antilichamen:
Combinatie SIMPLE AntibodyTM
en Fc engineering technologie
 Versterken van natuurlijke
antilichaamfunctionaliteiten
12
Maximaliseren van aandeelhouderswaarde
Ontwikkelen van gedifferentieerde kandidaat-antilichamen...
argenx
Technology Suite
Nieuwe doelwitten
Sterk gedifferentieerde mAbs
... en waarde creëren in elk stadium van de ontwikkeling
Onderzoek
Vroege en late klinische ontwikkeling
Preklinische ontwikkeling
Product deals
buiten strategische focus
Platform deals

ARGX-109

Undisclosed
Bird Rock Bio
Product deals
grote ziektebeelden

ARGX-115

ARGX-111
Product portefeuille
naar klinische PoC

ARGX-113 (Ph2 2017)
ARGX-110 (Ph2 2017)

Heel sterk waarde inflectie-punt
13
Producten in ontwikkeling: auto-immuunziektes en kanker
Kandidaat
geneesmiddel
Doelwit
Auto-immuun
ziektes
ARGX-113
FcRn
Myasthenia Gravis
Immune Thrombocytopenia
4Q 2016
Kanker
immunotherapie
ARGX-110
CD70
T-Cell Lymphoma
Acute Myeloid Leukemia
4Q 2016
Metastaserende
kanker
ARGX-111
c-MET
Vaste tumoren
Boedkanker
Samenwerkingen
ARGX-109
Gerilimzumab
Pre-klinisch
Fase 1
Fase 2
1Q 2017
4Q 2016
Meerdere
Discovery
Undisclosed
ARGX-115
Ziektebeeld
GARP
Kanker
Immunotherapie
IL-6
Autoimmuniteit
Undisclosed
Huidaandoeningen
Undisclosed
Undisclosed
14
ARGX-113:
Auto-immuunziektes
ARGX-113: hoofdprogramma gericht op auto-immuunziektes
Mode of Action: circulatie van auto-antilichamen verhinderen
Antilichaamfragment
ABDEG™
Blokkeren antilichaamrecyclage
16
ARGX-113: Pijplijn-in-een-product
Inzetten voor auto-antilichaamgedreven ziektes
Auto-antilichaam
•
•
•
•
•
Sterke biologische
rationale
Haalbaar voor
biotech
Auto-antilichamen oorzaak
van de ziekte
Wees-indicaties
Economisch leefbaar
Duidelijk klinisch en
regulatoire pad
Source: argenx data
Hoge PoC waarde
Spill-over effect naar
gelijkaardige
aandoeningen
•
•
•
•
•
•
Myasthenia Gravis
Immune Thrombocytopenia
Pemphigus
Bullous Pemphigoid
Epidermolysis Bullosa
Acquisita
Scleroderma
Anca Vasculitis
Lupus
Multiple Sclerosis
Rheumatoid Arthritis
...
17
Myasthenia gravis: Fact sheet
bad life-threatening choking
muscle dislocation eye
eyelid fatigued pain
seeing
swallowing
weakness
•
talking
tired
trouble walk weight
Veroorzaakt door
auto-antilichamen die
de neuromusculaire
verbinding verstoren
•
•
•
Zeldzame ziekte
Voorkomen (US): 47,000 patienten
Alle leeftijden en beide genders
•
Huidige behandelingen :
• Corticosteroiden & immunomodulerende
agentia
• IVIg of Plasmaferese
• Back & forward behandelingen
Bijwerkingen: cancer catharact diabetes disfigurement
hematological suppression hypertension
injury liver malignancy osteopenia osteoporosis
renal teratogenicity thrombosis weight
•
fibrosis headache
infection
mood
pulmonary
•
ABDEG™
ARGX-113
• Mogelijke doorbraak om ziekteverwekkende auto-antilichamen te verwijderen
• Tegemoet komen aan duidelijke nood voor patiënten
• Patiënt in remissie brengen
• Bijwerkingen opvallend verminderen
" ARGX-113 has the potential to improve initial response to steroids, provides option for chronic
managment and rapidly controls flares", James Howard, M.D., University of North Carolina at Chapel Hill
18
Immune thrombocytopenia: Fact sheet
•
•
•
•
•
•
Veroorzaakt door
auto-antilichamen die
eigen bloedplaatjes
•
vernietigen
Zeldzame ziekte
Voorkomen (US): 50,000 patienten
Vrouw > man
Meer voorkomend > 60 jaar oud
Huidige behandeling:
• Corticosteroïden en IVIg
• Immunomodulerende agentia
• TPO-mimetics & splenectomie
Bijwerkingen:
anaphylaxis
hemolysis
anorexia backache
hepatitis
reactions
ABDEG™
hypertension
infection infusion
nausea osteoporosis
neutropeniathrombosis
leukoencephalopathy
renalsweating
•
cancer cataracts depression diabetes fatal
psychosis
vomiting weakness
ARGX-113
• Mogelijke doorbraak om ziekteverwekkende auto-antilichamen te verwijderen
• Tegemoet komen aan duidelijke nood voor patiënten
• Patiënt in remissie brengen
• Bijwerkingen opvallend verminderen
• Potentieel voor patiënten die slecht reageren op steroïden en als vervanging van
IVIg voor 2de lijnsbehandelingen
19
ARGX-113 in MG: Phase II studie-design
Screening/Randomisatie
Behandelingsfase
Follow-up fase
Screening
≤2 weken
Randomisatie
Safety, tolerability and efficacy
SoC + ARGX-113 (10mg/kg)
N=12
SoC + Placebo
N=12
4 dosissen
N= tot 24
≤2 weken
3 weken
8 weken
20
ARGX-113 in ITP: Phase II studie-design
Screening/Randomisatie
Behandelingsfase
Follow-up fase
Safety, tolerability and efficacy
Screening
≤2 weken
Randomisatie
SoC + ARGX-113 (10mg/kg)
N=12
SoC + ARGX-113 (5mg/kg)
N=12
SoC + Placebo
N=12
4 dosissen
N= tot 36
≤2 weken
3 weken
8 weken
21
ARGX-110: Fase I/II
mono & combo
therapie
22
ARGX-110: gericht tegen tumordoelwit CD70
3 verschillende manieren om tumorcellen aan te pakken
SIMPLE Antibody™
POTELLIGENT®
1. Blokkeert tumorgroeisignaal
2. Doodt de tumor
tumor
1
2
3
3. Herstelt immuunreactie
Prof. Ochsenbein won the 'Otto Naegeli Prize 2016', the most highly esteemed biomedical award in Switserland.
"Of particularly great importance was the discovery that the interaction of CD70 with CD27 and subsequent signaling events has great
therapeutic potential for the development of new, original methods of cancer treatment using immunotherapy."
Silence et al. 2014, mAbs
23
Cutaneous TCL
Progressie van Patch naar Sézary Syndrome
© argenx, based on Kim et al., 2005, J Clin Invest
24
Overzicht CTCL patiënten
ARGX-110 Fase Ib
CTCL Expansion Cohort 2 (1 mg/kg q3w)
Pat ID
1028
Indication
CTCL-MF
1120
CTCL-MF/SS + (PTCL-NOS)
2019
CTCL-SS
2101
CTCL-MF
2102
CTCL-SS
2103
CTCL-MF
2104
CTCL-SS
2201
CTCL-TFH like
2203
CTCL-panniculitis like
4001
CTCL-MF
4002
CTCL-MF
•
•
•
Stage
T4, N0,
M0, B0
T4, N3,
M0, B0
T4, N3,
M0, B1
T4, Nx,
M0, B0
T4, Nx,
M0, B2
T2, N0,
M0, B0
T2, Nx,
M0, B2
T2, N0,
M0, B0
T3, N0,
M0, B0
T4, Nx,
M0, B0
T3, N3,
M0, B0
C1
C2
C3
C4
C5
C6
C7
C8
C9
C10
C11
C12
C20
Best response
SD in skin, mSWAT ↑18%
SD nodal, PD skin ↑63.5%
PD?, mSWAT ↑4%
SD nodal and skin, mSWAT ↓42%
PR in skin, SD nodal and blood,
mSWAT ↓50% C4
PR in skin, mSWAT ↓62% C6
PD
PD in skin ↑56%
PR in skin by PET/CT
PD
Aanwijzingen van klinische activiteit in expansion cohort 2: 2/10 SD & 3/10 PR
Patiënten op studie tot 12 cycli
2/3 SD in dosis escalatie cohort
Source: argenx data - uncleaned
25
ARGX-110: Activiteit in reeds behandelde TCL patiënten
Patient 1: Cutaneous TCL – Mycosis fungoides (MF)
Patient
67 year old man with CTCL-MF, diagnosed on 21 Jan 2001
Tumor
Skin T4, Nx, M0, B0 (Stage IIIA)
Nr doses
6
Behandelingen
© argenx, based on Kim et al., 2005, J Clin Invest
Source: argenx data –patient anecdotes - uncleaned
26
Kwaadaardige cellen in de huid verdwijnen na 1 dosis
Patient 1: Cutaneous TCL – Mycosis fungoides (MF)
CD4+ – pre
CD70 – pre
CD4+ – post (C2)
CD70 – post (C2)
CD8+ – pre
© argenx, based on Kim et al., 2005, J Clin Invest
CD8+ – post (C2)
ARGX-110 behandeling leidt
tot:
•
•
•
vermindering CD4+
kwaadaardige T-cellen
verdwijnen van CD70+
kwaadaardige T-cellen
Infiltratie van CD8+
T-cellen
Source: argenx data –patient anecdotes - uncleaned
27
Verminderde mSWAT score en verbetering van de huidschade
Patient 1: Cutaneous TCL – Mycosis fungoides (MF)
Verminderde mSWAT score
Verbeterde huidschade
mSWAT = modified Severity Weighted Assessment Tool
Plaque = raised or lowered flat lesions
Patch = flat lesions
•
•
•
•
42% vermindering van mSWAT (C1  C7)
Huidtumoren verminderen in oppervlakte C1→C2 (rode box)
Huidtumoren verbeteren van plaques naar patches C5→C6 (groene box)
Patiënten evaren verbetering van roodheid op de huid & hebben minder huidschade
Olsen et al. 2007, J Clin Oncol
Source: argenx data –patient anecdotes - uncleaned
28
Gedeeltelijke respons
Cutaneous TCL – Mycosis fungoides (MF)
Pre - C1
Post - C6
Pictures kindly provided by investigator
Source: argenx data –patient anecdotes - uncleaned
29
Partering for
Growth
30
Innovative Access Program (IAP)
Incubator voor nieuwe programma's
•
Samenwerking met academische centra met
nieuwe targets en expertise in translationeel
onderzoek
•
argenx antilichaamtechnologie inzetten om
nieuwe targets te kraken – ophelderen van rol
van deze targets in ziektebeeld
•
First-in-class antilichamen ontwikkelen
•
Win-win samenwerking
– Snelle PoC in ziekte-modellen
– Wetenschappelijke publicaties, nieuwe IP
– Ontwikkeling nieuwe product-kandidaten
31
ARGX-115: IAP succesverhaal
"Combining our expertise in cancer
immunology with argenx' proprietary SIMPLE
Antibody™ platform led to the discovery of
ARGX-115, the first antibody to show
inhibitory activity on the immunosuppressive
function of human Tregs. The IAP
collaboration brings in the know-how of
argenx to validate the GARP protein as a
target for cancer immunotherapy."
Financiële return to UCL/
DeDuve Institute
AbbVie deal: $60m
upfront / vroege MS
Science Translational
Medicine publicatie
PoC aangetoond, optie
uitgeoefend
Patent gepubliceerd
Prof. Sophie Lucas,
de Duve Institute/UCL/WELBIO
Gepatenteerde
uitvindingen op GARP &
ARGX-115
Pionierswerk in immunooncologie
Samenwerking met UCL/
DeDuve Institute
AbbVie option deal
De cijfers
•
•
•
•
$ 40MM upfront
Preklinische mijlpaalbetalingen 2x $10MM
Tot $625MM ontwikkelings- , regulatoire en commerciële mijlpaalbetalingen
Tot double-digit royalty betalingen op de netto verkoop van producten
Deal highlights
•
•
•
•
Opleveren IND datapakket
GARP-gebaseerde onderzoeksprogramma's ontwikkelen die verdere productopportuniteiten aanrijken
Recht behouden om ARGX-115 te combineren met eigen pijplijnprogramma's
Co-promotie rechten in EU/Swiss Economic Area
•
•
•
Optie om exclusief het product te ontwikkelen en commercialiseren
Bijkomende GARP-gebaseerde onderzoeksfinanciering eens de eerste preklinische mijlpaal behaald werd
Recht om bijkomend therapeutische programma's in te licensiëren als resultaat van bijkomend onderzoek
– bijkomende mijlpaal en royalty betalingen op voortvloeiende producten
33
Financiën
Sterke financiële situatie
Bedrijfsopbrengsten, kosten & opgehaald kapitaal sinds oprichting (*)
(*) excl. overlopende rekeningen
3Q16 (MEUR)
Bedrijfsopbrengsten & kosten
3Q16 (MEUR)
Operating
income
12.5
Operating income
40.8
R&D expenses
R&D
20.2
82.6
71.3 FTEs
G&A expenses
21.8
G&A
4.9
Capital raised
133.8
Cash and Cash-equivalants
Aandeelhouderstructuur (fully diluted)
Dec 2016
103.1
8.8%
35.4%
Forbion, LSP, Orbimed...
55.8%
Aquilo, Federated investors,
JP Morgan, MPM, Perceptive,
RTW, Van Herk...
Historical VCs
Free float
Stock options
35
Aandeelkoers sinds IPO
AbbVie
samenwerking
April '16
ARGX-111:
safety data
Mei '15
Leo Pharma
alliantie
Mei '15
Launch ARGX-115
Maa '15
Launch IAP
Jan '15
First dosing
ARGX-109
(Bird Rock Bio)
Sept '15
Leo Pharma
Milestone
Feb '16
€30M private
placement US
investeerders
Juni '16
€16M
investering
Federated (US)
Jan '16
ARGX-113: MAD
resultaten HV
Juni '16
ARGX-113: SAD
resultaten HV
Jan '16
ARGX-110:
update TCL data
Juni '16
R&D day
Sept '16
ASH
Dec '16
Verlenging
Shire alliantie
Dec '14
36
Vragen?