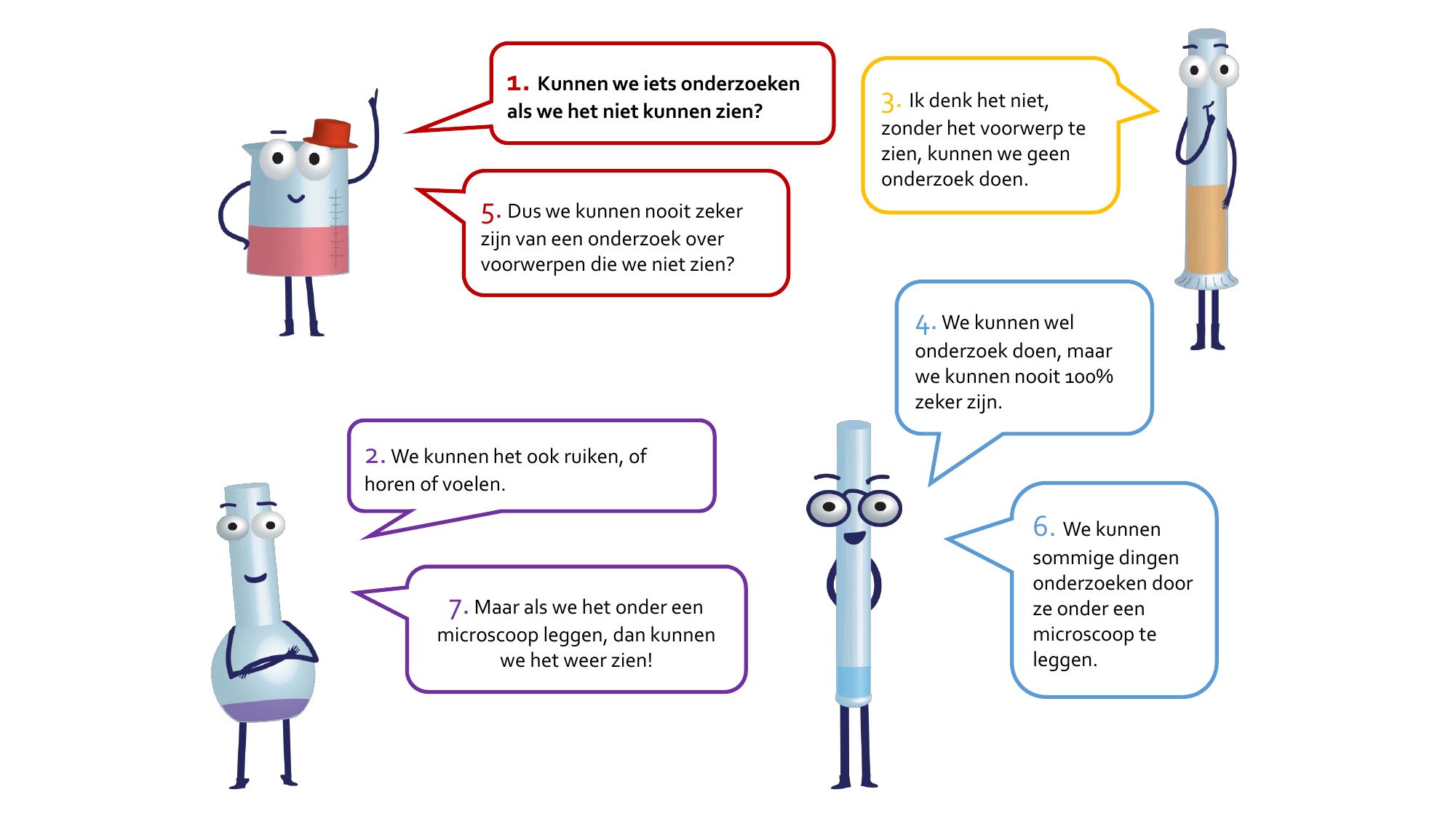 1. Kunnen we iets onderzoeken
als we het niet kunnen zien?
3. Ik denk het niet,
zonder het voorwerp te
zien, kunnen we geen
onderzoek doen.
5. Dus we kunnen nooit zeker
zijn van een onderzoek over
voorwerpen die we niet zien?
4. We kunnen wel
onderzoek doen, maar
we kunnen nooit 100%
zeker zijn.
2. We kunnen het ook ruiken, of
horen of voelen.
6. We kunnen
7. Maar als we het onder een
microscoop leggen, dan kunnen
we het weer zien!
sommige dingen
onderzoeken door
ze onder een
microscoop te
leggen.
8. Moeten we alles zichtbaar
maken om het te kunnen
onderzoeken?
11. Ah nee, sterren en
planeten kunnen we niet
echt zien en toch
onderzoeken.
10. Geldt dat voor alles wat
wetenschappers onderzoeken?
Wat denken de anderen?
15. Kan je een voorbeeld geven?
12. Ook hier kunnen we enkel
onderzoeken wat we kunnen zien. Via
satellieten trekken ze foto's en die
onderzoeken we dan.
14. Lucht kunnen we
onderzoeken door middel van
andere technologieën.
13. Maar hoe zit het
met de lucht? Lucht
kunnen we ook
onderzoeken en toch
zien we ze niet.
9. Ja, en door
nieuwe
technologieën
kunnen we steeds
kleinere dingen
onderzoeken die we
niet kunnen zien met
onze blote ogen.