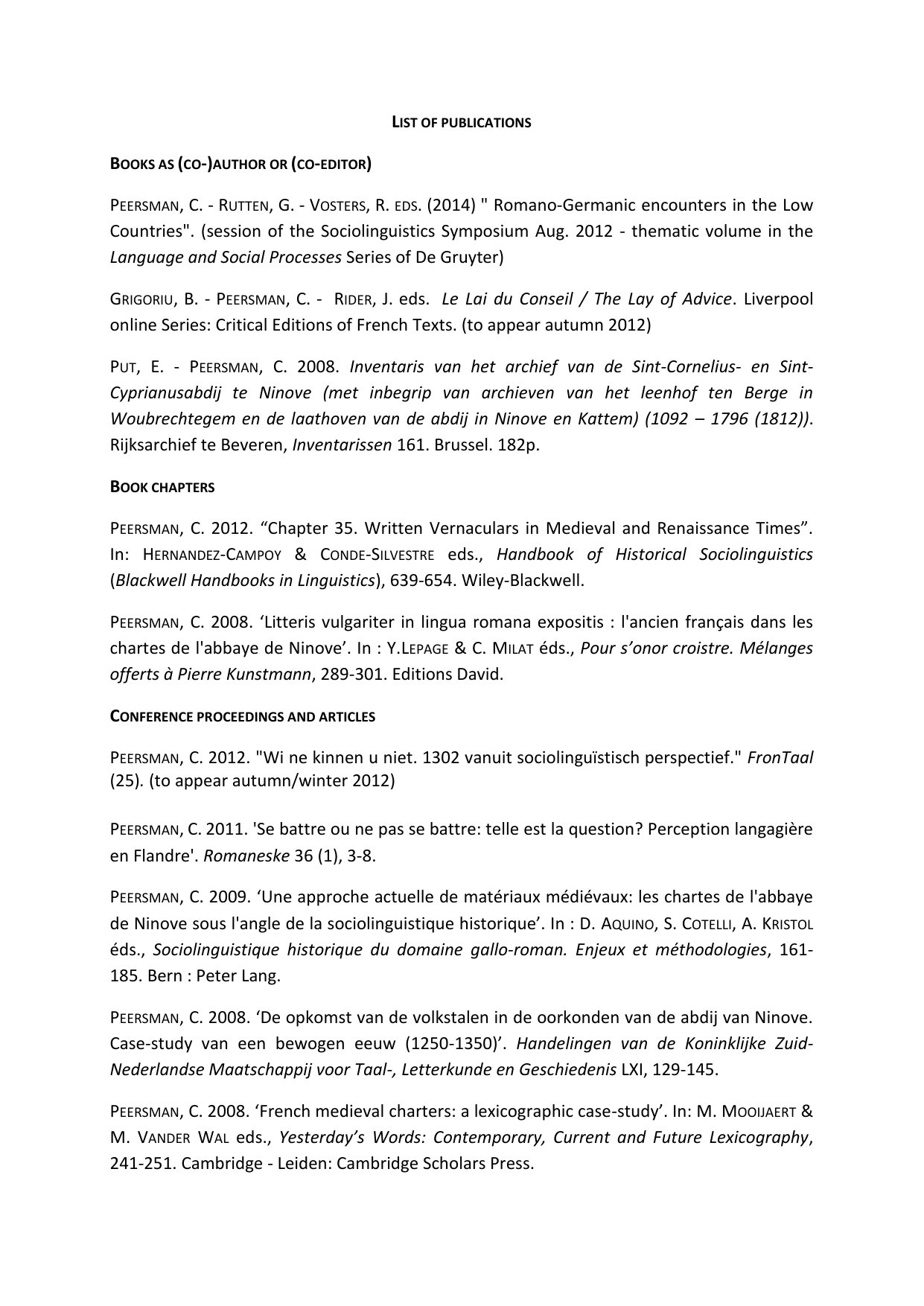 LIST OF PUBLICATIONS
BOOKS AS (CO-)AUTHOR OR (CO-EDITOR)
PEERSMAN, C. - RUTTEN, G. - VOSTERS, R. EDS. (2014) " Romano-Germanic encounters in the Low
Countries". (session of the Sociolinguistics Symposium Aug. 2012 - thematic volume in the
Language and Social Processes Series of De Gruyter)
GRIGORIU, B. - PEERSMAN, C. - RIDER, J. eds. Le Lai du Conseil / The Lay of Advice. Liverpool
online Series: Critical Editions of French Texts. (to appear autumn 2012)
PUT, E. - PEERSMAN, C. 2008. Inventaris van het archief van de Sint-Cornelius- en SintCyprianusabdij te Ninove (met inbegrip van archieven van het leenhof ten Berge in
Woubrechtegem en de laathoven van de abdij in Ninove en Kattem) (1092 – 1796 (1812)).
Rijksarchief te Beveren, Inventarissen 161. Brussel. 182p.
BOOK CHAPTERS
PEERSMAN, C. 2012. "Chapter 35. Written Vernaculars in Medieval and Renaissance Times".
In: HERNANDEZ-CAMPOY & CONDE-SILVESTRE eds., Handbook of Historical Sociolinguistics
(Blackwell Handbooks in Linguistics), 639-654. Wiley-Blackwell.
PEERSMAN, C. 2008. 'Litteris vulgariter in lingua romana expositis : l'ancien français dans les
chartes de l'abbaye de Ninove'. In : Y.LEPAGE & C. MILAT éds., Pour s'onor croistre. Mélanges
offerts à Pierre Kunstmann, 289-301. Editions David.
CONFERENCE PROCEEDINGS AND ARTICLES
PEERSMAN, C. 2012. "Wi ne kinnen u niet. 1302 vanuit sociolinguïstisch perspectief." FronTaal
(25). (to appear autumn/winter 2012)
PEERSMAN, C. 2011. 'Se battre ou ne pas se battre: telle est la question? Perception langagière
en Flandre'. Romaneske 36 (1), 3-8.
PEERSMAN, C. 2009. 'Une approche actuelle de matériaux médiévaux: les chartes de l'abbaye
de Ninove sous l'angle de la sociolinguistique historique'. In : D. AQUINO, S. COTELLI, A. KRISTOL
éds., Sociolinguistique historique du domaine gallo-roman. Enjeux et méthodologies, 161185. Bern : Peter Lang.
PEERSMAN, C. 2008. 'De opkomst van de volkstalen in de oorkonden van de abdij van Ninove.
Case-study van een bewogen eeuw (1250-1350)'. Handelingen van de Koninklijke ZuidNederlandse Maatschappij voor Taal-, Letterkunde en Geschiedenis LXI, 129-145.
PEERSMAN, C. 2008. 'French medieval charters: a lexicographic case-study'. In: M. MOOIJAERT &
M. VANDER WAL eds., Yesterday's Words: Contemporary, Current and Future Lexicography,
241-251. Cambridge - Leiden: Cambridge Scholars Press.
PEERSMAN, C. 2006.'Du latin aux langues vernaculaires. Les traces explicites des langues
parlées dans les chartes latines'. Studies van de Belgische Kring voor Linguïstiek / Travaux du
Cercle Belge de Linguistique / Papers of the Linguistic Society of Belgium 1.
http://webhost.ua.ac.be/linguist/online/paps2006/pee2006.pdf
C. MACE, C. PEERSMAN, R. MAZZA, J. NORET, M. VAN MULKEN, E. WATTEL, P. CANETTIERI, V. LORETO,
A.-C. LANTIN, Ph.V. BARET, P. ROBINSON, H. WINDRAM, M. SPENCER, C. HOWE, M. ALBU, A. DRESS.
2006. 'Testing Methods on an Artificially Created Textual Tradition'. In: C. MACÉ, P. BARET, A.
BOZZI et L. CIGNONI éds., The Evolution of Texts: Confronting Stemmatological and Genetical
Methods. Proceedings of the International Workshop held in Louvain-la-Neuve on September
1-2, 2004. Linguistica Computazionale XXIV-XXV, 255-283. Roma-Piza: Instituti editoriali e
poligrafici internazionali.
REVIEWS & REPORTS
PEERSMAN, C. 2012 Review of Boonen, Ute K. 2010. 'Die mittelniederländische
Urkundensprache in Privaturkunden des 13. Und 14. Jahrhunderts. Vorlagen, Normierung,
Sprachgebrauch.'
Münster/New
York/München/Berlin:
Waxmann.
Rheinischen
Vierteljahrsblätter.
PEERSMAN, C. 2011. Honderd jaren oorlog - online uitgevochten! Een blik op The Online
Froissart. Review of Ainsworth, Peter - Croenen, Godfried eds. The Online Froissart, version
1.1 (2010), (http://www.hrionline.ac.uk/onlinefroissart). Queeste. Tijdschrift over
middeleeuwse literatuur in de Nederlanden (Journal of medieval literature in the Low
Countries) 18 (2): 192-196.
PEERSMAN, C. 2011. Review of Meyerhoff, Miriam - Schleef, Erik. 2010. 'The Routledge
Sociolinguistics Reader' (Routledge, Taylor and Francis). LINGUIST List May 2, 2011.
http://linguistlist.org/issues/22/22-1899.html
PEERSMAN, C. - VOSTERS, R. 2010. 4th HiSoN Summer School in Brugge. Society for Germanic
Linguistics Newsletter 22 (2), 5-6.
PEERSMAN, C. 2007. Review of Llamas, Carmen - Mullany, Louise - Stockwell, Peter. 2006. 'The
Routledge Companion to Sociolinguistics' (Routledge, Taylor and Francis). LINGUIST List issue
number 18.3367. http://linguistlist.org/pubs/reviews/get-review.cfm?SubID=161182
PEERSMAN, C. 2006. Compte rendu de Benders, Jeroen Fitzgerald. 2004. 'Bestuursstructuur en
schriftcultuur. Een analyse van de bestuurlijke verschriftelijking in Deventer tot het eind van
de 15e eeuw' (Hilversum, Verloren). Bulletin Codicologique LX (2006), 1: B 25.
PEERSMAN, C. 2005. Compte rendu de Croenen, Godfried. 2003. 'Latin and the vernaculars in
the charters of the low countries, the case of Brabant' (Leuven, Peeters). Bulletin
Codicologique LIX (2005), 2: B 421.