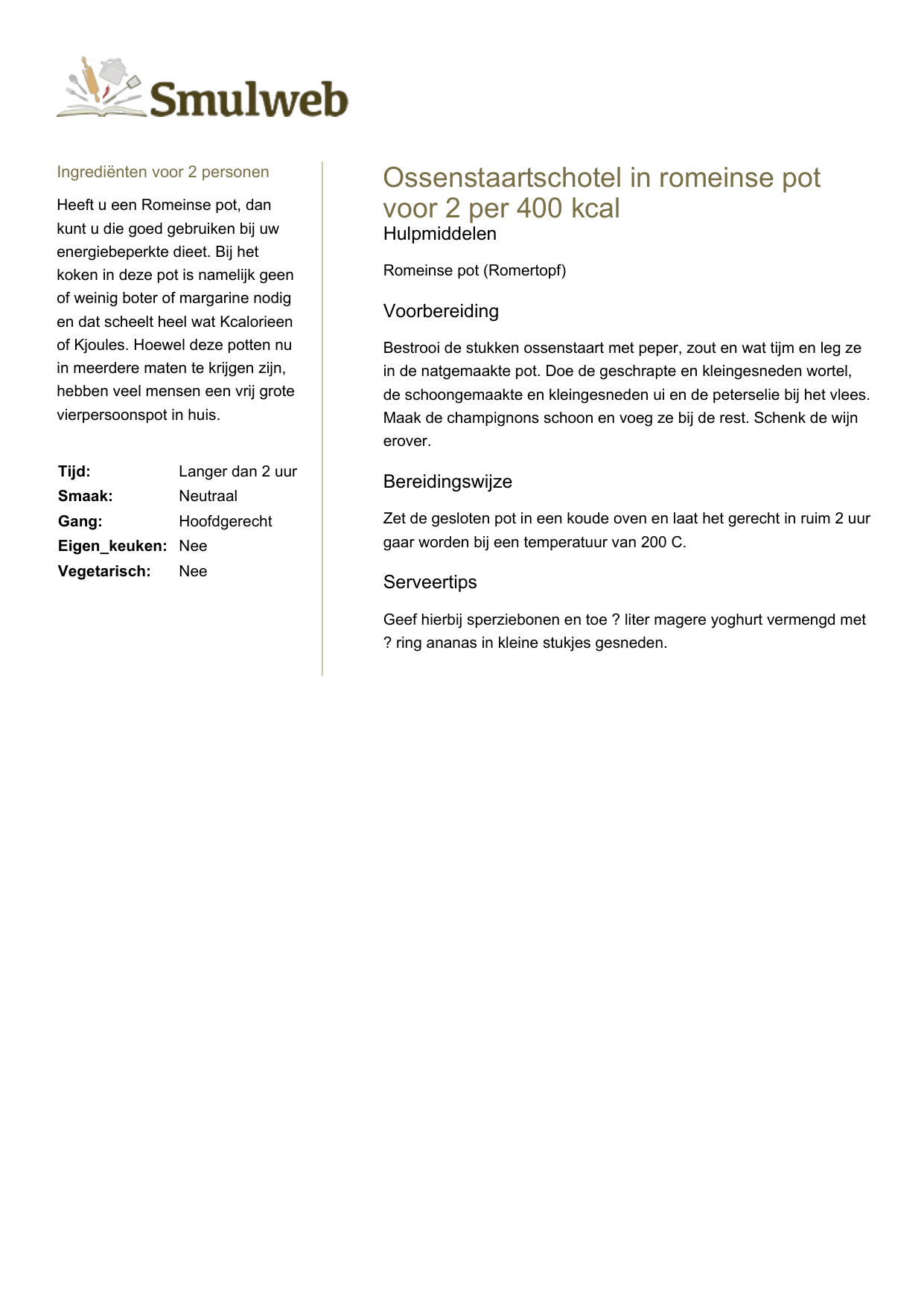 Ingrediënten voor 2 personen
Heeft u een Romeinse pot, dan
kunt u die goed gebruiken bij uw
energiebeperkte dieet. Bij het
koken in deze pot is namelijk geen
of weinig boter of margarine nodig
en dat scheelt heel wat Kcalorieen
of Kjoules. Hoewel deze potten nu
in meerdere maten te krijgen zijn,
hebben veel mensen een vrij grote
vierpersoonspot in huis.
Tijd:
Langer dan 2 uur
Smaak:
Neutraal
Gang:
Hoofdgerecht
Eigen_keuken: Nee
Vegetarisch:
Nee
Ossenstaartschotel in romeinse pot
voor 2 per 400 kcal
Hulpmiddelen
Romeinse pot (Romertopf)
Voorbereiding
Bestrooi de stukken ossenstaart met peper, zout en wat tijm en leg ze
in de natgemaakte pot. Doe de geschrapte en kleingesneden wortel,
de schoongemaakte en kleingesneden ui en de peterselie bij het vlees.
Maak de champignons schoon en voeg ze bij de rest. Schenk de wijn
erover.
Bereidingswijze
Zet de gesloten pot in een koude oven en laat het gerecht in ruim 2 uur
gaar worden bij een temperatuur van 200 C.
Serveertips
Geef hierbij sperziebonen en toe ? liter magere yoghurt vermengd met
? ring ananas in kleine stukjes gesneden.