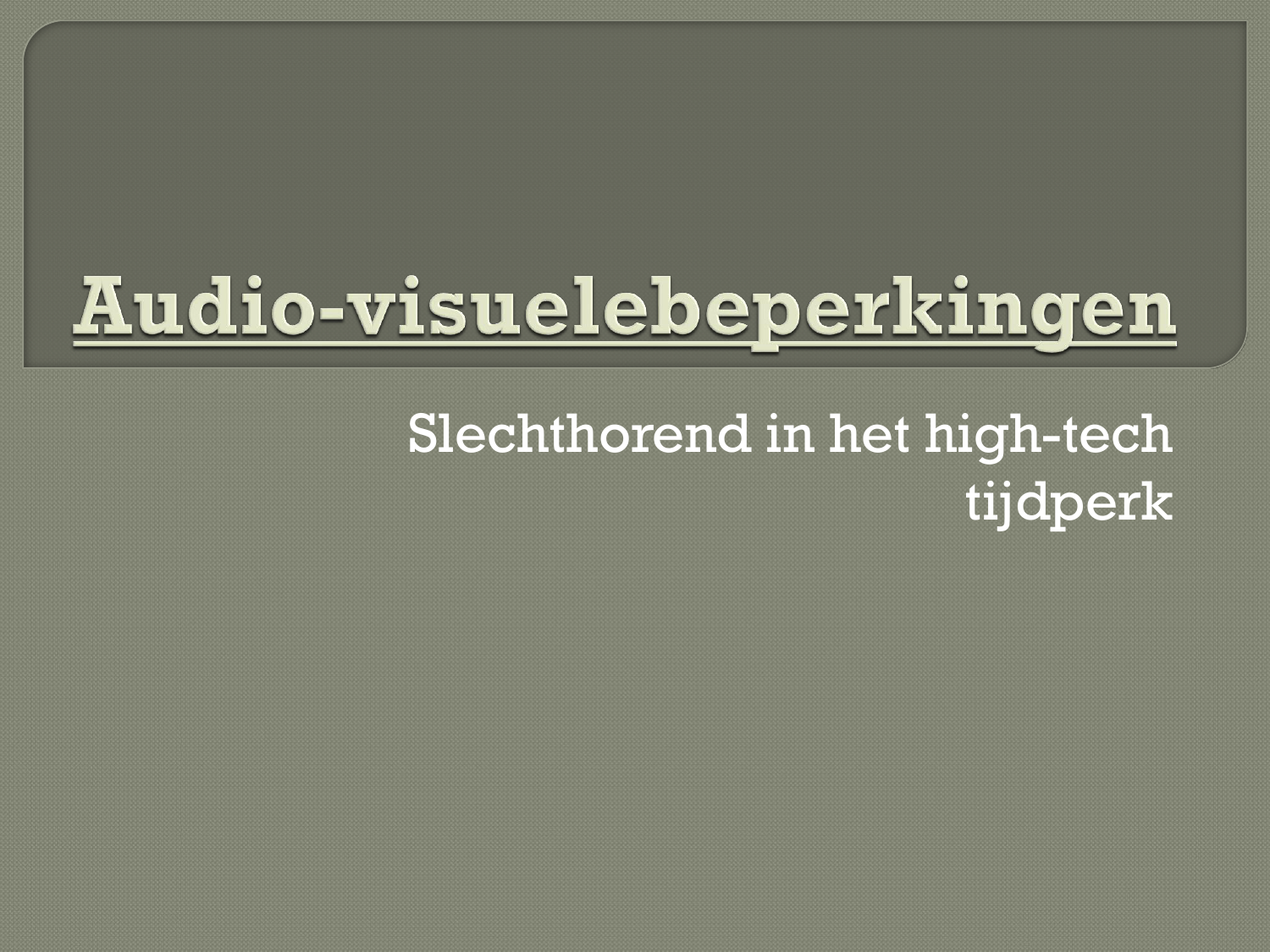 Slechthorend in het high-tech
tijdperk
 Is
een audioversterker
 De belangrijkste beperking ten aanzien
van het spraakverstaan met
hedendaagse conventionele
hoortoestellen is fysiologisch van aard
(de mens is de oorzaak) en niet meer
technologisch
 Het dragen van een hoortoestel is verre
van populair ( het toont je beperking)
 Niet voor mensen met chronische
ontstekingen van de gehoorgang
 Het
vibrant soundbridge (VSB)
middenoorimplantaat
 De Otologics MET
 Zet geluid om in mechanische trillingen
 Beiden semi-implanteerbaar
 Het spraakverstaan bij deze valt nog wat
tegen, probleem met microfoon
3 oplossingen: het Tica-systeem, het
Envoy-systeem en het Otologics FIMOS
 Elektrisch
horen= Horen door middel
van stimulatie met elektrische
stroompjes van en in het slakkenhuis
 beter spraakverstaan dan conventioneel
hoortoestel
 Trillingen
van de schedel kunnen door
het slakkenhuis worden waargenomen
 Veel minder effectief dan horen via
luchtgeleiding, maar niet onbelangrijk
 BAHA (bone-anchored hearing aid)
 Enige oplossing voor slechthorende
patiënten met een chronisch ontstoken
middenoren en met inoperabele
gehoorgangatresie
 Indien
bij een dove patiënt de
gehoorzenuw niet aanwezig is
 ABI minder goed resultaat dan CI
 Nucleus cochlearis = achter het
slakkenhuis in de hersenstam
 Al
deze oplossingen, hoe technologisch
fraai dan ook maken van de
slechthorende geen goedhorende
 Bemoedigend zijn ontwikkelingen
rondom adaptieve toepassing van
richtingsgevoelige microfoons
 Recent, de introductie van hoortoestellen
voor linker en rechter oor die draadloos
communiceren
Bronnen:
•
•
•
•
•
•
•
http://www.cochlear.com/au/hearing-loss-teatments/cochlear-implants-adults
http://www.cochlearimplants.yourbb.nl/viewtopic.php?t=1765
Hinderink JB, Cochlear implantation in adults. Thesis, 2001, Radboud
Universiteit, Nijmegen. Hol MKS, BAHA. New indications and long-term patient
satisfaction. Thesis, 2005, Radboud Universiteit, Nijmegen. Lamore PJJ, Kaptein
TS. Nederlands Leerboek der Audiologie; www.ned-veraudiologie.nl/nvaleerboek Magnan J, Manrique M, Dillier N, Snik A, Hausler R.
International consensus on middle ear implants. Acta Otolaryngol, 2005; 125:
920-921.
Miller AD, Fredrickson JM. Implantable hearing aids. In: Valente M, HosfordDunn H, Roeser RJ. Audiology, treatment. Thieme Verlag, New York, 2000:489-509.
Moller AR. Physiological basis for cochlear and auditory brainstem implants.
Adv Otorhinolaryngol 2006; 64:206-223 Mylanus EAM. The bone-anchored
hearing aid. Clinical and audiological aspects. Thesis, 1994, Radboud
Universiteit, Nijmegen.
Snik AFM, van Duijnhoven NT, Mylanus EAM, Cremers CWRJ. Estimated costeffectiveness of active middle ear implantation in hearing impaired patients with
severe external otitis. Arch Otolaryngol Head Neck Surg 2006;132: 1210-1215
Stenfeldt S, Goode RL. Bone-conducted sound: physiological and clinical
aspects. Otol Neurotol 2005; 26: 1245-1261 Tjellstrom A, Hakansson B, Granstrom
G. Bone-anchored hearing aids: current status in adults and children. Otol Clin N
Am, 2001; 34(2): 337-364.