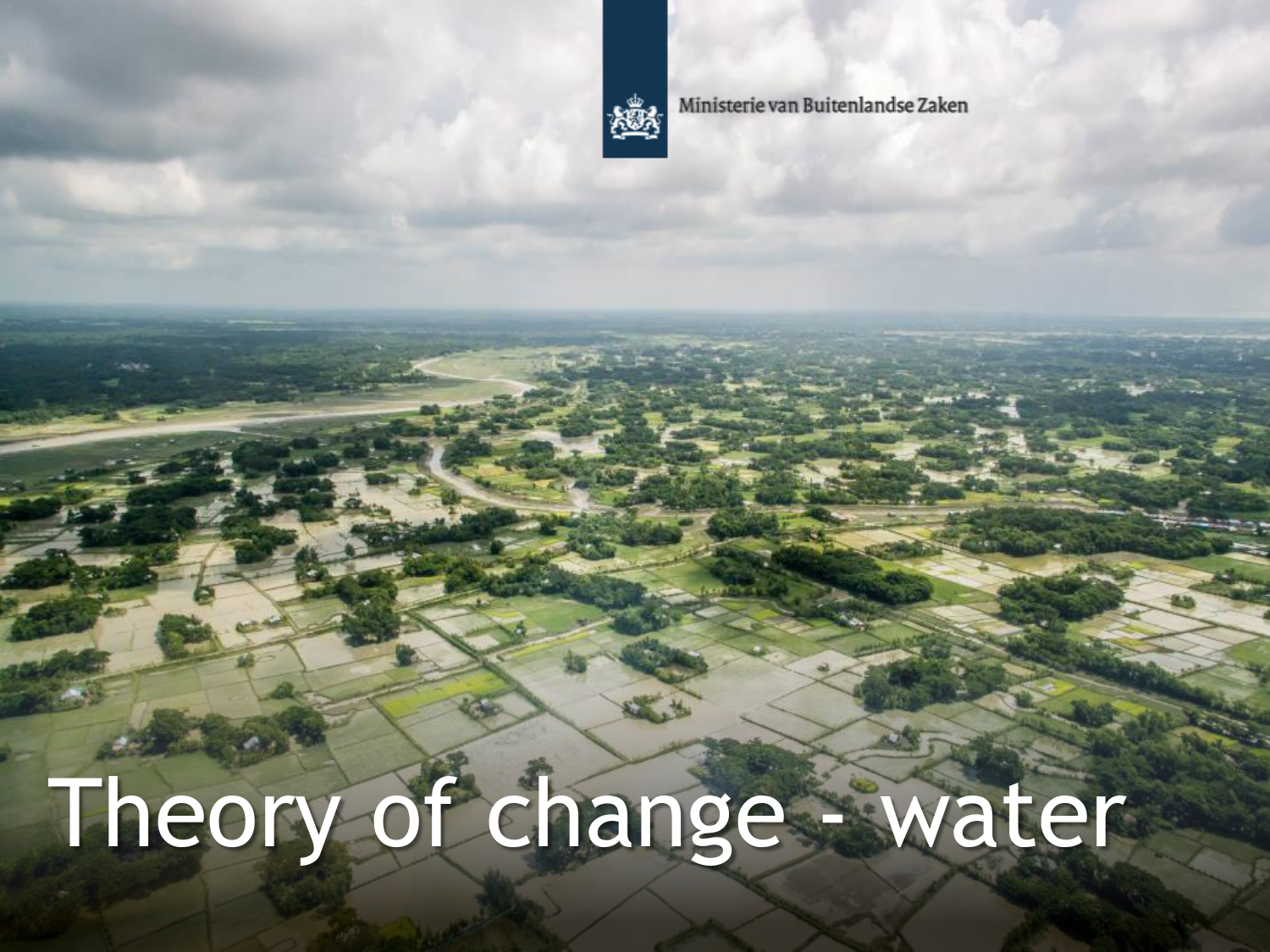 Theory of change - water
Waarom?
Waarom?
Wat?
Verhoogde
Waterproductiviteit in de landbouw
Verbeterd
Stroomgebiedbeheer en veilige delta's
Toegang tot
Drinkwater en Sanitatie
Theory of Change:
Het ABCDE van Verbeterd Stroomgebiedbeheer
A – Systems Analysis
B – Political Bargaining
C – Codification
D – Delegation
E – Engineering
B
C
A
D
E
Een iteratief-cyclisch proces
Hoe robuust blijken de aannames ( ) in de praktijk?
Waar?
het voorbeeld van de Nijl
• 11 landen
• 2 conflictregio's
• machtsverhoudingen in beweging
• 180 miljoen mensen
• 70% subsistence boeren
• 100% Nijlwater = verdeeld
• demografie x 2 (2040)
• voedselvraag x 3 (2040)
• energievraag x 4 (2040)
Theory of Change samenwerking Nijl (sinds jaren '90)
Economische
groei
NL inputs Activities
"Wat de Wereld
Verdient…"
IWA
EUR 3 mln/jr
A
A
3 Waterdesk.
D
8 Ambassades
D
1 Watergezant
Schil externe
deskundigen
Kennis/kunde
NL watersector
E
profileren NL
kennis/kunde
Bevolkingsgroei/
verstedelijking
Outputs
Klimaatverandering
Outcomes
Immediate
A
D
C
E
E
Platforms voor
uitwisseling NL
kennis/kunde
Intermediate
Genoeg en goed
water voor
prod/cons./ecos.
B
C
D
Mensen/econ.
beschermd
(te veel, te vies)
C
Duurzame water
diensten
NL reputatie
(publ./privaat)
Impacts
incl.economische
groei
Veilige delta's
Vitale
ecosystemen
Marktpositie NL
partijen
Monitoring en evaluatie
NL kennis effectief
vertaald?
3rd party interventie
reeel/kansrijk?
Analyse robuust? Context?
Relevante partners?
Politieke economie duidelijk?
Capaciteit effectief ingezet?
SDG's
Besluitvormingsproces legitiem?
Diensten inclusief?
Safeguards adequaat? (MER)
Benefits eerlijk verdeeld?