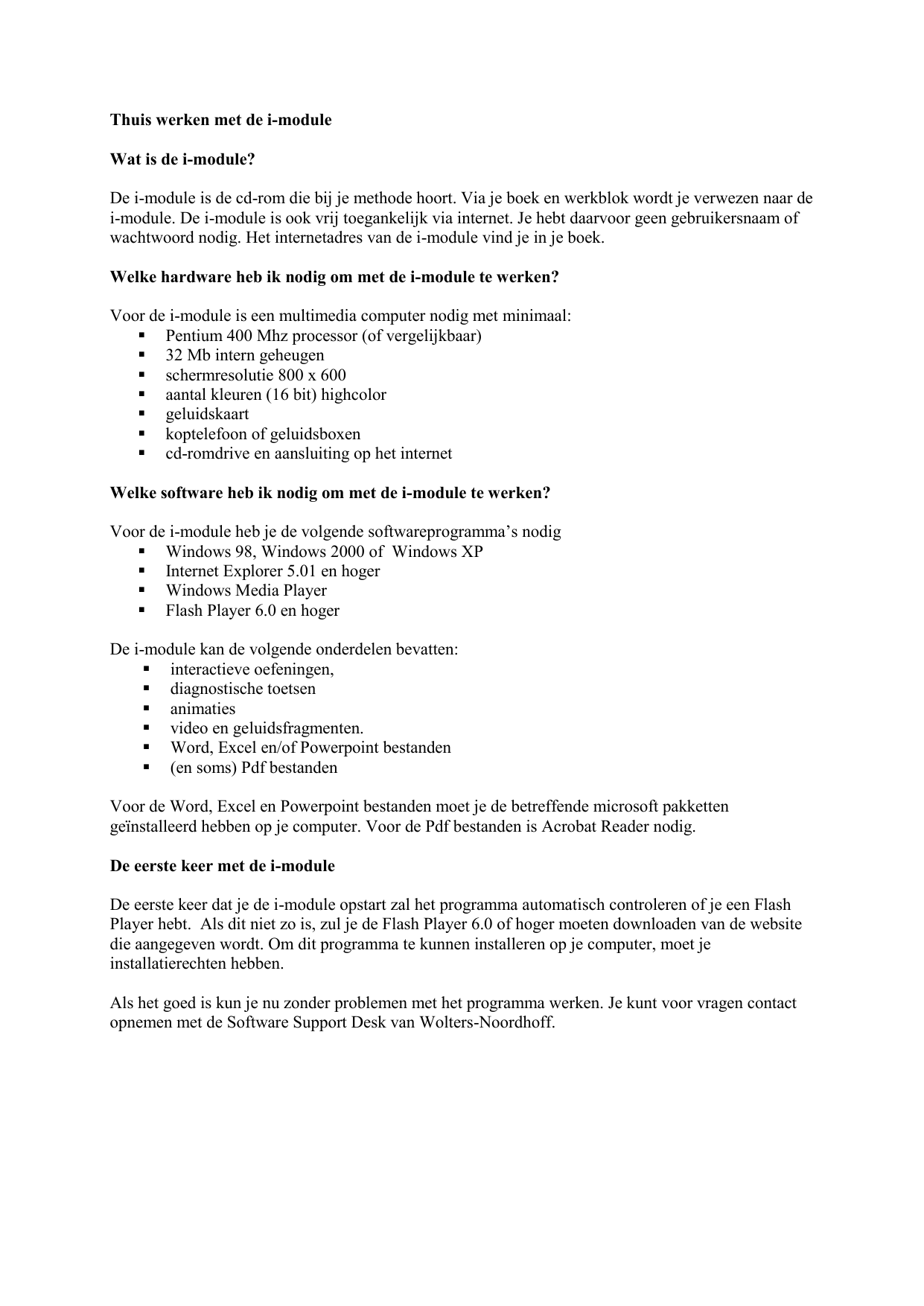 Thuis werken met de i-module
Wat is de i-module?
De i-module is de cd-rom die bij je methode hoort. Via je boek en werkblok wordt je verwezen naar de
i-module. De i-module is ook vrij toegankelijk via internet. Je hebt daarvoor geen gebruikersnaam of
wachtwoord nodig. Het internetadres van de i-module vind je in je boek.
Welke hardware heb ik nodig om met de i-module te werken?
Voor de i-module is een multimedia computer nodig met minimaal:
 Pentium 400 Mhz processor (of vergelijkbaar)
 32 Mb intern geheugen
 schermresolutie 800 x 600
 aantal kleuren (16 bit) highcolor
 geluidskaart
 koptelefoon of geluidsboxen
 cd-romdrive en aansluiting op het internet
Welke software heb ik nodig om met de i-module te werken?
Voor de i-module heb je de volgende softwareprogramma's nodig
 Windows 98, Windows 2000 of Windows XP
 Internet Explorer 5.01 en hoger
 Windows Media Player
 Flash Player 6.0 en hoger
De i-module kan de volgende onderdelen bevatten:
 interactieve oefeningen,
 diagnostische toetsen
 animaties
 video en geluidsfragmenten.
 Word, Excel en/of Powerpoint bestanden
 (en soms) Pdf bestanden
Voor de Word, Excel en Powerpoint bestanden moet je de betreffende microsoft pakketten
geïnstalleerd hebben op je computer. Voor de Pdf bestanden is Acrobat Reader nodig.
De eerste keer met de i-module
De eerste keer dat je de i-module opstart zal het programma automatisch controleren of je een Flash
Player hebt. Als dit niet zo is, zul je de Flash Player 6.0 of hoger moeten downloaden van de website
die aangegeven wordt. Om dit programma te kunnen installeren op je computer, moet je
installatierechten hebben.
Als het goed is kun je nu zonder problemen met het programma werken. Je kunt voor vragen contact
opnemen met de Software Support Desk van Wolters-Noordhoff.