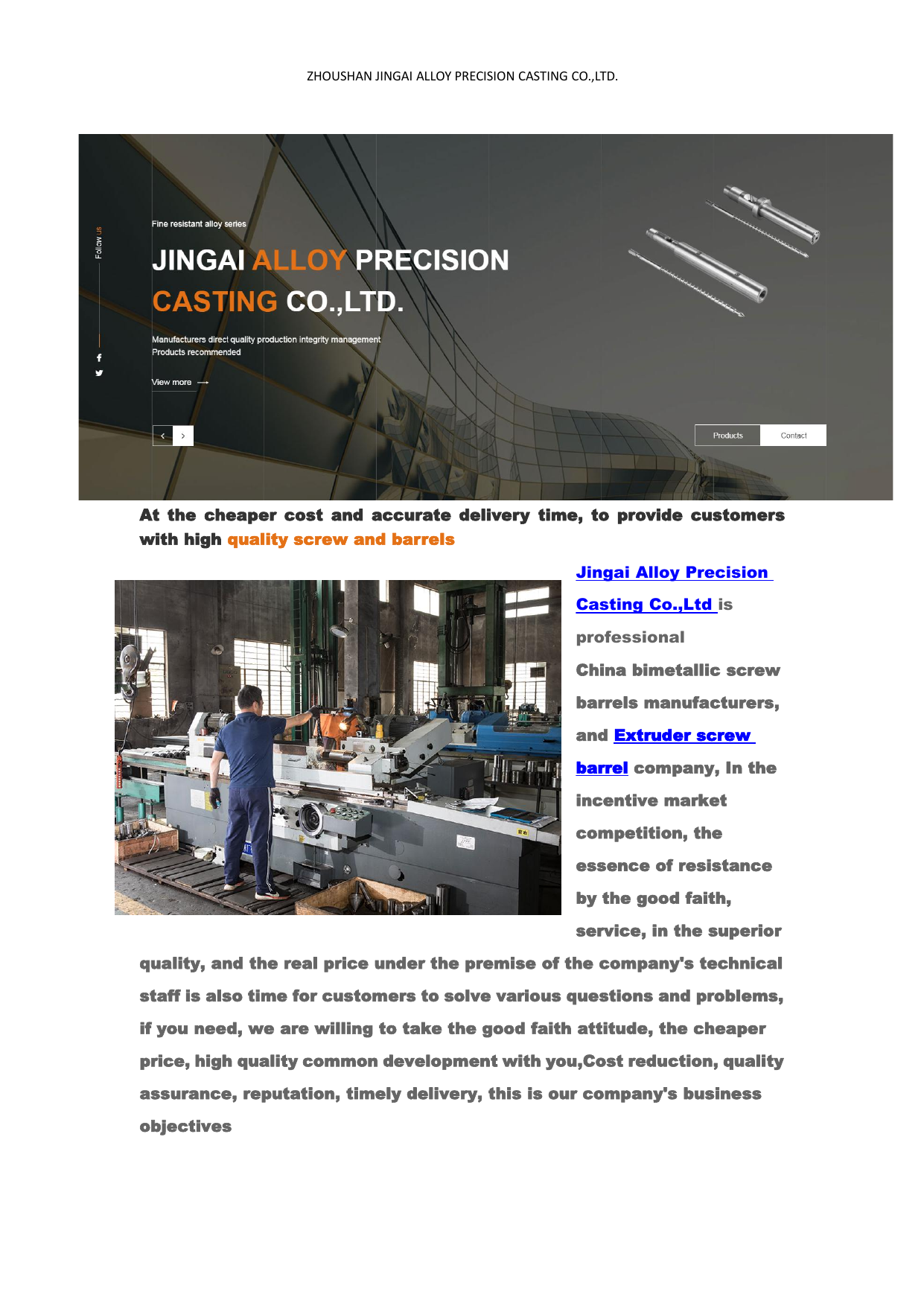 ZHOUSHAN JINGAI ALLOY PRECISION CASTING CO.,LTD.
At the cheaper cost and accurate delivery time, to provide customers
with high quality screw and barrels
Jingai Alloy Precision
Casting Co.,Ltd is
professional
China bimetallic screw
barrels manufacturers,
and Extruder screw
barrel company, In the
incentive market
competition, the
essence of resistance
by the good faith,
service, in the superior
quality, and the real price under the premise of the company's technical
staff is also time for customers to solve various questions and problems,
if you need, we are willing to take the good faith attitude, the cheaper
price, high quality common development with you,Cost reduction, quality
assurance, reputation, timely delivery, this is our company's business
objectives
ZHOUSHAN JINGAI ALLOY PRECISION CASTING CO.,LTD.
Yaluo screw is
specialized
in
manufacturing
precision plastic
screw
and
barrel.Over
the
years,the
main
products
are
Nitriding
screw
and
barrel,bimetallic
alloy screw and
barrel,stainless
steel screw and
barrel.fully
hardened
screw,Conical twin screw barrel, high-speed tool steel screw and barrel
which will be used at extruder and injection molding machine.they are
used at extruder,such as single screw barrel,parallel twin-screw
barrel,concial twin-screw barrel which used in the production
plate,sheet,pipe,blow molding machine,blown film machine,the feed
machine,packaging
machine,foam
machine,granulator,woven
wire
drawing machine,wire and cable,chemical fiber.etc.