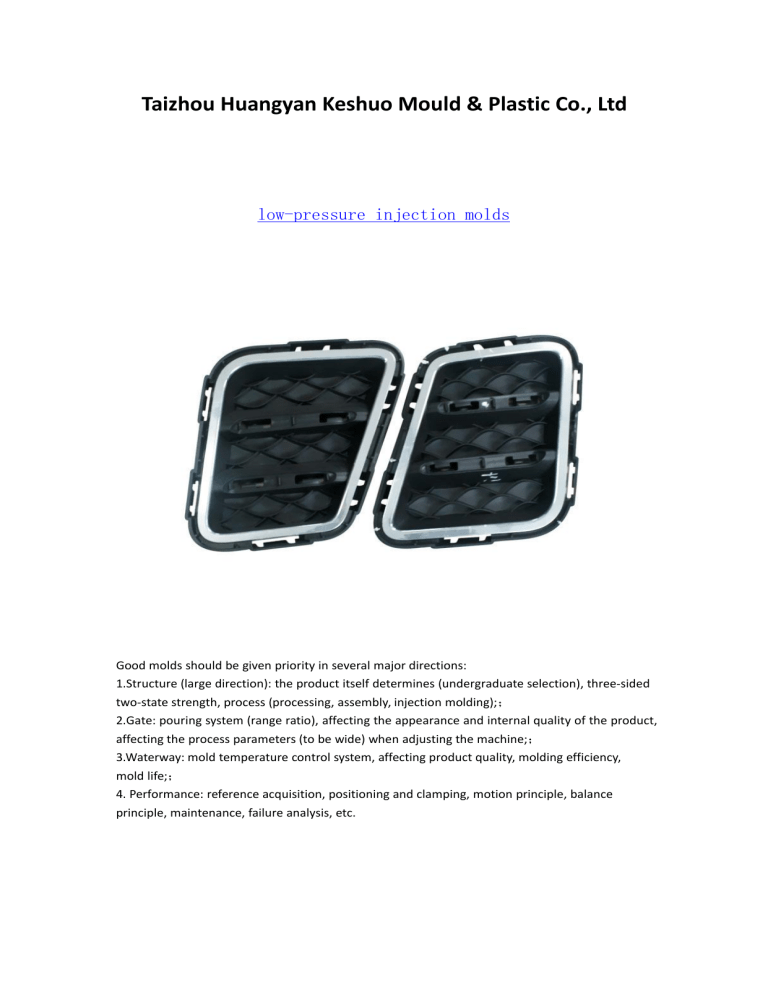 Taizhou Huangyan Keshuo Mould & Plastic Co., Ltd
low-pressure injection molds
Good molds should be given priority in several major directions:
1.Structure (large direction): the product itself determines (undergraduate selection), three-sided
two-state strength, process (processing, assembly, injection molding);;
2.Gate: pouring system (range ratio), affecting the appearance and internal quality of the product,
affecting the process parameters (to be wide) when adjusting the machine;;
3.Waterway: mold temperature control system, affecting product quality, molding efficiency,
mold life;;
4. Performance: reference acquisition, positioning and clamping, motion principle, balance
principle, maintenance, failure analysis, etc.
China Audi Q5 Medium Grille
With advanced workshop management and modern production equipment, we can produce high
quality molds! Advanced equipment is the cornerstone for the production of quality products.
Keshuo molding always pays attention to the industry leading position of production equipment
and continuously introduces advanced production and processing equipment. In order to provide
comprehensive and efficient services.
Geely NL-5 Door Panel
Our main products include top-grade daily commodity, automotive functional parts (air filter, air
conditioning assembly, rear view mirror, sun shield, seat, intake bronchus, engine peripheral
parts, etc.) and internal and external trim (bumper assembly, instrument panel assembly,
sub-instrument assembly, door panel assembly, pillar assembly, etc.). With continuous
development, constant innovation, reasonable price, high-quality products, superior after-sales
service, we focus on market-oriented and provide first-class products for our customers.