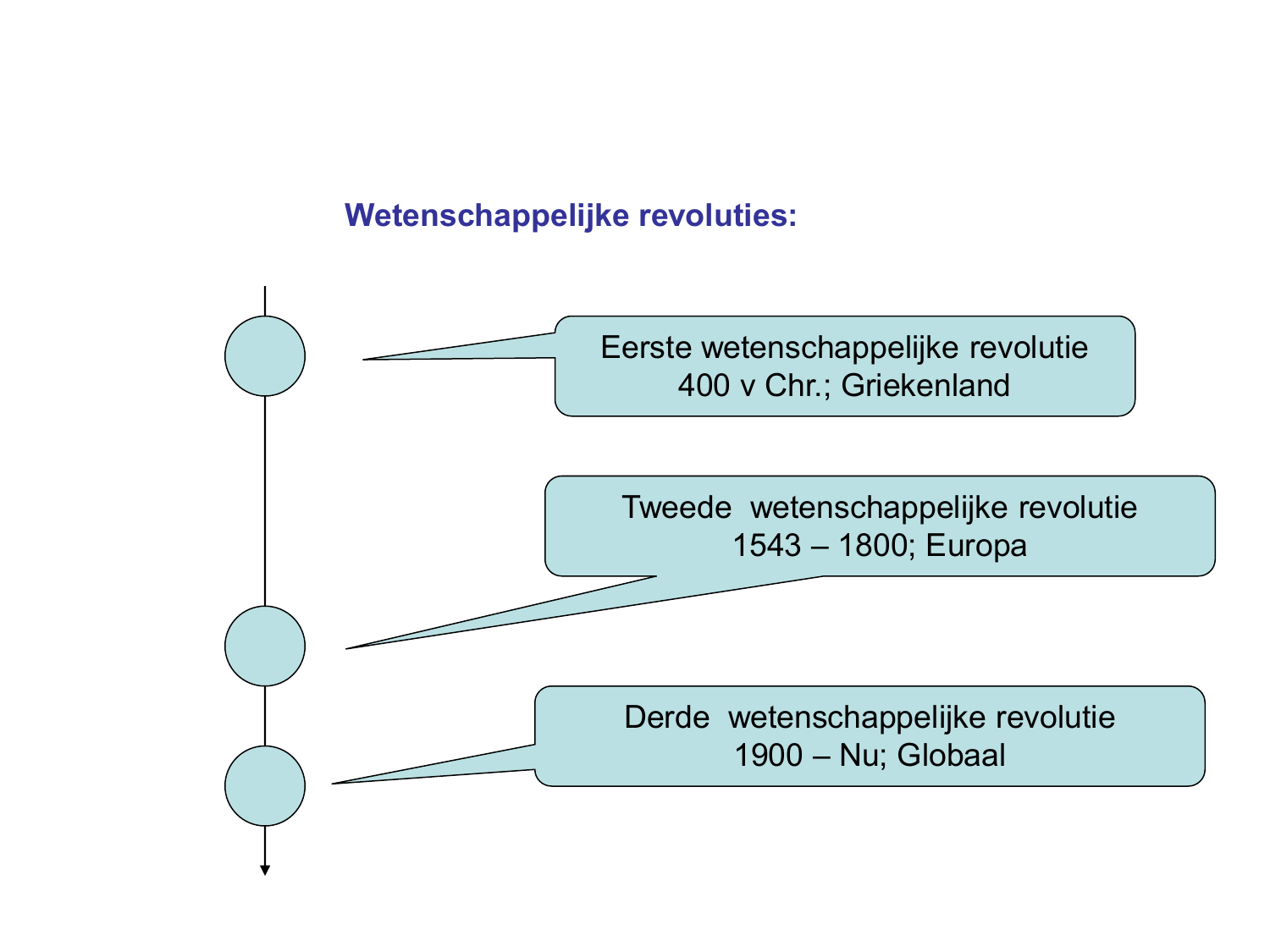 Wetenschappelijke revoluties:
Eerste wetenschappelijke revolutie
400 v Chr.; Griekenland
Tweede wetenschappelijke revolutie
1543 – 1800; Europa
Derde wetenschappelijke revolutie
1900 – Nu; Globaal
Schaal
Voorwetenschappelijke
wereld
Alledaagse dimensies: centimeters
(waarneembaar met het blote oog), meters
(menselijk lichaam), kilometers (afstand tot
de horizon); jaren (leeftijd)
1e wetenschappelijke Van "waarneembaar" naar "voorstelbaar"
revolutie
2e wetenschappelijke De ruimte is onvoorstelbaar groot,
revolutie
schaalvergroting tijd en ruimte (Van
Copernicus tot Darwin); miniaturisering
(microscopie etc.)
3e wetenschappelijke De wereld wordt nog groter en nog kleiner:
revolutie
de atomaire wereld, de nanowereld
Route van een wetenschappelijke revolutie:
 Wiskunde (Newton, Leibniz)
 Natuurkunde (Newton, Boyle)
 Scheikunde (Lavoisier)
 Levenswetenschappen (Leeuwenhoek)
 Filosofie (Kant)
3e Wetenschappelijke revolutie
Wiskunde: niet-euclidische meetkunde
Natuurkunde:
- Planck: quantumconcept
1900
- Einstein: relativiteitstheorie
1905
- Bohr: quantumfysica
1927
Scheikunde: Linus Paulin: macromoleculen (1934-1954)
Biologie: biotechnologische revolutie
1975
 ICT
 Biotechnologie
 Nanotechnologie
Tools
1e wetenschappelijke revolutie:
Denken zonder instrumenten
2e wetenschappelijke revolutie
Optische instrumenten
Meetinstrumenten
Het laboratorium
3e wetenschappelijke revolutie
De computer
als product en
als mogelijkheidsvoorwaarde
Uiterlijke verschillende tussen wetenschappelijke praktijken /
disciplines verdwijnen
Niels Bohr (1885 – 1962)
 Als physicus: quantumfysica
 Als filosoof: complementariteit
Nanotechnologie
Richard Feymann 1959
There's plenty of room at the bottom
Eric Drexler (1981):
"Building devices able to move molecular objects and position
them with atomic precision"