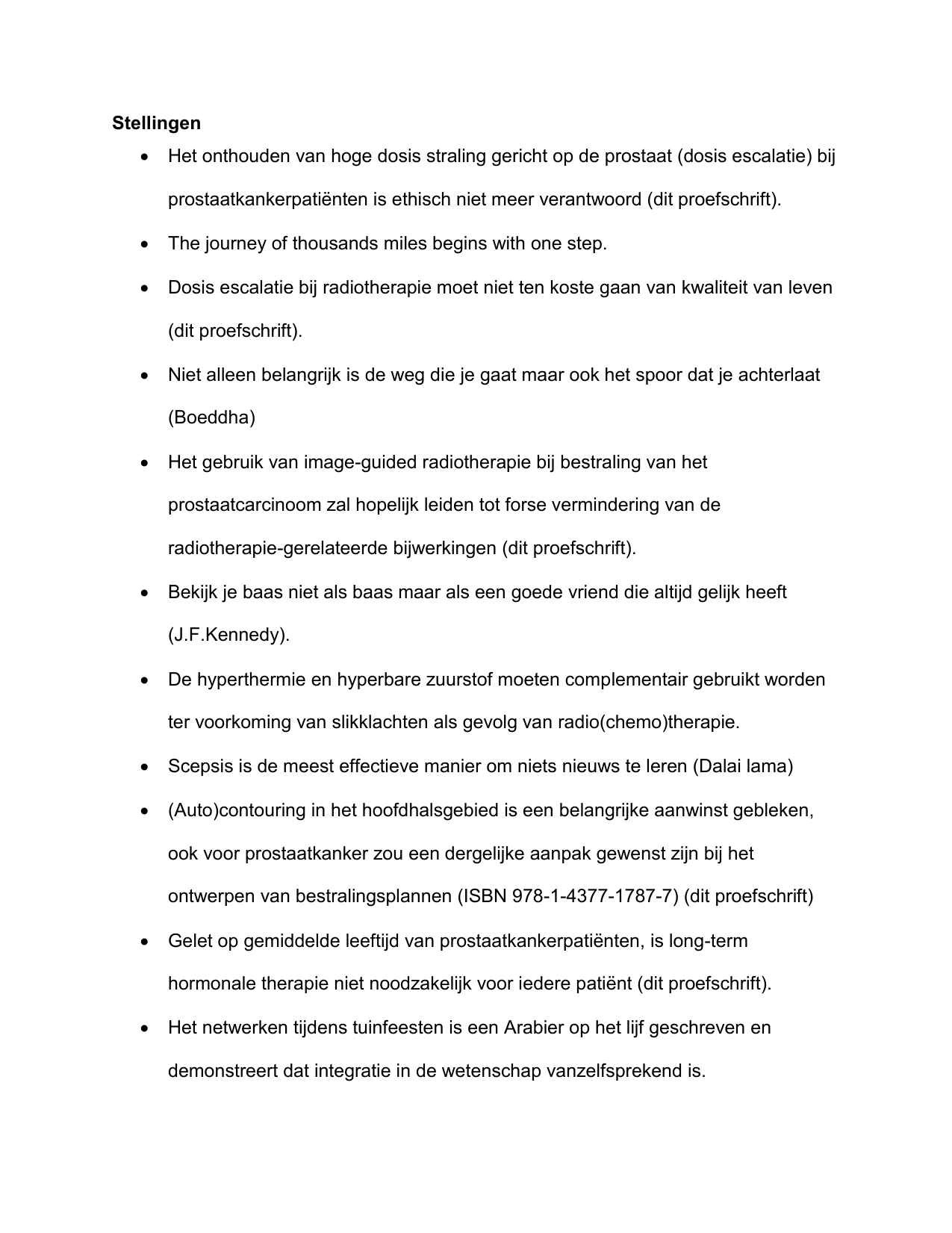 Stellingen

Het onthouden van hoge dosis straling gericht op de prostaat (dosis escalatie) bij
prostaatkankerpatiënten is ethisch niet meer verantwoord (dit proefschrift).

The journey of thousands miles begins with one step.

Dosis escalatie bij radiotherapie moet niet ten koste gaan van kwaliteit van leven
(dit proefschrift).

Niet alleen belangrijk is de weg die je gaat maar ook het spoor dat je achterlaat
(Boeddha)

Het gebruik van image-guided radiotherapie bij bestraling van het
prostaatcarcinoom zal hopelijk leiden tot forse vermindering van de
radiotherapie-gerelateerde bijwerkingen (dit proefschrift).

Bekijk je baas niet als baas maar als een goede vriend die altijd gelijk heeft
(J.F.Kennedy).

De hyperthermie en hyperbare zuurstof moeten complementair gebruikt worden
ter voorkoming van slikklachten als gevolg van radio(chemo)therapie.

Scepsis is de meest effectieve manier om niets nieuws te leren (Dalai lama)

(Auto)contouring in het hoofdhalsgebied is een belangrijke aanwinst gebleken,
ook voor prostaatkanker zou een dergelijke aanpak gewenst zijn bij het
ontwerpen van bestralingsplannen (ISBN 978-1-4377-1787-7) (dit proefschrift)

Gelet op gemiddelde leeftijd van prostaatkankerpatiënten, is long-term
hormonale therapie niet noodzakelijk voor iedere patiënt (dit proefschrift).

Het netwerken tijdens tuinfeesten is een Arabier op het lijf geschreven en
demonstreert dat integratie in de wetenschap vanzelfsprekend is.