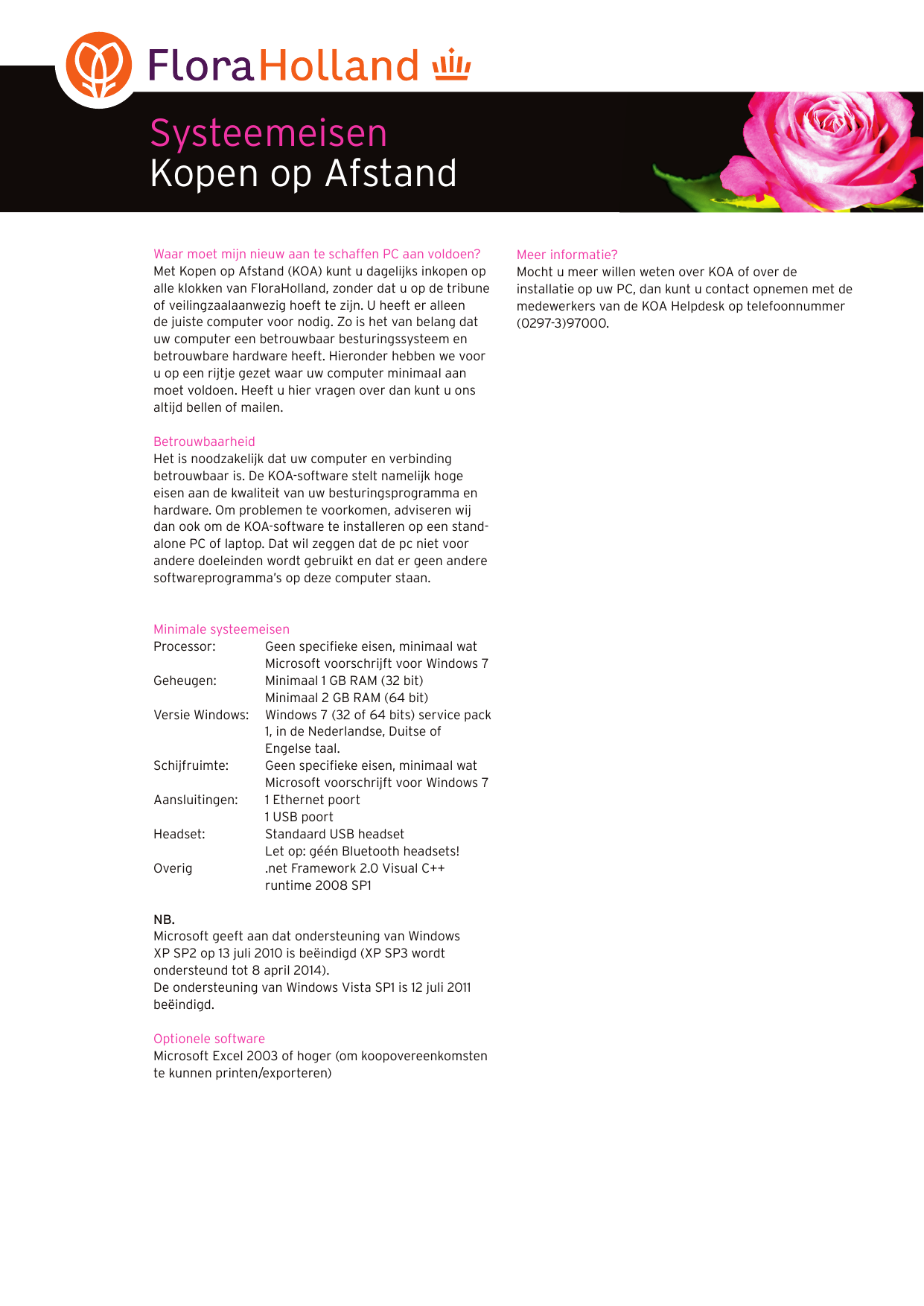 Systeemeisen
Kopen op Afstand
Waar moet mijn nieuw aan te schaffen PC aan voldoen?
Met Kopen op Afstand (KOA) kunt u dagelijks inkopen op
alle klokken van FloraHolland, zonder dat u op de tribune
of veilingzaalaanwezig hoeft te zijn. U heeft er alleen
de juiste computer voor nodig. Zo is het van belang dat
uw computer een betrouwbaar besturingssysteem en
betrouwbare hardware heeft. Hieronder hebben we voor
u op een rijtje gezet waar uw computer minimaal aan
moet voldoen. Heeft u hier vragen over dan kunt u ons
altijd bellen of mailen.
Betrouwbaarheid
Het is noodzakelijk dat uw computer en verbinding
betrouwbaar is. De KOA-software stelt namelijk hoge
eisen aan de kwaliteit van uw besturingsprogramma en
hardware. Om problemen te voorkomen, adviseren wij
dan ook om de KOA-software te installeren op een standalone PC of laptop. Dat wil zeggen dat de pc niet voor
andere doeleinden wordt gebruikt en dat er geen andere
softwareprogramma's op deze computer staan.
Minimale systeemeisen
Processor: Geen specifieke eisen, minimaal wat
Microsoft voorschrijft voor Windows 7
Geheugen: Minimaal 1 GB RAM (32 bit)
Minimaal 2 GB RAM (64 bit)
Versie Windows: Windows 7 (32 of 64 bits) service pack
1, in de Nederlandse, Duitse of
Engelse taal.
Schijfruimte: Geen specifieke eisen, minimaal wat
Microsoft voorschrijft voor Windows 7
Aansluitingen: 1 Ethernet poort
1 USB poort
Headset: Standaard USB headset
Let op: géén Bluetooth headsets!
Overig .net Framework 2.0 Visual C++
runtime 2008 SP1
NB.
Microsoft geeft aan dat ondersteuning van Windows
XP SP2 op 13 juli 2010 is beëindigd (XP SP3 wordt
ondersteund tot 8 april 2014).
De ondersteuning van Windows Vista SP1 is 12 juli 2011
beëindigd.
Optionele software
Microsoft Excel 2003 of hoger (om koopovereenkomsten
te kunnen printen/exporteren)
Meer informatie?
Mocht u meer willen weten over KOA of over de
installatie op uw PC, dan kunt u contact opnemen met de
medewerkers van de KOA Helpdesk op telefoonnummer
(0297-3)97000.