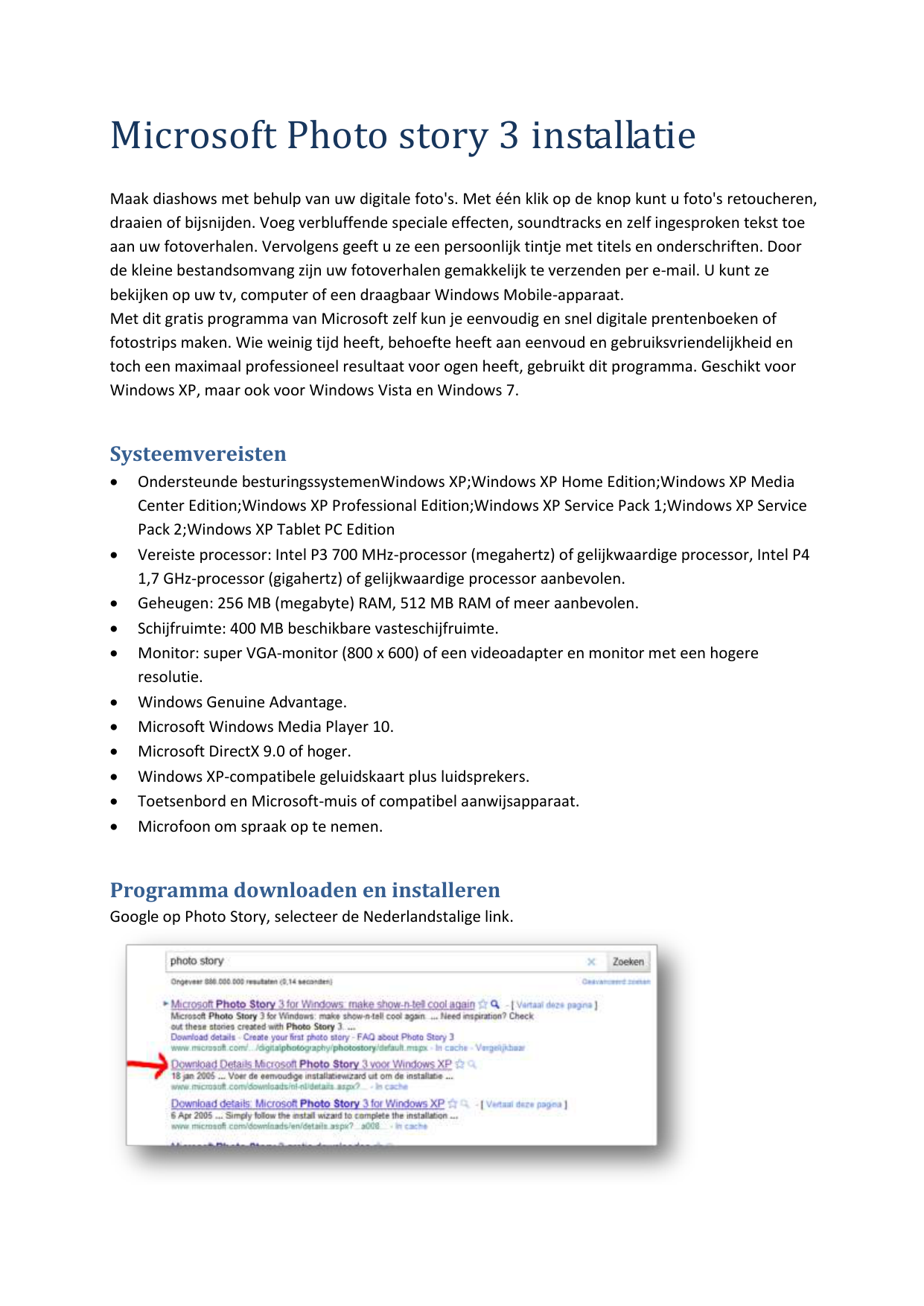 Microsoft Photo story 3 installatie
Maak diashows met behulp van uw digitale foto's. Met één klik op de knop kunt u foto's retoucheren,
draaien of bijsnijden. Voeg verbluffende speciale effecten, soundtracks en zelf ingesproken tekst toe
aan uw fotoverhalen. Vervolgens geeft u ze een persoonlijk tintje met titels en onderschriften. Door
de kleine bestandsomvang zijn uw fotoverhalen gemakkelijk te verzenden per e-mail. U kunt ze
bekijken op uw tv, computer of een draagbaar Windows Mobile-apparaat.
Met dit gratis programma van Microsoft zelf kun je eenvoudig en snel digitale prentenboeken of
fotostrips maken. Wie weinig tijd heeft, behoefte heeft aan eenvoud en gebruiksvriendelijkheid en
toch een maximaal professioneel resultaat voor ogen heeft, gebruikt dit programma. Geschikt voor
Windows XP, maar ook voor Windows Vista en Windows 7.
Systeemvereisten











Ondersteunde besturingssystemenWindows XP;Windows XP Home Edition;Windows XP Media
Center Edition;Windows XP Professional Edition;Windows XP Service Pack 1;Windows XP Service
Pack 2;Windows XP Tablet PC Edition
Vereiste processor: Intel P3 700 MHz-processor (megahertz) of gelijkwaardige processor, Intel P4
1,7 GHz-processor (gigahertz) of gelijkwaardige processor aanbevolen.
Geheugen: 256 MB (megabyte) RAM, 512 MB RAM of meer aanbevolen.
Schijfruimte: 400 MB beschikbare vasteschijfruimte.
Monitor: super VGA-monitor (800 x 600) of een videoadapter en monitor met een hogere
resolutie.
Windows Genuine Advantage.
Microsoft Windows Media Player 10.
Microsoft DirectX 9.0 of hoger.
Windows XP-compatibele geluidskaart plus luidsprekers.
Toetsenbord en Microsoft-muis of compatibel aanwijsapparaat.
Microfoon om spraak op te nemen.
Programma downloaden en installeren
Google op Photo Story, selecteer de Nederlandstalige link.
Check of de taal op Nederlands staat. Anders Nederlands als taal selecteren uit de lijst en op knop
Wijzigen erachter klikken! Daarna downloaden met knop Doorgaan
Er wordt gecontroleerd of je over een legitieme versie van Windows beschikt. Kan even duren.
Bestand PStory.msi opslaan, daarna Map openen en dubbelklikken op het bestand om de software te
installeren.