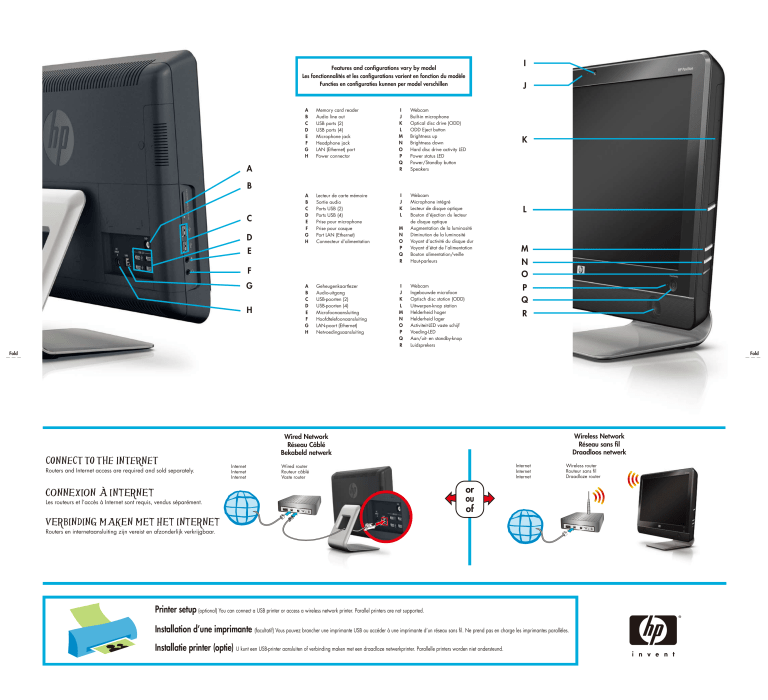 I
Features and configurations vary by model
Les fonctionnalités et les configurations varient en fonction du modèle
Functies en configuraties kunnen per model verschillen
J
A
B
C
D
E
F
G
H
Memory card reader
Audio line out
USB ports (2)
USB ports (4)
Microphone jack
Headphone jack
LAN (Ethernet) port
Power connector
I
J
K
L
M
N
O
P
Q
R
Webcam
Built-in microphone
Optical disc drive (ODD)
ODD Eject button
Brightness up
Brightness down
Hard disc drive activity LED
Power status LED
Power/Standby button
Speakers
A
B
C
D
E
F
G
H
Lecteur de carte mémoire
Sortie audio
Ports USB (2)
Ports USB (4)
Prise pour microphone
Prise pour casque
Port LAN (Ethernet)
Connecteur d'alimentation
I
J
K
L
M
N
O
P
Q
R
Webcam
Microphone intégré
Lecteur de disque optique
Bouton d'éjection du lecteur
de disque optique
Augmentation de la luminosité
Diminution de la luminosité
Voyant d'activité du disque dur
Voyant d'état de l'alimentation
Bouton alimentation/veille
Haut-parleurs
I
J
K
L
M
N
O
P
Q
R
Webcam
Ingebouwde microfoon
Optisch disc station (ODD)
Uitwerpen-knop station
Helderheid hoger
Helderheid lager
Activiteit-LED vaste schijf
Voeding-LED
Aan/uit- en standby-knop
Luidsprekers
A
K
B
C
D
E
F
G
H
A
B
C
D
E
F
G
H
Geheugenkaartlezer
Audio-uitgang
USB-poorten (2)
USB-poorten (4)
Microfoonaansluiting
Hoofdtelefoonaansluiting
LAN-poort (Ethernet)
Netvoedingsaansluiting
L
M
N
O
P
Q
R
Fold
Fold
connect to the internet
Routers and Internet access are required and sold separately.
Wireless Network
Réseau sans fil
Draadloos netwerk
Wired Network
Réseau Câblé
Bekabeld netwerk
Internet
Internet
Internet
Internet
Internet
Internet
Wired router
Routeur câblé
Vaste router
COnnEXIOn À InTERnET
Les routeurs et l'accès à Internet sont requis, vendus séparément.
VERBInDInG MAKEn MET HET InTERnET
Wireless router
Routeur sans fil
Draadloze router
or
ou
of
Routers en internetaansluiting zijn vereist en afzonderlijk verkrijgbaar.
Printer setup (optional) You can connect a USB printer or access a wireless network printer. Parallel printers are not supported.
Installation d'une imprimante (facultatif) Vous pouvez brancher une imprimante USB ou accéder à une imprimante d'un réseau sans fil. Ne prend pas en charge les imprimantes parallèles.
Installatie printer (optie) U kunt een USB-printer aansluiten of verbinding maken met een draadloze netwerkprinter. Parallelle printers worden niet ondersteund.