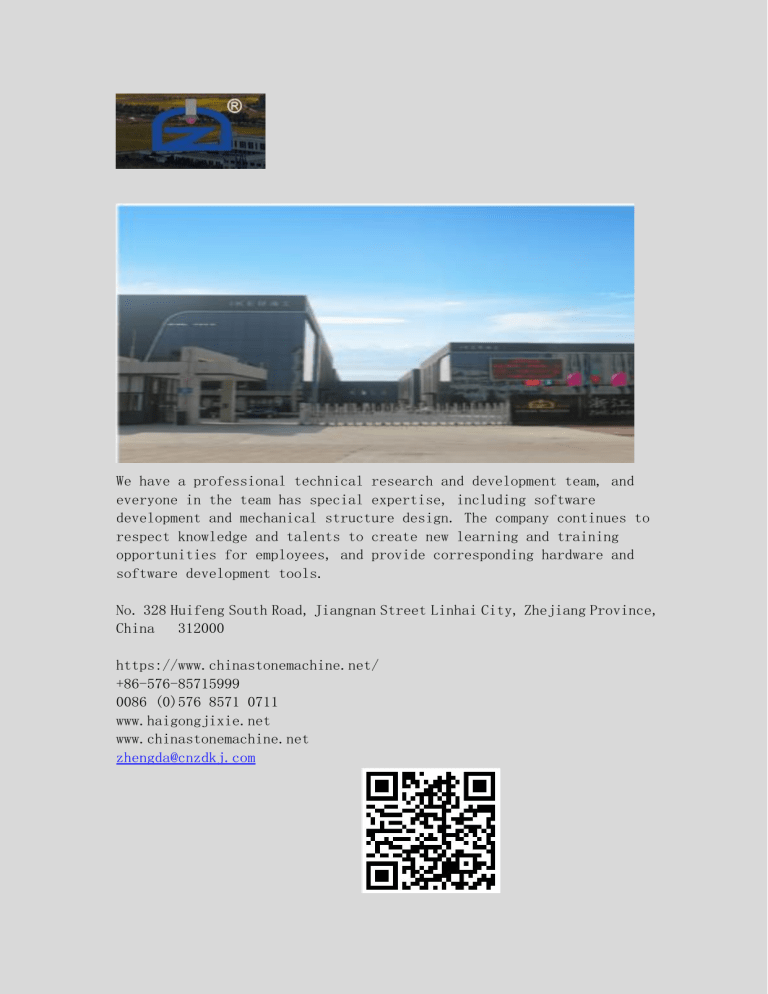 We have a professional technical research and development team, and
everyone in the team has special expertise, including software
development and mechanical structure design. The company continues to
respect knowledge and talents to create new learning and training
opportunities for employees, and provide corresponding hardware and
software development tools.
No. 328 Huifeng South Road, Jiangnan Street Linhai City, Zhejiang Province,
China 312000
https://www.chinastonemachine.net/
+86-576-85715999
0086 (0)576 8571 0711
www.haigongjixie.net
www.chinastonemachine.net
[email protected]
Our company was set up in 1978 and it is located in TAIZHOU, a coast city in the
Yangtze delta with an advanced economy and convenient transportation. We are
always a global leader in stone processing machinery as our lifelong goal. We have
been devoted to developing and producing various stone machinery for more than
30 years of history.
Now with an area of 80,000 square meters, intelligent office building and 50,000
square meters modern standard factories contain welding, casting and another three
production areas. It has become a high technology enterprise at the command of
research, manufacture, selling and after-sales service to produce stone machinery
professionally. We were awarded as one of the Top ten of CISE Chinese stone
machinery, and also one of the ten top brands among Chinese stone machinery, and
also passed CE certification and so on.
Our major products are infrared bridge cutting machine, PLC automatic profile cutter,
bridge edge grinding machine, bridge edge cutting machine, edge cutting and
grinding machine and also arc edge polishing machine, line polishing machine,
automatic washbasin polishing machine and so on which made by our
under-company: ZHEJIANG HAIGONG MACHINERY CO.,LTD" with all the brand of
ZHENGDA".
We are a manufacturer of complete sets of quartz
stone countertops
Our company adheres to the after-sales service without blind spots, is
committed to providing customers with systematic solutions, and
provides intimate care with a professional and honest service attitude.
Our company currently has 26 after-sales service personnel, resident or
mobile and domestic offices, of which 6 have foreign installation and
maintenance experience, can provide door-to-door service or solve
after-sales problems online, so that customers are truly worry-free.