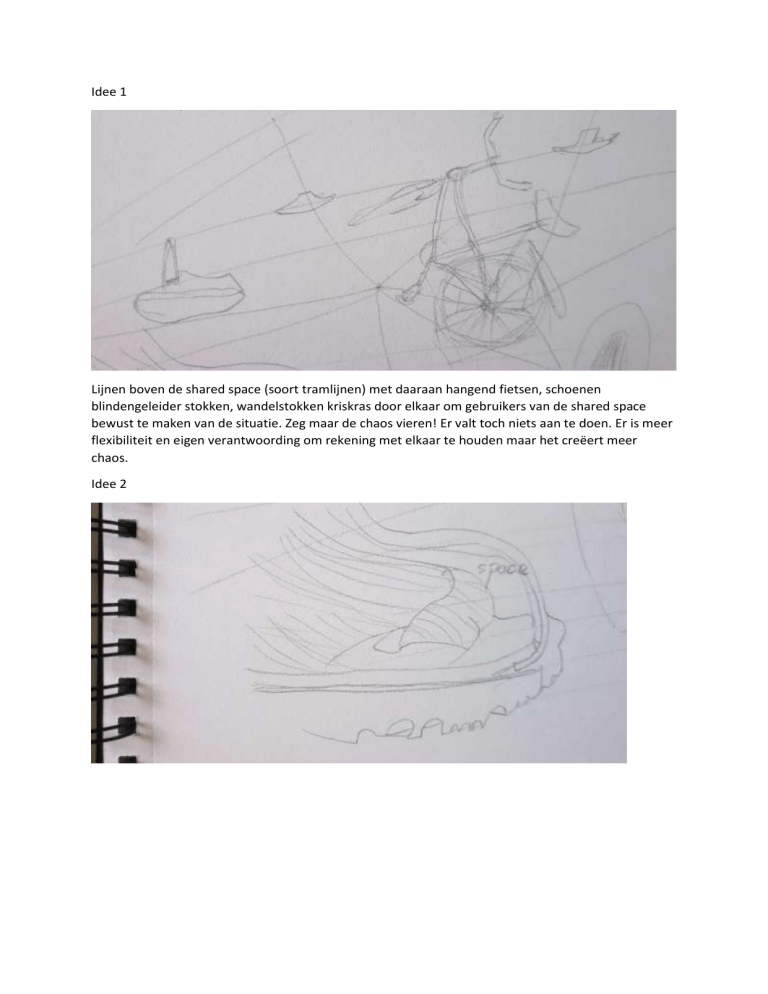 Idee 1
Lijnen boven de shared space (soort tramlijnen) met daaraan hangend fietsen, schoenen
blindengeleider stokken, wandelstokken kriskras door elkaar om gebruikers van de shared space
bewust te maken van de situatie. Zeg maar de chaos vieren! Er valt toch niets aan te doen. Er is meer
flexibiliteit en eigen verantwoording om rekening met elkaar te houden maar het creëert meer
chaos.
Idee 2
Soort van ruimtes op de shared space waarin je tot rust kan komen. Een gehalveerde schoen of
racefietszadel waar je even de drukt uit kan. Misschien met een gedempte ruimte met rustgevende
muziek.
Idee 3
Net als paraplus of zwembanden een oogstootkussen voor slechtzienden. Zeg maar een waarborg
tegen iets net als regen, verdringen en aangereden worden. Deze is op de shared space beschikbaar
en kan via een soort tramlijn meegetrokken worden. Ik weet nog niet hoe de slechtziende het kan
waarnemen.