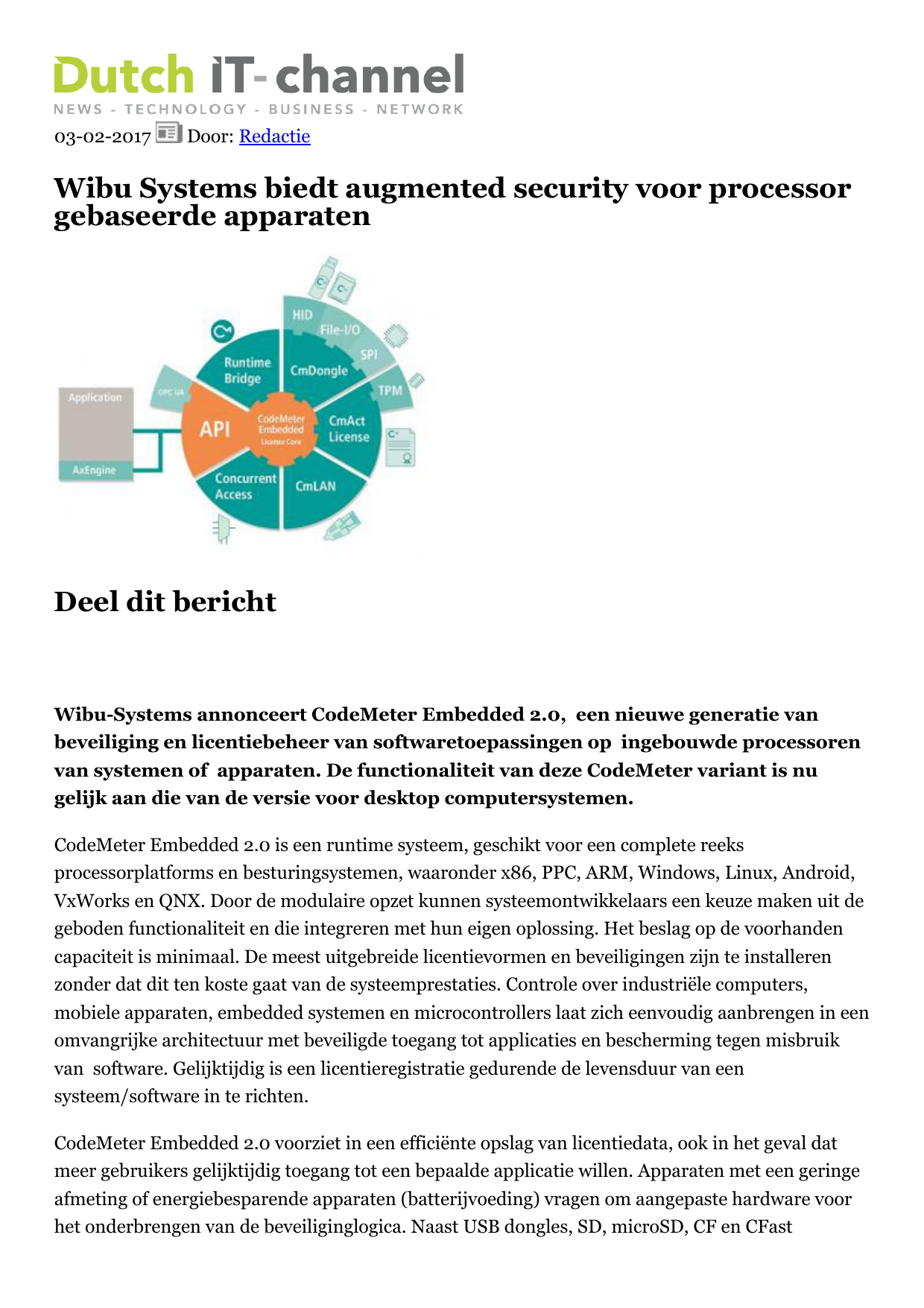 03­02­2017 Door: Redactie
Wibu Systems biedt augmented security voor processor
gebaseerde apparaten
Deel dit bericht
Wibu­Systems annonceert CodeMeter Embedded 2.0, een nieuwe generatie van
beveiliging en licentiebeheer van softwaretoepassingen op ingebouwde processoren
van systemen of apparaten. De functionaliteit van deze CodeMeter variant is nu
gelijk aan die van de versie voor desktop computersystemen.
CodeMeter Embedded 2.0 is een runtime systeem, geschikt voor een complete reeks
processorplatforms en besturingsystemen, waaronder x86, PPC, ARM, Windows, Linux, Android,
VxWorks en QNX. Door de modulaire opzet kunnen systeemontwikkelaars een keuze maken uit de
geboden functionaliteit en die integreren met hun eigen oplossing. Het beslag op de voorhanden
capaciteit is minimaal. De meest uitgebreide licentievormen en beveiligingen zijn te installeren
zonder dat dit ten koste gaat van de systeemprestaties. Controle over industriële computers,
mobiele apparaten, embedded systemen en microcontrollers laat zich eenvoudig aanbrengen in een
omvangrijke architectuur met beveiligde toegang tot applicaties en bescherming tegen misbruik
van software. Gelijktijdig is een licentieregistratie gedurende de levensduur van een
systeem/software in te richten.
CodeMeter Embedded 2.0 voorziet in een efficiënte opslag van licentiedata, ook in het geval dat
meer gebruikers gelijktijdig toegang tot een bepaalde applicatie willen. Apparaten met een geringe
afmeting of energiebesparende apparaten (batterijvoeding) vragen om aangepaste hardware voor
het onderbrengen van de beveiliginglogica. Naast USB dongles, SD, microSD, CF en CFast
ondersteunt CodeMeter Embedded 2.0 ook SPI (Serial Periphal Interface) en toepassingspecifieke
ASICs (Application Specific Integrated Circuits). Doordat de nieuwe variant ook deel uitmaakt van
de OPC UA ontwikkelkit (Open Platform Communications Unified Architecture) laten zich
aanvullende beveiligingslagen aanbrengen in standaard OPC UA omgevingen, waarbij alle
gevoelige data is ondergebracht in de door CodeMeter beheerde hardware. Voor wie nog een hoger
niveau van systeembeveiliging nastreeft, biedt de embedded versie van CodeMeter de mogelijkheid
van het gebruik van TPM voorzieningen (Trusted Platform Module).