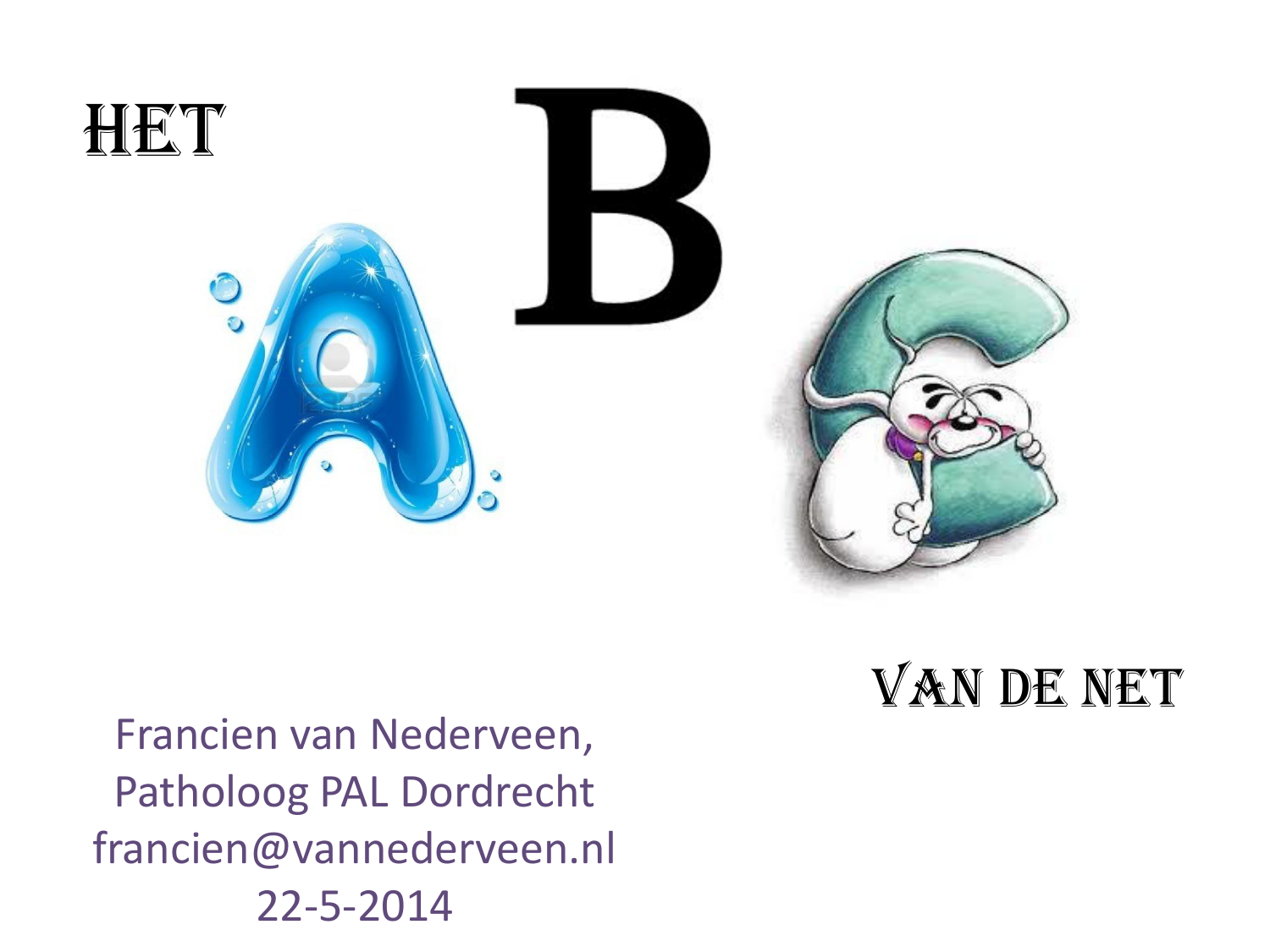 Het
Francien van Nederveen,
Patholoog PAL Dordrecht
[email protected]
22-5-2014
Van de NET
Brede spectrum van "neuro endocriene tumoren"
•
•
•
•
•
•
•
•
Hypofyse; meestal adenomen
Schildklier; medullair schildkliercarcinoom
Parathyroid tumoren
Thymus carcinoiden
Neuro-endocriene tumoren van de long (carcinoid, atypisch carcinoid, grootcellig neuroendocrien, kleincellig neuroendocrien)
Extrapulmonaire small cell carcinomas (ESCC of EPSCC)
•
Gastroenteropancreatic neuroendocrine tumors (GEP-NET)
Foregut GEP-NET (foregut tumors can conceptually encompasses not only NETs of the
stomach and proximal duodenum, but also the pancreas, and even thymus, lung and
bronchus)
Midgut GEP-NET (from distal half of 2nd part of the duodenum to the proximal two-thirds of
the transverse colon)
Hindgut GEP-NET
•
•
Bijniertumoren; pheochromocytomen
Perifere zenuwtumoren tumors; paragangliomen (sympathisch en parasympatisch)
•
•
Primaire neuroendocriene tumoren van borst, nier, testis of secundair bij teratoom (ovarium)
Merkelcelcarcinoom
•
Kenmerk neuroendocriene tumor
• Cellen met typische " zout en peper" kernen,
ruim (eosinofiel) cytoplasma.
• Immunohistochemische expressie
synaptofysine, chromogranine A, CD56
• Organoid groeipatroon (nesten, trabekels,
acinair)
Maligne potentieel endocriene tumoren
Metastases
ENETS GUIDELINES
Rindi et al. 2006
Histologie graad 1 GEP-NET
microscopie
Close-up endocriene pancreastumor
Histologie graad 2 GEP-NET
Histologie graad 3, Neuro-endocrien
carcinoom
Ki-67
Het "black box" antilichaam
Ki67 en survival
Ki67/KLI67
•Aanwezig in alle kernen van cellen in G1,
G2 en S fase en mitose
•Vernoemd naar stad van ontdekking (Kiel)
en de plaats van het ontdekte eiwit in de 96
well-plaat
(Gerdes et al. Int J Cacer 1983)
Ki67 en MIB-1
• MIB-1 en Ki67, vaak door elkaar gebruikt
• Ki67 en MIB-1 zijn monoclonale antilichamen zijn
gericht tegen verschillende epitopen van het
"proliferation-related antigen"
• MIB-1 is meest gebruikte antilichaam en ook
gespecificeerd bij de NET-diagnostiek
• Gebruikte term blijft de Ki67-index
Somatostatine receptoren
SSTR2a immunohistochemie
• Somatostatine receptor
– subtype 2a meest gebruikt
• Goede correlatie met scan/therapie mogelijkheden
• Meestal membraneuze , soms ook cytoplasmatisceh
aankleuring
• Relatie met goede differentiatie en betere survival
Samengevat
• Neuro-endocriene tumoren (NET) zijn onder te
verdelen in graad 1, 2 en 3 tumoren op basis van
morfologie, mitosen en aankleuringspercentage
van MIB-1 antilichaam (ki67 index)
• MIB-1 is niet Ki67
• Somatostatine receptoren (SSTR2a) IHC
correleren met klinische bruikbaarheid
Differentiaal diagnose Pancreas NET
• Solid pseudopapillary tumor of the pancreas
- typische presentatie, F 30, groot, vaak cysteus, geen
productie klinisch, wel synaptofysine+
• Acinar cell carcinoma
– Aankleuringspatroon met enzymen van pancreas en PAS
positieve granulae
Vragen?