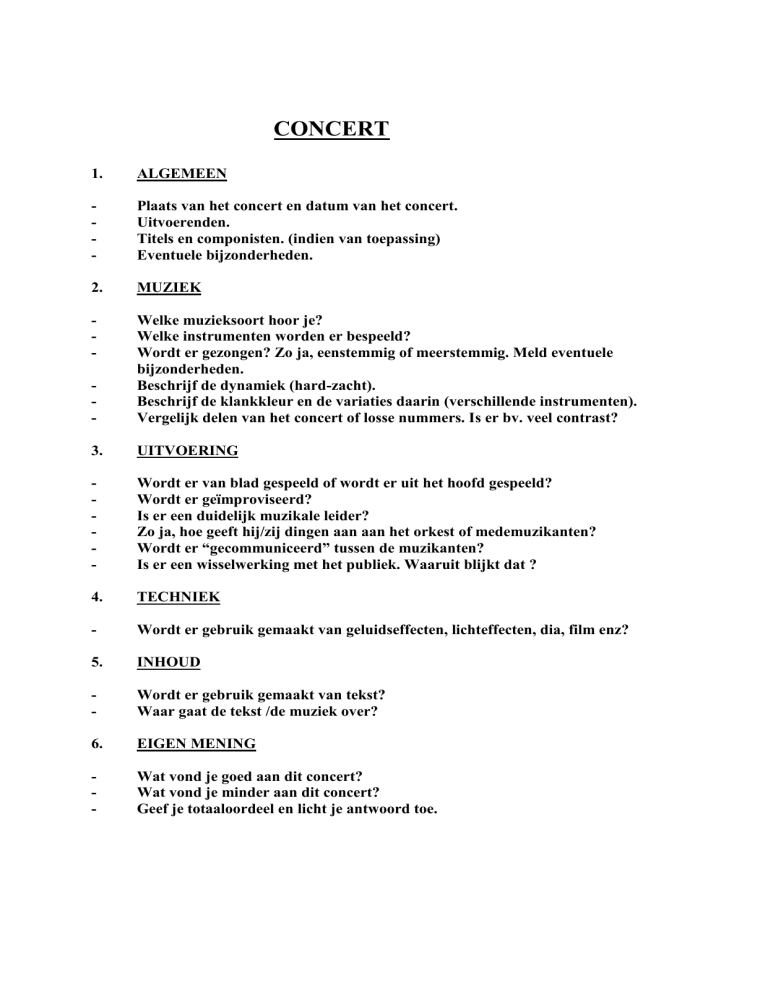 CONCERT
1.
ALGEMEEN
-
Plaats van het concert en datum van het concert.
Uitvoerenden.
Titels en componisten. (indien van toepassing)
Eventuele bijzonderheden.
2.
MUZIEK
-
Welke muzieksoort hoor je?
Welke instrumenten worden er bespeeld?
Wordt er gezongen? Zo ja, eenstemmig of meerstemmig. Meld eventuele
bijzonderheden.
Beschrijf de dynamiek (hard-zacht).
Beschrijf de klankkleur en de variaties daarin (verschillende instrumenten).
Vergelijk delen van het concert of losse nummers. Is er bv. veel contrast?
3.
UITVOERING
-
Wordt er van blad gespeeld of wordt er uit het hoofd gespeeld?
Wordt er geïmproviseerd?
Is er een duidelijk muzikale leider?
Zo ja, hoe geeft hij/zij dingen aan aan het orkest of medemuzikanten?
Wordt er "gecommuniceerd" tussen de muzikanten?
Is er een wisselwerking met het publiek. Waaruit blijkt dat ?
4.
TECHNIEK
-
Wordt er gebruik gemaakt van geluidseffecten, lichteffecten, dia, film enz?
5.
INHOUD
-
Wordt er gebruik gemaakt van tekst?
Waar gaat de tekst /de muziek over?
6.
EIGEN MENING
-
Wat vond je goed aan dit concert?
Wat vond je minder aan dit concert?
Geef je totaaloordeel en licht je antwoord toe.