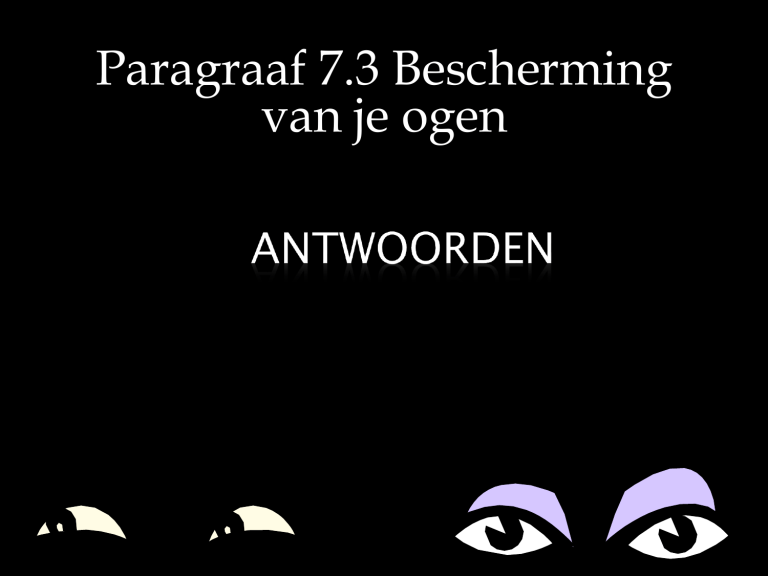 Paragraaf 7.3 Bescherming
van je ogen
1. Zoek de definitie van de
onderstaande begrippen:
1. Traanklieren
2. Traanvocht
3. Oogkas
2. Is het nuttig (util) dat
je oogleden reageren
als de wimpers worden
aangeraakt: waarom?
Je kunt je ogen snel
sluiten als er iets in je oog
dreigt te komen.
3. Waar komt het
traanvocht vandaan en
waar gaat het naartoe?
Uit de traanklieren en bij
veel traanvocht loopt het
in de traanbuisjes naar je
neusholte.
4. Door welke
onderdelen wordt je oog
beschermd tegen stof?
Wimpers, oogleden,
traanvocht
(traanklier)
5. Vul in Groot of Klein.
a. Als er fel licht in je
oog schijnt, is de iris
groot en je pupil klein.
b. Als het bijna donker is,
is je iris klein en de pupil
groot.
Blz 91.
6. Welke zijn de
onderdelen die je ogen
beschermen tegen
klappen of stoten ( sla
duro)?
Oogspieren (airbag),
oogkas, oogleden
7. Vissen hebben wel
ogen, maar geen
oogleden. Waarom
zouden voor vissen
oogleden minder
belangrijk zijn?
De ogen zijn altijd vochtig.
8. Iemand die huilt,
moet daarna zijn
neus snuiten.
Waardoor komt dat?
Overvloed aan traanvocht
wordt naar de neusholte
afgevoerd.
9. Bacteriën komen
overal voor. Waar denk
je dat bacteriën sneller
groeien: op je oog of
op je huid? Waarom?
Oog: bacteriën houden van
vochtigheid.