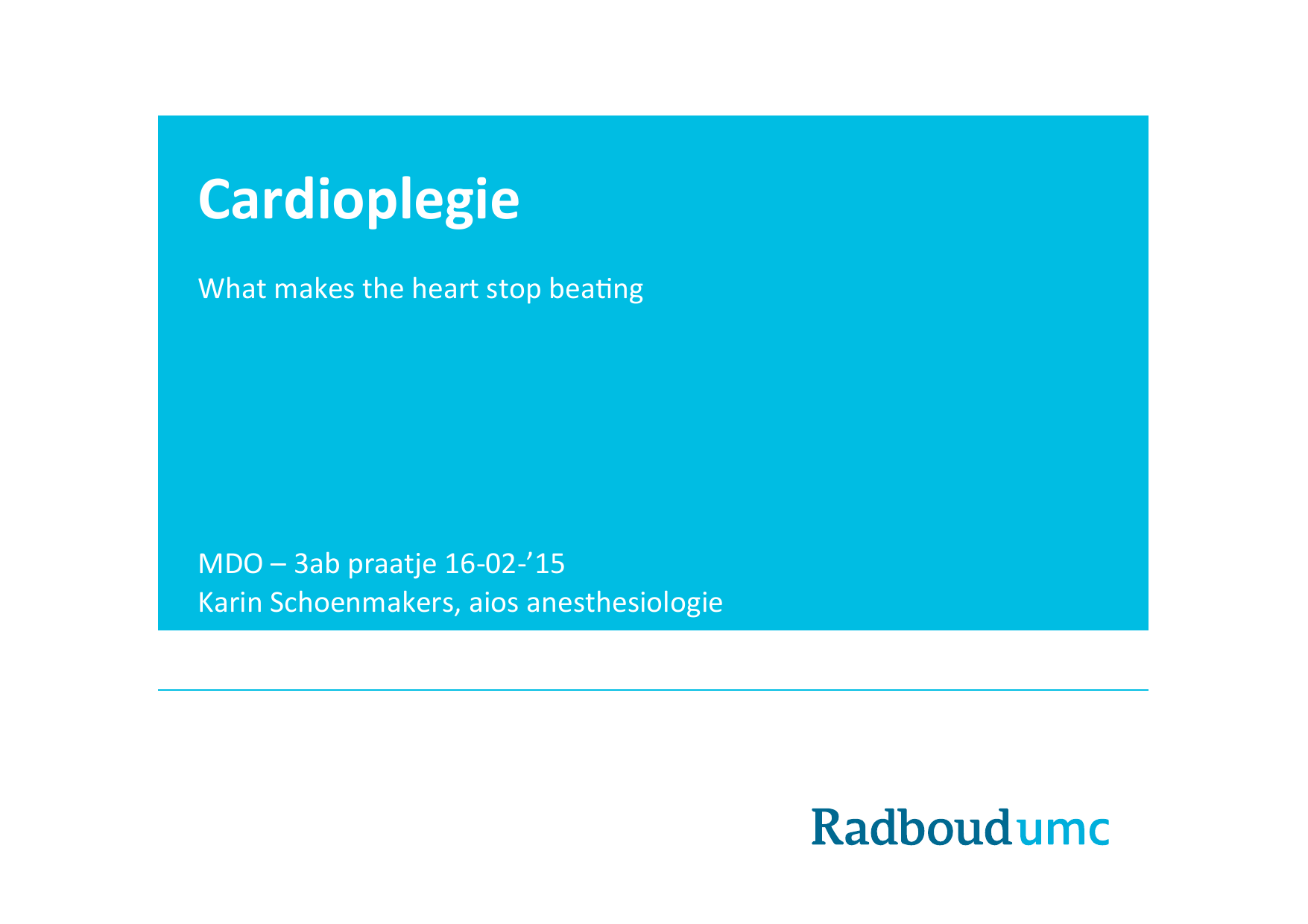 Cardioplegie What makes the heart stop bea.ng MDO – 3ab praatje 16-­‐02-­‐'15 Karin Schoenmakers, aios anesthesiologie Inhoud • 
• 
• 
• 
Defini.e cardioplegie Geschiedenis Verschillende soorten cardioplegie Referen.es Defini2e cardioplegie 1.  Plotselinge s.lstand van het hart; hartverlamming 2.  Elec.eve, snelle en reversibele paralyse van het hart tbv hartchirurgie dmv perfusie met kaliumhoudende vloeistof, aQoeling en/of intermiSerende aorta-­‐aQlemming Cardioplegie 1.  Kaliumhoudende vloeistof voor diastolische harts.lstand •  Electromechanische ac.viteit onderbroken; verlaging metabolisme hart: zuurstofconsump.e myocard 90% verlaagd 2.  Icm hypothermie tot < 22°C tot 95% verlaagde zuurstofconsump.e 3.  Addi.onele bescherming tegen ischemische celschade •  Hiermee kan hart 20 – 40 min zonder bloedflow •  Aan einde van chirurgie omgekeerd door reperfusie met warm bloed met normale K+ spiegel Hart-­‐longmachine Geschiedenis 1950 Hypothermie (Bigelow) 1952 geïnduceerde ventrikel fibrilla.e (Senning) 1954-­‐1958 Ontwikkeling hart-­‐longmachine (Gibbon, Lillehei, Rygg & Kyvsgaard) 1955-­‐1960 Birth and Burial: K cardioplegie met necrose myocard •  1962 Globale ischemie met con.nue of intermiSerende aortaklemming (Cooley) •  1960-­‐1970 Survival and Succes: addi.onele bescherming (Mg, Ca, procaine, acidose buffer, metabole substraten) •  1964 koude chemische cardioplegie (BreSschneider) 'intracellulaire matrix' •  >1970 Interna2onal Reawakening: •  1975 St Thomas' crystalloide oplossingen 'extracellulaire matrix' (Hearse) •  1978 Bloedcardioplegie (FolleSe, Buckberg) • 
• 
• 
• 
Bretschneider HTK (CustodiolTM) •  Intracellulaire matrix; weinig Na+, geen Ca2+ •  KCl 10 mmol/l •  Met mannitol •  BR3 met procaine •  His.dine = acidose buffer •  Tryptofaan = membraanstabilisator •  α-­‐Ketoglutaraat = metabool substraat St Thomas •  Crystalloide oplossing •  Extracellulaire matrix •  Met KCl 20 of 16 mmol/L Bloedcardioplegie •  1000 mL bloed uit systeem hart-­‐longmachine •  26 mM KCl •  20 ml Citraat-­‐fosfaat-­‐dextrose Overzicht soorten cardioplegie Component (mM) BR-­‐HTK STH NaCl 18 120-­‐144 NaHCO3 Bloed 10 KCl 10 16-­‐20 MgCl2 4 16 CaCl2 0.02 1.2-­‐2.2 His.dine 198 tryptofaan 2 α-­‐ketogluaraat 1 26 Referen2es •  Nussmeier NA, Michael C. Hauser MC, Sarwar MF, Grigore AM & Searles BE, 2009, 'Anesthesia for Cardiac Surgical Procedures' in Miller R, Eriksson L, Fleisher L, Wiener-­‐Kronish J & Young W's, Miller's Anesthesia, Elsevier health, pp 1911-­‐1924 •  Sigurd Gunnes and Per Jynge, 2011, 'Fundamentals of the Past: Cardioplegia: The First Period Revisited' in BK Podesse & DJ Chambers' ( •  Chambers DJ and Fallouh HB, Cardioplegia and cardiac surgery: Pharmacological arrest and cardioprotec9on during global ischemia and reperfusion. Pharmacology & Therapeu.cs 2010;127:41–52 Bedankt voor de aandacht! Zijn er nog vragen?