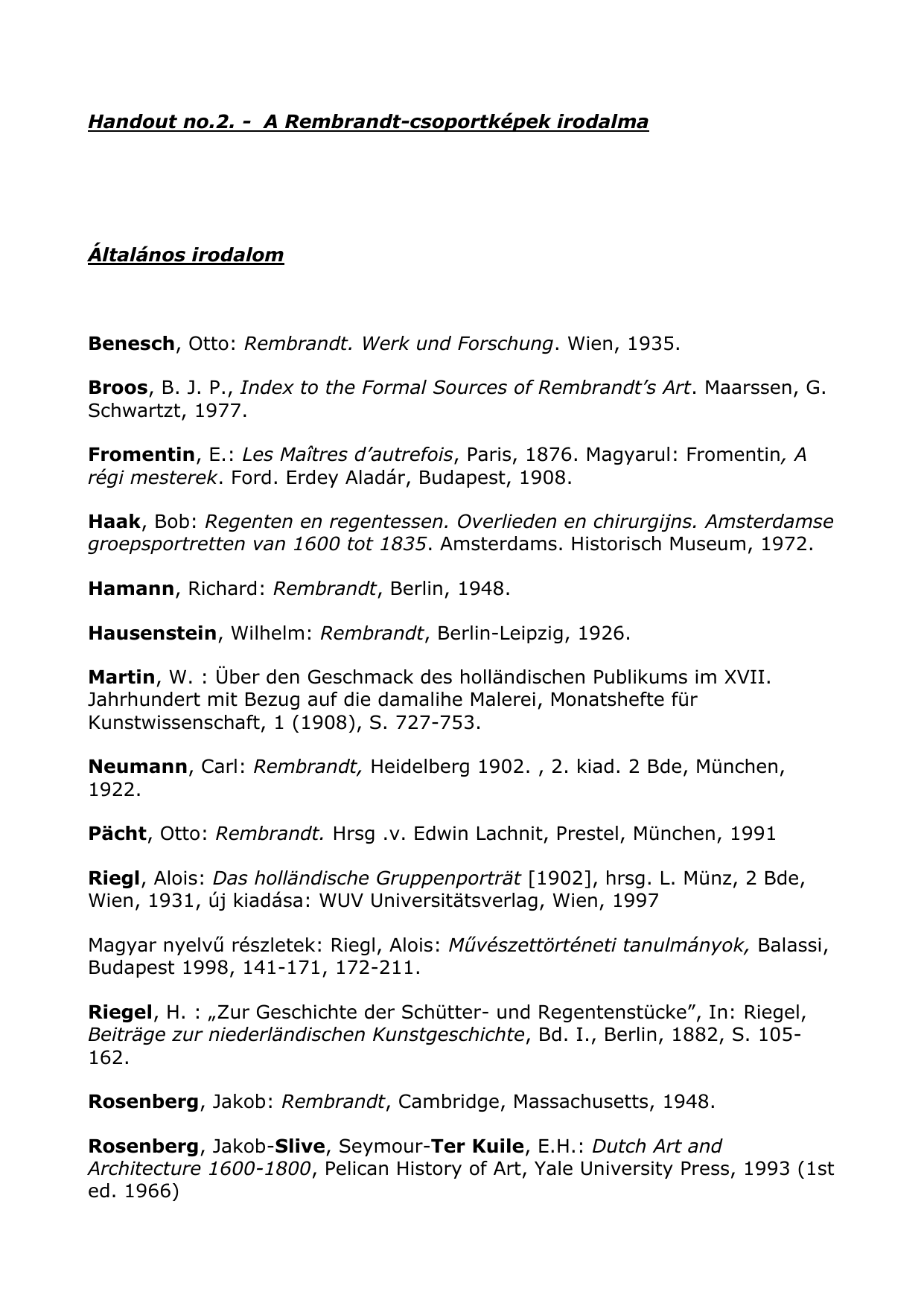 Handout no.2. - A Rembrandt-csoportképek irodalma
Általános irodalom
Benesch, Otto: Rembrandt. Werk und Forschung. Wien, 1935.
Broos, B. J. P., Index to the Formal Sources of Rembrandt's Art. Maarssen, G.
Schwartzt, 1977.
Fromentin, E.: Les Maîtres d'autrefois, Paris, 1876. Magyarul: Fromentin, A
régi mesterek. Ford. Erdey Aladár, Budapest, 1908.
Haak, Bob: Regenten en regentessen. Overlieden en chirurgijns. Amsterdamse
groepsportretten van 1600 tot 1835. Amsterdams. Historisch Museum, 1972.
Hamann, Richard: Rembrandt, Berlin, 1948.
Hausenstein, Wilhelm: Rembrandt, Berlin-Leipzig, 1926.
Martin, W. : Über den Geschmack des holländischen Publikums im XVII.
Jahrhundert mit Bezug auf die damalihe Malerei, Monatshefte für
Kunstwissenschaft, 1 (1908), S. 727-753.
Neumann, Carl: Rembrandt, Heidelberg 1902. , 2. kiad. 2 Bde, München,
1922.
Pächt, Otto: Rembrandt. Hrsg .v. Edwin Lachnit, Prestel, München, 1991
Riegl, Alois: Das holländische Gruppenporträt [1902], hrsg. L. Münz, 2 Bde,
Wien, 1931, új kiadása: WUV Universitätsverlag, Wien, 1997
Magyar nyelvű részletek: Riegl, Alois: Művészettörténeti tanulmányok, Balassi,
Budapest 1998, 141-171, 172-211.
Riegel, H. : "Zur Geschichte der Schütter- und Regentenstücke", In: Riegel,
Beiträge zur niederländischen Kunstgeschichte, Bd. I., Berlin, 1882, S. 105162.
Rosenberg, Jakob: Rembrandt, Cambridge, Massachusetts, 1948.
Rosenberg, Jakob-Slive, Seymour-Ter Kuile, E.H.: Dutch Art and
Architecture 1600-1800, Pelican History of Art, Yale University Press, 1993 (1st
ed. 1966)
Schwartz, Gary: Rembrandt – His Life, His Paintings. Penguin, London,. New
York, etc. 1985.
Schwartz, Gary: The Rembrandt-Book, Mercatorbooks, Brussels, 2006.
Slive, Seymour: Rembrandt and His Critics, 1630-1730, The Hague, 1953.
Tümpel, christian: "Beobachtungen zur 'Nachtwache'", in: Neue Beiträge zur
Rembrandt-Forschung, hrsg. O. v. Simson u. Jan Kelch, Berlin, 1973, S. -175.
Waetzold, Wilhelm: Die Kunst des Porträts, Leipzig, 1908.
Weisbach, Werner: Rembrandt, Berlin-Leipzig, 1926.
Tulp doktor anatómiai leckéje, 1632
A Corpus of Rembrandt Paintings. Ed. by J. Bruyn, B. Haak, S. H. Levie,
P.J.J. van Thiel, E. van de Wetering. Stichting Fondation, Rembrandt
Research Project, Vol. II. 1631-34., A. 51, Martinus Nijhoff Publ. 1968,
Dordrecht, Boston, Lancaster, pp. 172-189.
van Eeghen, I.H.: "De anatomische lessen van Rembrandt ", Jaarboek van
het Genotschaap Amstelodamum, 95 (1948), 34-36.
Heckscher, William: Rembrandts Anatomy of Dr. Nicolaes Tulp., An
Iconological Study, New York, 1958.
Jantzen, Hans: "Rembrandt, Tulp und Vesal", Kunst und Künstler, 24, 313314.
Judson, S. R.: C. E. Review of William Heckscher's Rembrandts Anatomy of
Dr. Nicolaes Tulp, Art Bulletin, 42, 1960. pp. 305-310.
Kellett, C. E.: Review of William Heckscher's Rembrandts Anatomy of Dr.
Nicolaes Tulp. Burlington Magazine, 101. 1959, pp. 150-152.
Querido, A.: "De Anatomie van de anatomische Les", Oud Holland, 82, 1967.
p. 130-136.
Reznicek, E.K.J.: "Opmerkingen bij Rembrandt. De anatomische Les van Dr.
Tulp", Oud Holland, 91, 1977. p. 80-88.
Schrade, Hubert: "Rembrandts 'Anatomie des Dr. Tulp'", Das Werk des
Künstlers, I. 1939-40, S. 60-100.
Schupbach, Wiliam: The Paradox of Rembrandts Anatomy of Dr. Tulp,
London, 1982.
Volkenand, Claus: Anatomie eines Bildes, Wilhelm Fink, München, 2004.
Vosmaer, C.: Die niederländische Anatomiegemälde, Zeitschrift für bildende
Kunst, Bd.VIII., Leipzig, 1873.
Wegner, R.: Das Anatomenbildnis. Basel, 1939.
Az ún. "Éjjeli őrjárat", 1642
Altena, J. Q. Regteren: "Quelque remarques sur Rembrandt et la Ronde de
Nuit", Actes du XVIIme Congrès International d'Histoire de L'Art, 1952., The
Hague, 1955. 405-420.
Bauch, Kurt: Rembrandt van Rijn - Die Nachtwache. Reclam Verlag, Stuttgart,
1957.
Carroll, M.D. : Rembrandt's Nightwatch and the Iconological Traditions of
Militia Company Portraiture in Amsterdam, Harvard University Dissertation,
1976.
Dvoŕák, Max: Die Nachtwache. Wien, 1921
Haverkamp-Begemann, Egbert: Rembrandt "The Night Watch" Princeton,
1982
Hellinga, W.G. : Rembrandt fecit 1642… Amsterdam, 1956.
Imdahl, Max: "Rembrandts Nachtwache. Überlegungen zur ursprünglichen
Bildgestalt". Festschrift Werner Hager, hrsg. V. Günther Finsch u. M: Imdahl
Recklingshausen, 1966. S. 103-121.
Plesch, Janos: "Rembrandt's "Night Watch" interpreted as a Carnival", Apollo
Magazine, March 1950.
Schmidt-Degener, Frederik: "Het genetische Problem van de Nachtwacht"
(több részletben, Onze Konst, 26 (1914). 1-17.; 29 (1916) 61-84.; 30 (1916) ,
29-56; 31 (1917), 1-32. , 97-102. o.
Tümpel, Christian: De Amsterdamse Schutterstukken, in: Schutters in
Holland, kiáll.kat, szerk. M. Carasso-Kok, J. Levy-van Alm, Zwolle, 1988
A posztóscéh előljárói ("Staalmeesters"), 1661
van Eeghen, I.H.: "De Staalmeesters", Jaarboek van het Genotschaap
Amstelodamum, 49 (1957), 65-80.
Kauffmann, Hans: Die "Staalmeesters", Kunstchronik, Mai 1957. 10. Jhrg, 6.
Heft, S. 125-131.
Tolnay, Charles de: "The Syndics of the Drapers'Guild by Rembrandt (An
Interpretation)" Gazette des Beaux-Arts, 85, 1943. 31-38., magyarul:
"Rembrandt: A posztóscéh elöljárói (Műértelmezés)" ford. Széphelyi F. György,
in: Tolnay Károly: Teremtő géniuszok. Van Eycktől Cézanne-ig, Gondolat,
Budapest, 1987. 209-216. o.
van de Waal, Henri: The Staalmeesters and Their Legend, in: Waal, Steps
towards Rembrandt, Amsterdam-London, 1974.