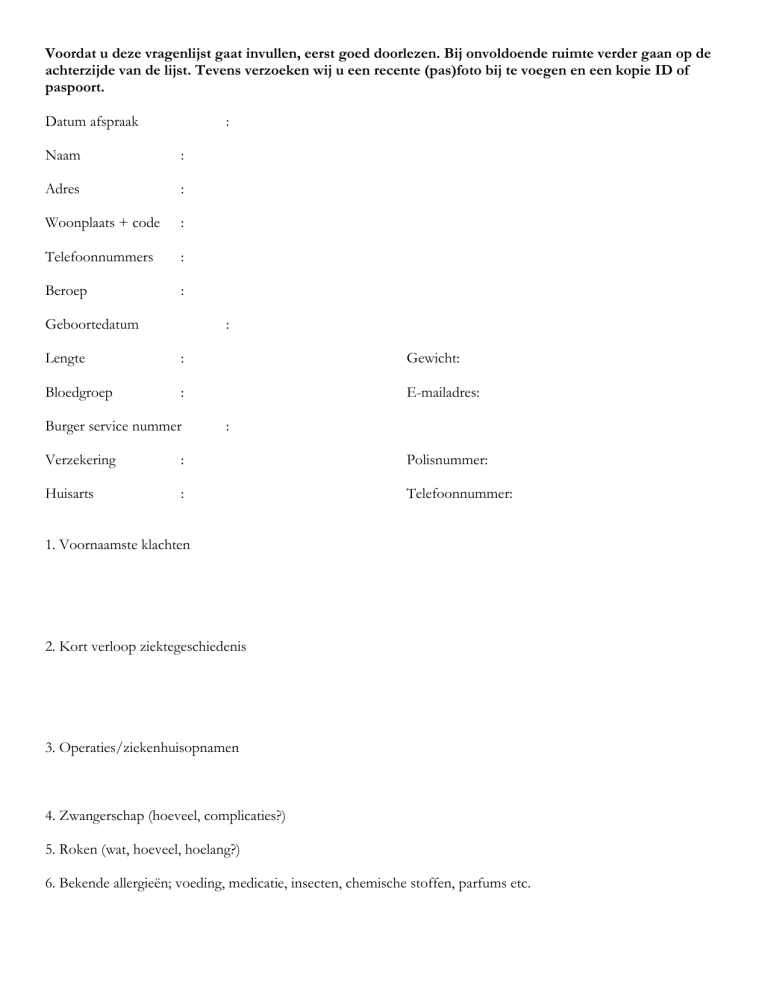 Voordat u deze vragenlijst gaat invullen, eerst goed doorlezen. Bij onvoldoende ruimte verder gaan op de
achterzijde van de lijst. Tevens verzoeken wij u een recente (pas)foto bij te voegen en een kopie ID of
paspoort.
Datum afspraak
:
Naam
:
Adres
:
Woonplaats + code
:
Telefoonnummers
:
Beroep
:
Geboortedatum
:
Lengte
:
Gewicht:
Bloedgroep
:
E-mailadres:
Burger service nummer
:
Verzekering
:
Polisnummer:
Huisarts
:
Telefoonnummer:
1. Voornaamste klachten
2. Kort verloop ziektegeschiedenis
3. Operaties/ziekenhuisopnamen
4. Zwangerschap (hoeveel, complicaties?)
5. Roken (wat, hoeveel, hoelang?)
6. Bekende allergieën; voeding, medicatie, insecten, chemische stoffen, parfums etc.
7. Medicatie in gebruik, ook vermelden vitamines, supplementen, homeopathie, kruiden etc.
8. Medicatie voorheen gebruikt, alleen voor periodes langer dan 3-4 weken. Vermelden antibiotica,
corticosteroïden, zalven etc.
9. Anticonceptie, zo ja, hoe en welk middel?
10. Dieet, vermelden wat men niet eet, en waarom niet. Algemene eet- en drinkwijze vermelden.
11. Alcoholgebruik, hoeveel, hoelang, hoe vaak?
12. Alternatieve therapieën; acupunctuur, electroacupunctuur, diagnostiek, homeopathie, etc.
13. Hoe is de stoelgang, elke dag of last van verstopping, samenstelling; hard/breiig, winderigheid
14. Heeft u er bezwaar tegen als wij de huisarts van onze bevindingen op de hoogte stellen?