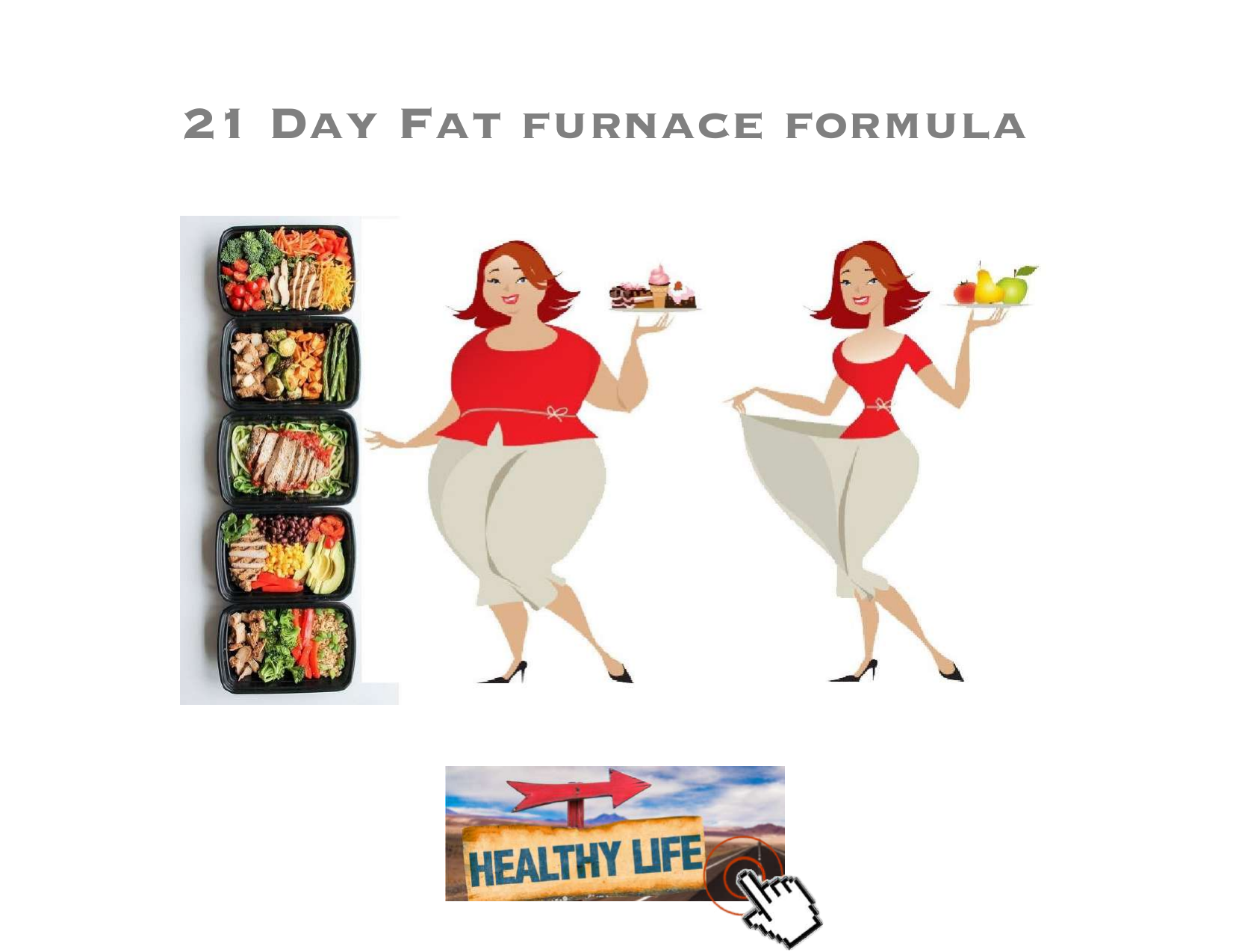 21 Day Fat furnace formula
21 Day Fat Furnace
Table of Contents………………………………………………Page 2
21 Day Cleanse…………………………………………….......Page 3
Workout Plan………………….………………………………..Page 4
Food Log…………………..…………………………………Pages 5 & 6
Meal Plan……………………………………………………….Page 7-15
21 Day Fat Furnace Cleanse
Congratulations on taking on this 21 Fat Furnace Challenge. Below are changes that YOU will to commit to for the next 21 Days. It is YOUR 21
Day Fat Furnace Cleanse. By making these changes you will get optimal results. There will be sacrifices but You will be amazed at how much
difference these steps will make. You can do it for 21 days!
Fat Furnace Cleanse Steps:
1) No alcohol
2) No fried foods
3) No sweet treats, candy, cake, muffins, etc.
4) No sodas, juices, sweetened tea, or other calorie drinks.
5) Cut the processed foods and go for the REAL thing. No boxed food. This will cut sodium, calories, and chemicals going into your body.
What to Do Instead:
1) Start your day with 16 ounces of H2O. Drink a total of 64 – 100 ounces per day. If you wish, add lemon, mint, or fruit to your water.
2) Follow the meal plan. Eat in and prepare your own meals AHEAD OF TIME. Keep a Food Log of Everything you Eat.
3) Always eat within 1 – 2 hours of your exercise. Even if exercising first thing in the morning! Eat it as you head out the door to exercise.
4) Cardiovascular exercise EVERY single day for 21 Days following the guide in this program.
5) Attend all 3 Fat Burning Boot Camp Training sessions each week.
6) Get 8 hours of sleep each day. Go to bed by 10p.m. Good sleep = Good energy.
These are BIG changes that = BIG results!!!
IT IS WORK AND IT WORKS!!!
Workout Plan for Non-Training Days:
ALWAYS EAT WITHIN 1-2 HOURS BEFORE A WORKOUT. THIS IS VERY IMPORTANT!!!
Workout 1
Workout 2
Workout 3
Workout 4
Week 1 Cardio
Walk/jog moderate
pace for 30 minutes
45 minute low intensity
walk/jog or elliptical
trainer
Jumping Jacks
High Knees
Jump Rope
(Rotate all three for total
of 3 minutes then do 3
minute walk. Repeat 5
times)
60 minute low intensity
walk/jog/bike.
Weeks 2 & 3
Cardio
Walk/sprint: 1 minute
moderate walk & 30
second sprint/speed
walk. Keep repeating
for 30 minutes
Squats
60 minute low intensity
walk/jog/bike/swim
Walking Lunges
(you can break into two 30 Burpees
(Rotate all three for total
minute workouts if
of 3 minutes then do 3
needed.
minute walk. Repeat 5
times)
Walk/run stairs for 10
minutes & then
Walk/jog for 30 minutes
flat ground.
"YOU have to Challenge it to Change it"
If YOU want to CHANGE YOUR body, do workouts that are challenging. To get AMAZING RESULTS in 21 Days YOU have to kick up and change up YOUR workouts.
Whatever YOU are currently doing - YOU must increase the intensity and add more of it. No coasting – make sure YOU are working! Log what YOU do in your
food log. You may or may not be able to do the workouts above right now. Do what YOU can do, challenge YOURSELF, and LOG IT.
*Note: While it is important to challenge YOUR body it is also important that YOU are safe. Stay hydrated and avoid extreme temperatures. YOU will likely
experience muscle soreness. This happens when we challenge our body in new ways. Remember this is your workout so don't try and keep up with others as
this can lead to injury.
Listen to YOUR body when YOU are working out. If it doesn't feel right then don't do it, let your trainer know and if you experience medical difficulties
contact YOUR physician immediately. Always consult with a physician before beginning a new exercise program.
Food Log "What Get's Tracked Get's Done"
Start today and Log every single thing you eat, drink, ingredients, what times you eat (be very detailed and specific) for the NEXT 21 DAYS. I
will meet with you at the end of the program to review your nutrition logs and help you more with eating in balance. We will also get your post
measurements at this appointment. I want to see it all - The Good, The Bad, & The Ugly. DO NOT SKIP THIS STEP!!! LOG LOG LOG ☺
How to Do Your Food Log:
1. Using a simple note pad and pen is BEST.
Note: If you use a phone or computer program compare the label on the food item to the totals that the program gives you. Log every
condiment or side item because these apps do not always include these. Print it out and bring it to your nutrition consultation.
2. Write the time of day of each meal/snack.
3. List every ingredient in each food for that meal.
4. Include your exercise and time of day on the log.
5. Include your water intake and times you drink
Taking on a new eating program is NO JOKE! Everything we do revolves around food. It requires time, WORK, energy, patience, and
determination. Your body and your taste buds are accustomed to the foods you currently eat. Your body will initially resist change and so will
your taste buds. If YOU get rid of the junk for just 1 week YOU will notice. You will feel better with more energy; you will burn more calories,
and sleep better. And YOUR taste buds will actually begin to change.
We truly are what we eat. To feel good and look good YOU must put good foods in YOUR body. I personally choose organic when possible to
limit the exposure to additives, hormones, and pesticides with meat, fruit, and veggies. While the initial price tag on regular products may be
"cheaper" the long term cost is much higher. Choose Quality – this is YOUR one and only body and YOU are worth it!
Women in particular tend to eat diets high in processed carbohydrates and fats and very low in protein. This type of diet leaves us feeling tired,
stressed, worn out, emotional and storing excess fat while we lose precious muscle tissue. It leads to BELLY FAT!
***LOG IT – Log everything YOU eat or drink for the entire 21 day Program. Log in
DETAIL (times, everything in or on the food, any condiments).
Food and Success Tips
Protein Powder & Protein Bars:
I included some in the meal plan so you can see where they would fit in. Pick protein powder and bars that are natural and free of artificial
flavoring. There are tons of options out there and unfortunately most of them have lots of junk added. Whey protein is a byproduct of cow's
milk. If you have dairy allergies, look for a plant based protein instead of whey based. We have my #1 Recommended ALL NATURAL WHEY
PROTEIN POWDER available in our pro shop at The Pink Physique made by Revolutionary Technology Nutrition that is AWESOME! We also carry
ALL NATURAL MEAL REPLACEMENT BARS that are gluten-free and dairy-free in 5 flavors (called PureFit bars). I hand-picked both of these
products for their ingredients and quality. And we have had amazing results with our clients using these products. Ask our staff for details.
Bread: The bread aisle at the grocery store is full of soft and processed bread. Real bread should actually require chewing and "processing" in
your mouth. Sprouted grain bread is available in the health food section of the grocery store (typically frozen). If you are not used to this kind
of bread it will be a shock to your palette. It is not "melt in your mouth" bread nor should it be. It has much more fiber and is not processed.
Success Tip #1: Our most successful fat loss clients don't vary their food day to day very much in the beginning. This keeps it simple to cook
ahead and allows you to work on one thing at a time. While I have given you a plan with 7 different days you may choose initially to vary your
meals much less. Swap out any of the veggies with ones that you like (corn & potatoes are not veggies).
Success Tip #2: Plan ahead and prepare meals in advance so they are grab and go. When you first look at a completely new meal plan you may
be overwhelmed and begin to say "I can't". PLANNING & PREPARATION are the keys to eating healthy and controlled portions and sticking with
the plan. Pack a cooler to take with you on the go so that you always have YOUR food readily available and don't miss a meal. It is possible to
eat 5 -6 meals/day and do it on a busy schedule. The old saying is true: "Where there is a will there is a way". Those that get the best results
will be those that MAKE A WAY!
Success Tip #3: Keep water with you at all times. Start your day with 16 ounces of water.
Success Tip #4: If something goes wrong and your food or workouts get out of whack and off track one day jump right back on it and keep
going.
Success Tip #5: Most find it easier to eat similar foods each day when beginning a new meal plan. This is why we repeat the same meals for 3
weeks in this plan.
***MOST IMPORTANT SUCCESS TIP: LOG YOUR FOOD EVERYDAY & FOLLOW THE
MEAL PLAN!!!
Sample Meal Plan (repeat x 3 weeks)
Monday
Tuesday
Wednesday
Meal 1
as soon
as you
wake.
Mini Protein
Pancakes (see
recipe)
Revolutionary
Eggs & Oats/
Technology
Grits
Breakfast Protein (see recipe)
shake (see recipe)
Meal 2
3 hours
later
Plain Greek
2 rice cakes
2 tbsp peanut
Yogurt
& Small piece of butter (or other
fruit
nut butter)
Thursday
Friday
Saturday
Revolutionary
Technology
Breakfast Protein
shake (see
recipe)
Pure Fit Protein Lean Omelet
Bar (available
(see recipe)
at Pink Physique
Pro Shop)
Sunday
Breakfast
Protein Parfait
(see recipe)
Mex Chips & Dip ½ cup cottage
(see recipe)
cheese
½ - 1 cup cubed
watermelon
3-4 oz apple
2 tbsp peanut
butter (or other
nut butter)
Revolutionary
Technology
Protein shake
(see recipe)
1 small handful
plain lightly
salted nuts
Meal 3
Tuna Salad (see
3-4 hours recipe)
later
Chicken & Rice
(see recipe)
Mandarin Salad
(see recipe)
Sprouted Turkey
Sandwich (see
recipe)
Salmon Salad
(see recipe)
Taco Salad
(see recipe)
Fish Tacos
(see recipe)
Meal 4
3 hours
later
Pure Fit Protein
Bar
Handful of nuts
Pure Fit Protein
mixed with ½ cup Bar
dried fruit
Deli Roll-up (see
recipe)
Frozen Banana
Yogurt (see
recipe)
Pink Lady Sushi
Roll (see Recipe)
Loaded Baked
Potato (see
recipe)
Meal 5
3 hours
later.
After
workout
if doing
evening
workout
Turkey Spaghetti
(see recipe)
3.5 – 4oz Salmon
grilled
Asparagus (green
veggie) cooked in
1 tbsp olive oil
4 oz sweet potato
4 oz lean beef
3 cups veggies
(stir fried)
1 tbsp olive oil
(for stir-fry)
½ cup kidney
beans
4 oz Lamb
kabobs Grilled
w/ red peppers,
onions,
mushrooms,
pineapple slices
½ cup cooked
jasmine rice
4 oz Grilled
Chicken breast
1 cup green
beans
4 oz baked
potato
(top with salsa
and plain Greek
yogurt)
4 oz grilled lean
steak
1 cup lima
beans
1-2 cups
steamed
zucchini and
stewed
tomatoes
4 oz Grilled
Turkey Round
1 cup steamed
broccoli
1 cup garbanzo
beans
Salt & Pepper
Meal 6
(optional
)
If you
are still
hungry
add this
shake 1
hr before
bed
Revolutionary
Revolutionary
Technology
Technology
Protein Powder & Protein Powder &
8 oz
8 oz unsweetened
unsweetened
almond milk
almond milk
Revolutionary
Technology
Protein Powder
& 8 oz
unsweetened
almond milk
Revolutionary
Revolutionary
Technology
Technology
Protein Powder & Protein Powder
8 oz
& 8 oz unsweet
unsweetened
almond milk
almond milk
Revolutionary
Revolutionary
Technology
Technology
Protein Powder & Protein Powder
8 oz
& 8 oz unsweet
unsweetened
almond milk
almond milk
Recipes
Breakfast Protein Parfait:
1/4 cup Greek Yogurt, plain, fat free
1/4 cup low fat cottage cheese
1/4 cup fresh berries
1 Tablespoon pecan pieces, toasted (or any other nuts)
In a small bowl use a whisk to combine the yogurt and cottage cheese. Mix until well incorporated. Place half of the yogurt mixture into a clear
cup, top with the berries and then the remaining yogurt mixture. Top with pecans.
Chicken & Rice
3.5 – 4 oz Grilled Chicken
2 tbsp Stubb's Bbque sauce
½ cup brown rice
½ - 1 cup carrots steamed or raw
Drizzle barbeque sauce on chicken and Bake at 350° for 10-15 minutes depending on oven. Serve with a side of cooked rice and steamed
veggies.
Deli Roll-up:
3 oz of low-sodium lean deli meat
1 slice of low fat cheese
shake of pepper
slice of tomato
lettuce
shredded carrots
Roll-up everything in the deli meat and enjoy!
Eggs & Oats/Grits
½ cup steel cut oats (cook on stove top or microwave with water) or 3 tbsp uncooked grits (cook on stove or microwave with water)
2 whole cooked eggs
1 cooked egg white
¼ cup fresh blueberries (may want these on the side if you are using grits instead of oats).
Salt & Pepper
Mix eggs and egg white in skillet and scramble. Mix eggs with cooked oats/grits, top with blueberries and enjoy!
Fish Tacos
4 oz tilapia or shrimp
1/2 tbsp cumin
1/2 tbsp chili powder
2 small, whole grain low carb tortillas
1/4 cup cucumber grated
1/4 cup carrots grated
1/4 cup chopped cabbage
1/4 cup fresh chopped cilantro
Dressing for Fish Tacos:
1/2 cup non-fat plain greek yogurt
1/8 tsp Chili powder or more to taste
1-2 tsp lime juice (depending on preference)
Mix all 3 ingredients and set aside
Rub raw fish with cumin and 1/2 tbsp chili powder. Cooked in lightly coated pan (olive oil spray). Break cooked fish into small pieces and divide
into 2 whole grain small tortillas. Cover with dressing. Then add shredded veggies and top with fresh cilantro.
Frozen Banana Yogurt (one of my favorite frozen treats)
5 oz serving Plain Greek Yogurt
Slice 1/2 Banana & Freeze it overnight
In blender or food processor combine the yogurt and 1/2 frozen banana
Serve & eat - should be the consistency of frozen yogurt.
Tip: if you are in a hurry and don't want to dirty the blender - drop in the frozen banana slice into the yogurt and eat.
Mandarin Salad
2-3 cups Baby spinach leaves
Chopped water chestnuts
½ c chopped raw veggies of choice
3 – 4 oz Grilled Chicken
1 tbsp sunflower seeds
1 mandarin orange separated pieces
Optional Vinaigrette dressing (see recipe)
Loaded Baked Potato
4 oz Plain Baked Potato
½ cup plain Greek yogurt
½ cup salsa
¼ cup low fat cheese
1 Tbsp Bacon Bits
¾ c Shredded Lettuce
Bake potato in microwave and add toppings.
Mex Chips & Dip
1 – 5.3 oz container Plain Greek Yogurt
½ cup salsa
1 serving low-fat tortilla chips (see label for serving size)
Mix the salsa in the Greek yogurt to make your dip. Dip the chips in and enjoy!
Mini Protein Pancakes:
4 egg whites
½ cup plain oats
½ cup low-fat cottage cheese
½ tsp vanilla extract
1/8 tsp baking powder
1/8 tsp cinnamon
Mix all ingredients. Cook on a preheated griddle (medium low heat) until mixtures bubbles, flip and cook for another 60 seconds. Top with fresh
berries.
Omelet
3 egg whites
Handful of chopped spinach
½ cup mushrooms
½ cup cheese
¼ - ½ cup salsa on top
Salt & Pepper to taste
Cook the omelet adding in the veggies in a skillet. Add mild to hot salsa on top.
Pink Lady Sushi Roll (makes 6-8 servings)
2 Large cucumbers
4 ripe avocados
4 limes
1 bunch cilantro, minced
3 Large strawberries sliced
6-8 Large shrimp cooked
Sea salt and black pepper
Vinaigrette Dressing for dipping (optional – see recipe)
Cut your avocados in half and remove the center pit. Once the pit is removed, scoop out the meat into a bowl. Add the juice of the limes and
the chopped cilantro to the mixture. Season with salt and pepper. Set the mixture aside while you prepare your cucumbers. Rinse and pat dry
your cucumber. Cut off each end and set aside. Cut the cucumber in long, thin strips of approximately ⅛" thick. These will be the wrap for the
sushi roll. Lay out the cucumber slices on a clean surface and spoon the avocado mixture down the center leaving ½" on each end. Sprinkle
with lime. Add strawberry slice and a cooked shrimp. Then roll from one end and secure at the end with a tooth pick.
Revolutionary Technology Breakfast Protein Shake
(see Pink Physique Pro Shop for the super lean Protein Powder)
1 scoop chocolate or vanilla
8 oz unsweetened almond milk
½ banana or 1 serving frozen strawberries
Blend all ingredients in shaker bottle or blender. If using the blender you can add ice to make it thicker like a frosty.
Salmon Salad
4 oz grilled salmon
2 cups mixed greens
1/4 cup grilled fresh peaches
1 Tbsp blue cheese crumbles
1 Tbsp dried cranberries
1 Tbsp light salad dressing
(combine all to make salad)
Grill or bake salmon and peaches at 350 Degrees. Add other ingredients to make a salad and top with salmon and peaches.
Sprouted Turkey Sandwich
3-4 oz Turkey Breast Grilled
½ cup Bean Sprouts
2 slices Sprouted Bread
1/2 tbsp Dijon mustard
1 cup raw sliced veggies (cucumber, celery, carrots, or squash)
Make into a sandwich and enjoy!
Taco salad:
2 oz organic blue corn chips/tortilla chips
2 oz cooked ground turkey
2 tsp olive oil (to cook turkey)
¼ cup kidney beans*
½ ounce low-fat shredded cheese
½ cup chopped lettuce
½ cup avocado
1 tsp lime juice (on avocado)
2 Tbsp salsa
Tuna Salad
¾ small can Tuna (in water not in oil)
1 tbsp Balsamic Vinegar
½ chopped apple
½ cup shredded iceberg lettuce
Mix tuna, balsamic vinegar, lettuce & apples in a bowl and enjoy
Turkey Spaghetti (makes 6 servings)
6 oz whole grain noodles
2 lbs lean ground turkey breast
15 oz can Tomato Sauce
1/2 cup shredded carrots
½ cup chopped zucchini
½ cup sliced mushrooms
¼ cup chopped onion
½ tsp garlic salt
1 cup water
½ cup low-fat cheese (Optional)
Boil noodles. Cook ground turkey and veggies in skillet. Then add in the tomato sauce, cooked spaghetti noodles, water and garlic salt. Bring to
a boil. Reduce heat; cover and simmer for 15-20 minutes or until vegetables are tender. Garnish with small portion of cheese if desired. Salt &
Pepper to taste.
Vinaigrette dressing (makes 6 servings):
¼ cup lemon juice
2 tsp minced garlic
1 tsp basil
1 tsp oregano
1 tbsp Dijon mustard
½ cup balsamic vinegar
1 tbsp olive oil
1 tbsp brown sugar
¼ cup hot water
Salt & Pepper to taste (optional
Mix Hot water and brown sugar until sugar is dissolved in a mason jar. Then add other ingredients and shake well. You can also use a whisk or
food processor to blend well. Then refrigerate overnight.
Seasonings for all meals:
*Use calorie free seasonings such as herbs, Ms. Dash, sea salt, pepper.
READ INSTRUCTIONS ON NEXT PAGE FOR SWAPPING OUT MEAL OPTIONS :)
YOU CHOOSE: PICK WHAT YOU LIKE FROM THE MEAL PLAN:
**Add vegetables anywhere you would like as many times as you like. As long as they are plain raw,
steamed, or grilled without oil, butter, or fried then they are "freebies" and you can eat as many
as you like as often as you like.
*** Swap out any meal 1 for another meal 1. For instance if you only like one of the options for meal 1 you can stick with that for the entire 21
days. You can ALSO do this with Meal 3's, and Meal 5's.
****NOT Meals 2's and 4's. These meals include nuts or peanut butter some days but not others and this is by design. Do not eat extra days or
meals of nuts or peanut butter other than what is in the plan. NUTS & PEANUT BUTTER are fats contrary to popular belief and can be enjoyed in
moderation.
Bonus Recipes:
Turkey Apple Meatballs (substitute for any meal 2 or 4)
By: Diane Kieullian
1 Tbsp Olive Oil
2 cloves minced garlic
1 yellow onion, finely chopped
1 lb ground turkey
1 apple, shredded
1 egg, beaten
1 cup organic spinach, chopped
1/2 tsp sea salt
1/4 tsp black pepper
1 tsp ground marjoram
1 tsp fennel seed
For Glaze:
1 cup apple cider vinegar
1/2 cup pure maple syrup
2 Tablespoons Balsamic Vinegar
Preheat oven to 350 degrees. Lightly grease casserole pan with olive oil spray. Place a large skillet over medium heat. Add the olive oil, garlic
and onion. Sauté' for 4 minutes, until soft. Remove from heat and cool. Add remaining meatball ingredients and mix well. Form golf ball sized
meatballs and place in a single layer on a prepared casserole pan. Bake for 25 minutes. Meanwhile, wipe out the skillet, add the glaze
ingredients and place over medium heat. Bring to a boil, then simmer for 10 minutes. After removing the meatballs from the oven, place in a
single layer in the skillet with the glaze. Coat all sides of each meatball, cooking over low heat for 5 minutes. Remove from the skillet and
serve warm. MAKES 6 SERVINGS - SO DIVIDE IT UP AND SAVE THE REST FOR SNACKS LATER.
Chicken Wrap (Substitute for any meal 3 or 5)
1-2 cups Purple lettuce & Salad greens
¼ c Shredded Carrots
¼ c chopped zucchini
3 – 4 oz chopped Grilled Chicken
¼ c walnuts
1 Soft Tortilla Wrap or 2 Rice Paper Wraps for Gluten-free option
Vinaigrette dressing for dipping (see recipe)
Roll-up all ingredients in tortilla wrap or moist rice paper wraps and enjoy
Eat & Train Smart!!!
LET'S BEGIN YOUR JOURNEY
to Burning Fat!!!
*ALWAYS CONSULT A PHYSICIAN PRIOR TO PARTICIPATING IN ANY FITNESS PROGRAM. CONSULT A REGISTERED DIETITIAN FOR SPECIFIC NUTRITION NEEDS.