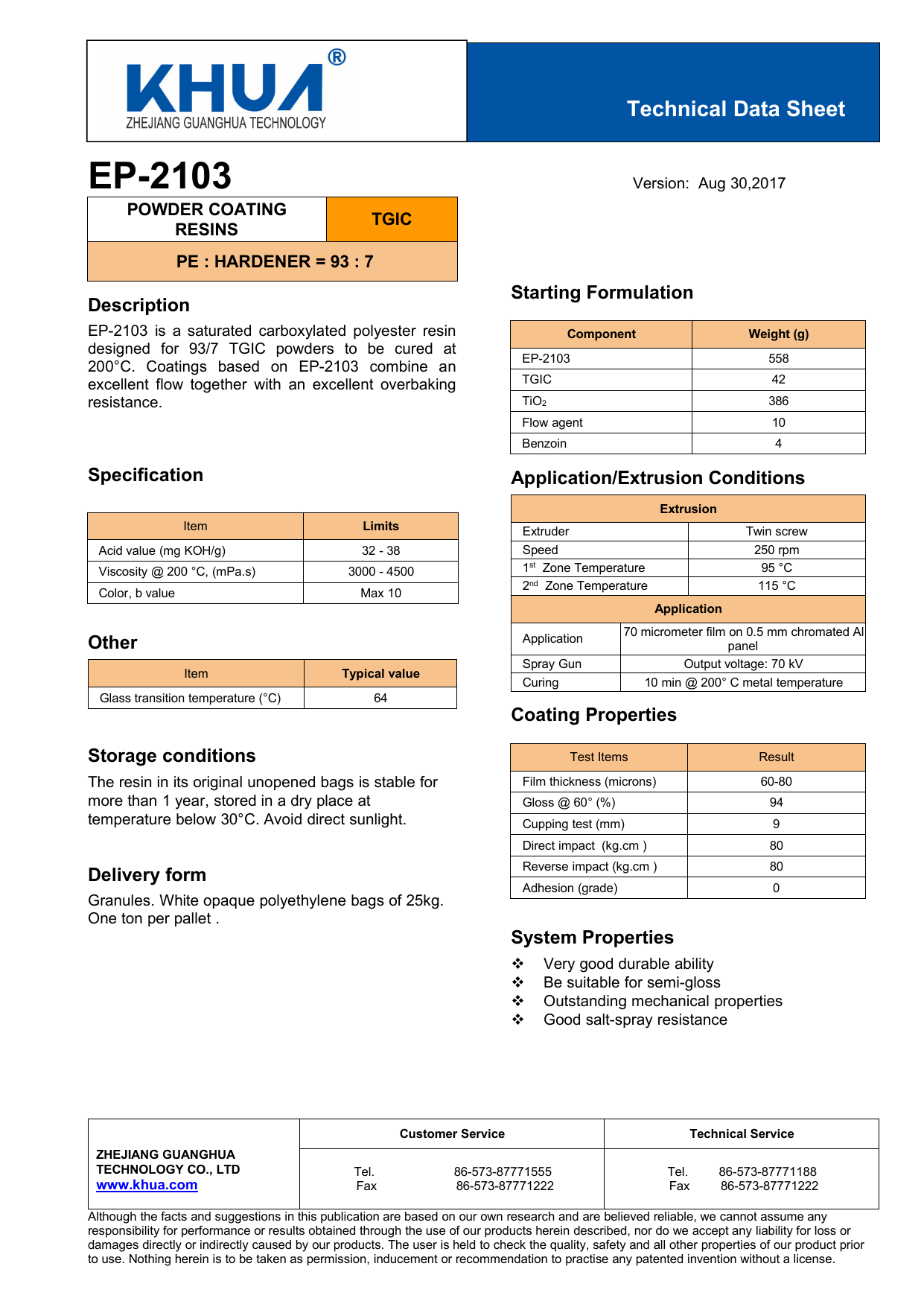 Technical Data Sheet
EP-2103
POWDER COATING
RESINS
Version: Aug 30,2017
TGIC
PE : HARDENER = 93 : 7
Starting Formulation
Description
EP-2103 is a saturated carboxylated polyester resin
designed for 93/7 TGIC powders to be cured at
200°C. Coatings based on EP-2103 combine an
excellent flow together with an excellent overbaking
resistance.
Specification
Item
Acid value (mg KOH/g)
Viscosity @ 200 °C, (mPa.s)
Color, b value
Component
EP-2103
558
TGIC
42
TiO2
386
Flow agent
10
Benzoin
4
Application/Extrusion Conditions
Extrusion
Limits
Extruder
Speed
1st Zone Temperature
2nd Zone Temperature
32 - 38
3000 - 4500
Max 10
Application
Glass transition temperature (°C)
Spray Gun
Curing
Typical value
64
Test Items
The resin in its original unopened bags is stable for
more than 1 year, stored in a dry place at
temperature below 30°C. Avoid direct sunlight.
60-80
Gloss @ 60° (%)
Granules. White opaque polyethylene bags of 25kg.
One ton per pallet .
94
Cupping test (mm)
9
Direct impact (kg.cm )
80
Reverse impact (kg.cm )
80
Adhesion (grade)
0
System Properties




Very good durable ability
Be suitable for semi-gloss
Outstanding mechanical properties
Good salt-spray resistance
Customer Service
Tel.
Fax
Result
Film thickness (microns)
Delivery form
www.khua.com
70 micrometer film on 0.5 mm chromated Al
panel
Output voltage: 70 kV
10 min @ 200° C metal temperature
Coating Properties
Storage conditions
ZHEJIANG GUANGHUA
TECHNOLOGY CO., LTD
Twin screw
250 rpm
95 °C
115 °C
Application
Other
Item
Weight (g)
86-573-87771555
86-573-87771222
Technical Service
Tel.
Fax
86-573-87771188
86-573-87771222
Although the facts and suggestions in this publication are based on our own research and are believed reliable, we cannot assume any
responsibility for performance or results obtained through the use of our products herein described, nor do we accept any liability for loss or
damages directly or indirectly caused by our products. The user is held to check the quality, safety and all other properties of our product prior
to use. Nothing herein is to be taken as permission, inducement or recommendation to practise any patented invention without a license.