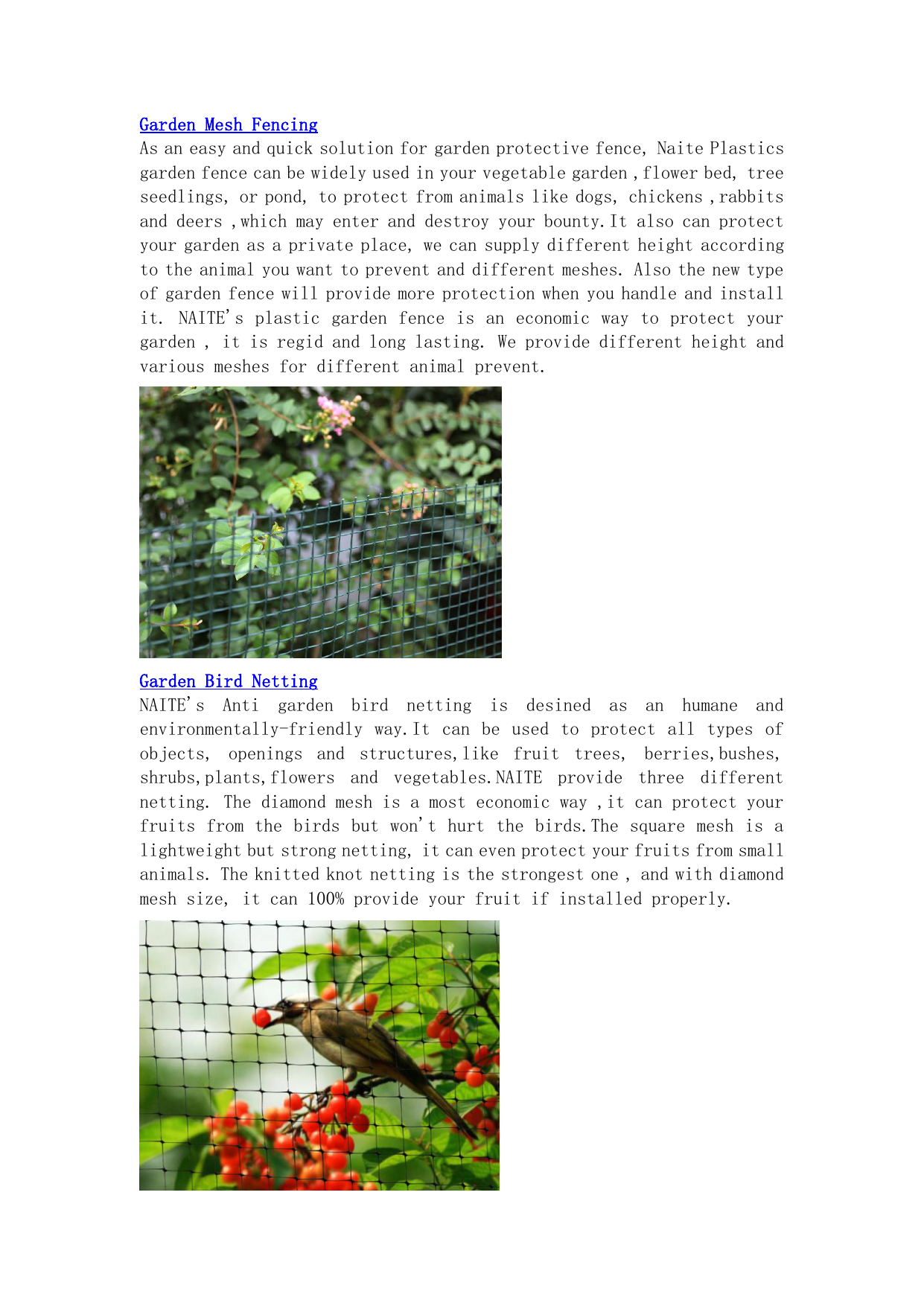 Garden Mesh Fencing
As an easy and quick solution for garden protective fence, Naite Plastics
garden fence can be widely used in your vegetable garden ,flower bed, tree
seedlings, or pond, to protect from animals like dogs, chickens ,rabbits
and deers ,which may enter and destroy your bounty.It also can protect
your garden as a private place, we can supply different height according
to the animal you want to prevent and different meshes. Also the new type
of garden fence will provide more protection when you handle and install
it. NAITE's plastic garden fence is an economic way to protect your
garden , it is regid and long lasting. We provide different height and
various meshes for different animal prevent.
Garden Bird Netting
NAITE's Anti garden bird netting is desined as an humane and
environmentally-friendly way.It can be used to protect all types of
objects, openings and structures,like fruit trees, berries,bushes,
shrubs,plants,flowers and vegetables.NAITE provide three different
netting. The diamond mesh is a most economic way ,it can protect your
fruits from the birds but won't hurt the birds.The square mesh is a
lightweight but strong netting, it can even protect your fruits from small
animals. The knitted knot netting is the strongest one , and with diamond
mesh size, it can 100% provide your fruit if installed properly.
Deer Fence
Deer Fence is a great alternative to wire and electric fences, it is a
virtually invisible barrier made from Polypropylene plastic.NAITE's deer
fence is U.V protected and will not rust,with black color it will laste
fore several seasons. With plastic material, it offers you a practical
and low cost fencing solution for keep your gardens from deers or other
animals. Deer Fence has proven successful in protecting plants,widely
used in gardens,farms, wild fields. Environmentally safe, Earth friendly,
low impact deer fencing can give you up to 10 years or more of reliable
fencing protection. High density, impact resistant plastic deer fence
won't show rust stains like metal fencing.Plastic material is more
environmentally and a safe, humane alternative to wire metal.
Fruit Cage Netting
NAITE's fruit cage netting provides three types of the mesh to meet your
different requirement. It is the ideal netting which is used in your
private garden to protect your fruits from birds and pets damage.It allows
invaluable pollinating insects to pass through to gurantee the plants
growth. Great for protecting your soft fruit and seedlings from damage
This Fruit Cage Netting is made from strong stretchy plastic which can
easily be cut to whatever size you require.