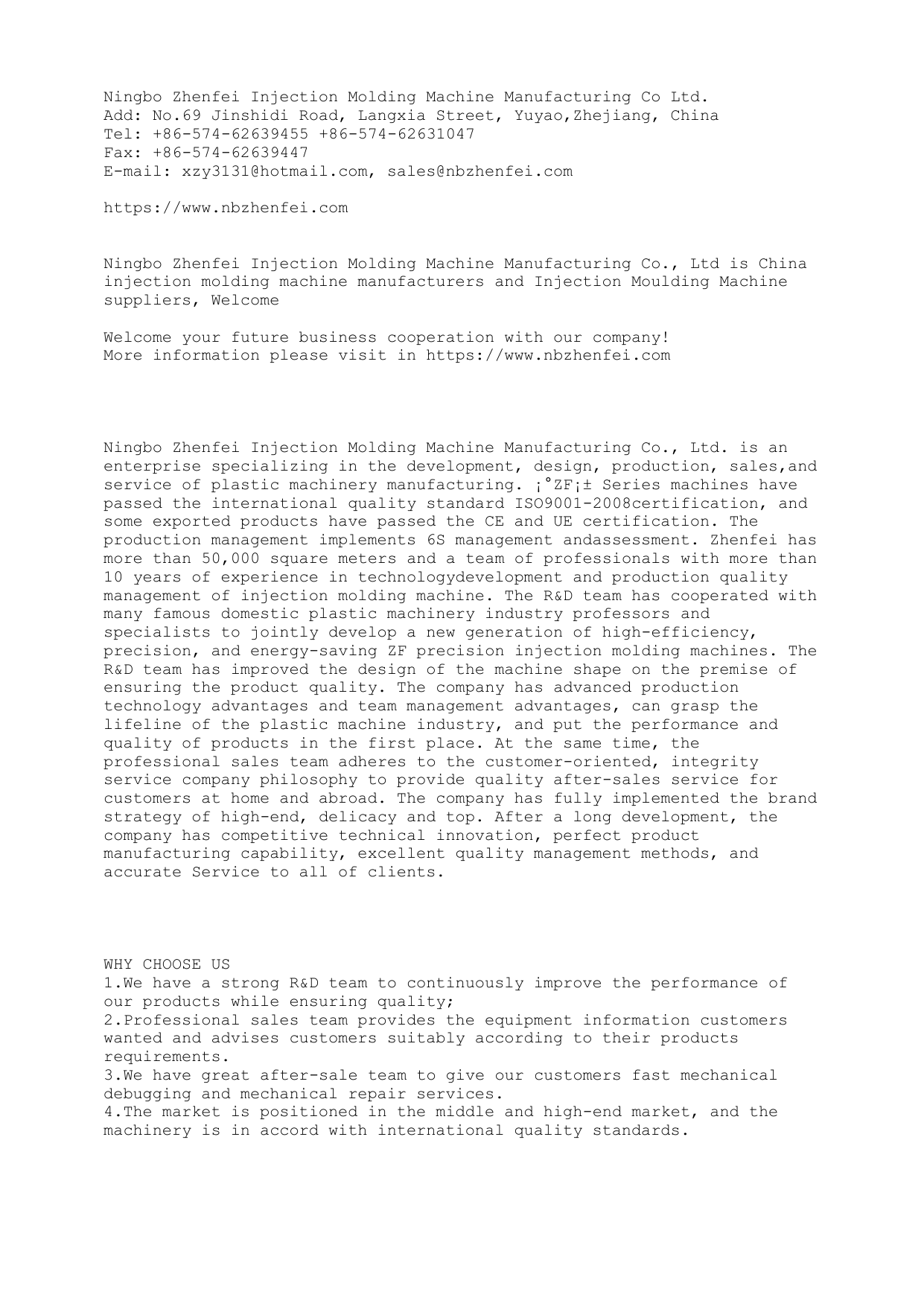 Ningbo Zhenfei Injection Molding Machine Manufacturing Co Ltd.
Add: No.69 Jinshidi Road, Langxia Street, Yuyao,Zhejiang, China
Tel: +86-574-62639455 +86-574-62631047
Fax: +86-574-62639447
E-mail: [email protected], [email protected]
https://www.nbzhenfei.com
Ningbo Zhenfei Injection Molding Machine Manufacturing Co., Ltd is China injection molding machine manufacturers and Injection Moulding Machine suppliers, Welcome
Welcome your future business cooperation with our company! More information please visit in https://www.nbzhenfei.com
Ningbo Zhenfei Injection Molding Machine Manufacturing Co., Ltd. is an enterprise specializing in the development, design, production, sales,and service of plastic machinery manufacturing. ¡°ZF¡± Series machines have passed the international quality standard ISO9001-2008certification, and some exported products have passed the CE and UE certification. The production management implements 6S management andassessment. Zhenfei has more than 50,000 square meters and a team of professionals with more than 10 years of experience in technologydevelopment and production quality management of injection molding machine. The R&D team has cooperated with many famous domestic plastic machinery industry professors and specialists to jointly develop a new generation of high-efficiency, precision, and energy-saving ZF precision injection molding machines. The R&D team has improved the design of the machine shape on the premise of ensuring the product quality. The company has advanced production technology advantages and team management advantages, can grasp the lifeline of the plastic machine industry, and put the performance and quality of products in the first place. At the same time, the professional sales team adheres to the customer-oriented, integrity service company philosophy to provide quality after-sales service for customers at home and abroad. The company has fully implemented the brand strategy of high-end, delicacy and top. After a long development, the company has competitive technical innovation, perfect product manufacturing capability, excellent quality management methods, and accurate Service to all of clients. WHY CHOOSE US
1.We have a strong R&D team to continuously improve the performance of our products while ensuring quality; 2.Professional sales team provides the equipment information customers wanted and advises customers suitably according to their products requirements. 3.We have great after-sale team to give our customers fast mechanical debugging and mechanical repair services. 4.The market is positioned in the middle and high-end market, and the machinery is in accord with international quality standards.
HAL VACUUM AUTOLOADER
(a) Separate design of main unit and stocker to make the production environment safer and more convenient
(b) Independent filter unit for easy identification of residual materials
(c) Silent device to reduce running noise
(d) Stainless steel storage tank, light and durable and easy to clean
(e) Control box independent design, microcomputer automatic movement
(f) Motor automatic protection device
(g) Automatic short beep alarm notification
(h) Add dust removal device if required by customers
PC SERIES STRONG CRUSHER
(a) The whole strong crusher machine steel body structure is stable and durable, and will not affect the mechanical properties due to the pulverized material during use.
(b) Heavy-duty bearing and oil seal device, with the addition of soundproof baffles, which can effectively prevent vibration and noise, and ensure that processed products are free from grease pollution.
(c) The motor is equipped with an overload protection device, which is interlocked with the power supply to protect the system, and is equipped with a cleaning tool protection device to ensure safety during cleaning.
(d) Powerful blades can be adjusted telescopically, and it is easier to crush all kinds of plastic products.
(e) Separate design for more convenient strong crusher washing and unloading
(f) The feet are equipped with pulleys for easier movement
SDF HOPPER PLASTIC DRYER
(a) Uniform hot air distribution: high thermal efficiency, greatly reducing drying time
(b) Accurate temperature control: use high-precision quantity temperature regulator to eliminate temperature error
(c) Save time and save manpower: separate design of barrel and base, convenient feeding operation, simple and quick refueling
(d) Increasing the injection rate: direct heat blanking, shortening the material dissolution time and increasing the injection rate
(e) Scientific and beautiful appearance: beautiful and sturdy shape, easy to install, and a variety of safety devices to ensure safe production.
HS SERIES RAPID PROTOTYPING MACHINE (260T-420T)
Zhenfei HS series rapid prototyping machine is widely used in various industries such as food packaging, beverage packaging and medical treatment. We tailor the machine according to the production needs of the customer to the layout of the plant, the installation of water and electricity, and the construction and commissioning on site. To provide customers with one-stop "turnkey project".
Clamping mechanism
1.High speed: achieve high rate of fire, meet the molding needs of special products such as thin wall and packaging.
2.Energy saving: energy conversion is efficient, further saving energy.
3.High efficiency: a variety of simultaneous actions to achieve the shortest molding cycle.
4.Precision: high positioning accuracy of up to 0.01mm level.
Injection mechanism characteristics
1.Injection cylinder double rod.
2.The special injection piston double-outlet design balances the force and greatly reduces the amount of oil injected at high speed, thus reducing the oil returning force during injection.
High speed injection
Introduce the design concept of multi-action composite operation of high-speed low-pressure injection molding machine to improve the production efficiency of thin-walled products.
Low resistance design
The linear guide design reduces the frictional resistance of moving parts during operation and shortens the injection acceleration time.