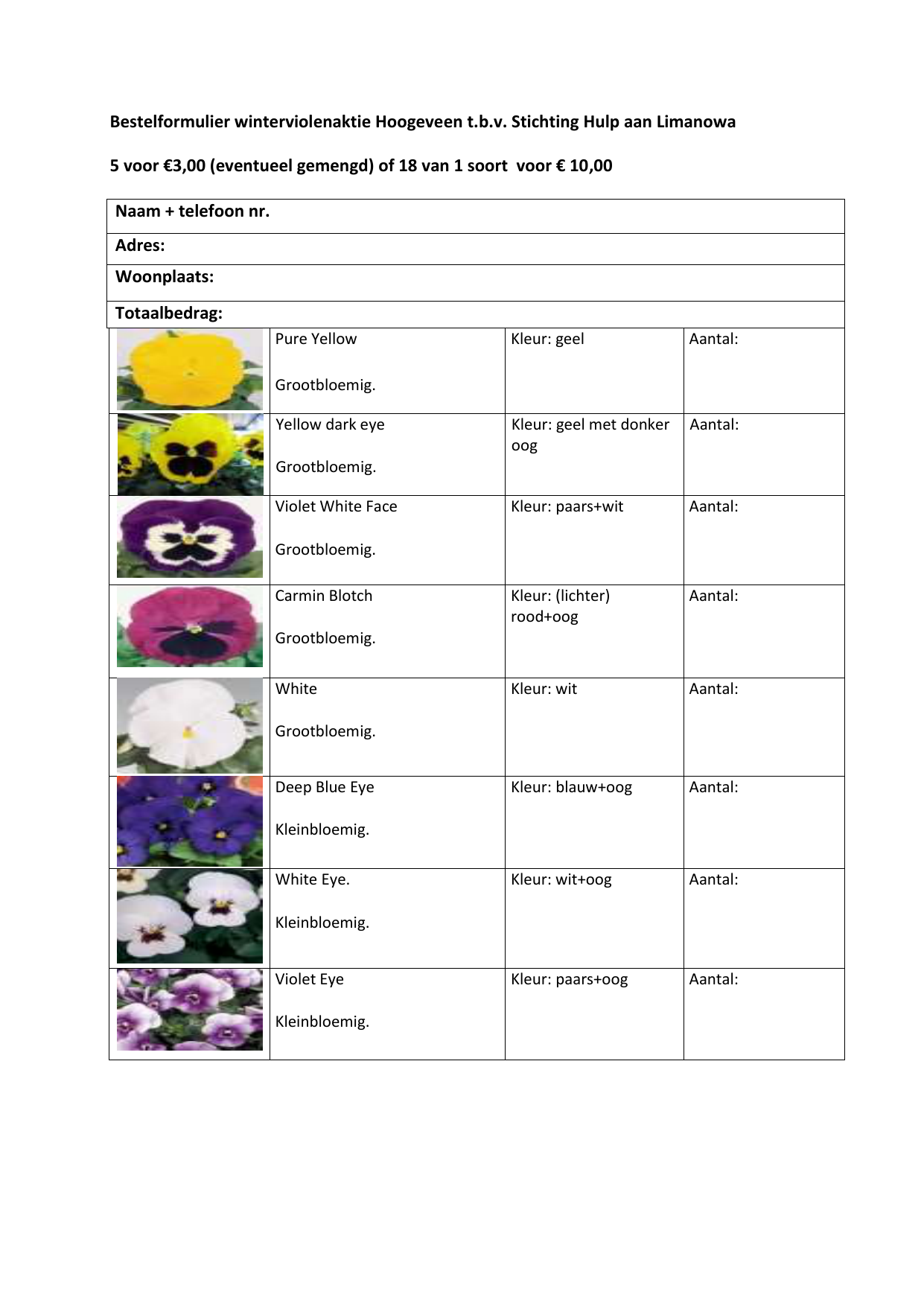 Bestelformulier winterviolenaktie Hoogeveen t.b.v. Stichting Hulp aan Limanowa
5 voor €3,00 (eventueel gemengd) of 18 van 1 soort voor € 10,00
Naam + telefoon nr.
Adres:
Woonplaats:
Totaalbedrag:
Pure Yellow
Kleur: geel
Aantal:
Kleur: geel met donker
oog
Aantal:
Kleur: paars+wit
Aantal:
Kleur: (lichter)
rood+oog
Aantal:
Kleur: wit
Aantal:
Kleur: blauw+oog
Aantal:
Kleur: wit+oog
Aantal:
Kleur: paars+oog
Aantal:
Grootbloemig.
Yellow dark eye
Grootbloemig.
Violet White Face
Grootbloemig.
Carmin Blotch
Grootbloemig.
White
Grootbloemig.
Deep Blue Eye
Kleinbloemig.
White Eye.
Kleinbloemig.
Violet Eye
Kleinbloemig.
Winterviolenactie
Stichting "Hulp aan Limanowa" Polen
Bestelformulieren kunnen t/m 21 september 2014 ingeleverd worden bij Klaas Koekoek,
Sirius 18 of via [email protected] De winterviolen kunnen op zaterdag 27 september
opgehaald worden bij de fietsenstalling van De Opgang, Alteveerstraat 105, tussen 10.00 en
12.00 uur.