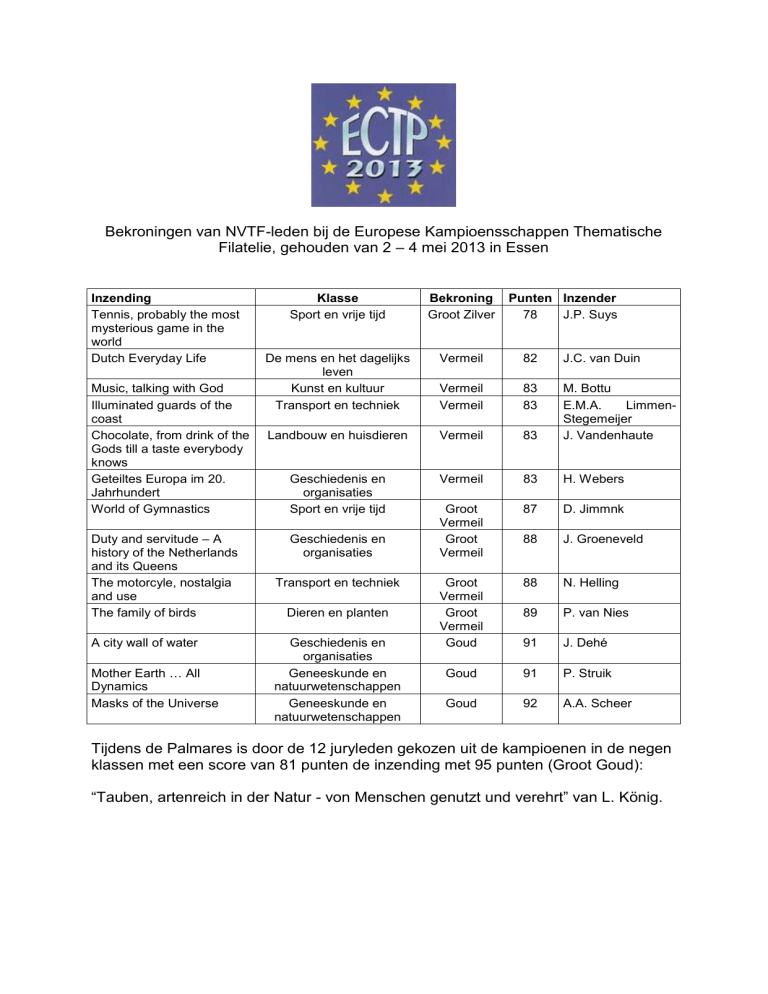 Bekroningen van NVTF-leden bij de Europese Kampioensschappen Thematische
Filatelie, gehouden van 2 – 4 mei 2013 in Essen
Inzending
Tennis, probably the most
mysterious game in the
world
Dutch Everyday Life
Music, talking with God
Illuminated guards of the
coast
Chocolate, from drink of the
Gods till a taste everybody
knows
Geteiltes Europa im 20.
Jahrhundert
World of Gymnastics
Duty and servitude – A
history of the Netherlands
and its Queens
The motorcyle, nostalgia
and use
The family of birds
A city wall of water
Mother Earth … All
Dynamics
Masks of the Universe
Klasse
Sport en vrije tijd
Bekroning
Groot Zilver
De mens en het dagelijks
leven
Kunst en kultuur
Transport en techniek
Vermeil
82
J.C. van Duin
Vermeil
Vermeil
83
83
Landbouw en huisdieren
Vermeil
83
M. Bottu
E.M.A.
LimmenStegemeijer
J. Vandenhaute
Geschiedenis en
organisaties
Sport en vrije tijd
Vermeil
83
H. Webers
Groot
Vermeil
Groot
Vermeil
87
D. Jimmnk
88
J. Groeneveld
Groot
Vermeil
Groot
Vermeil
Goud
88
N. Helling
89
P. van Nies
91
J. Dehé
Goud
91
P. Struik
Goud
92
A.A. Scheer
Geschiedenis en
organisaties
Transport en techniek
Dieren en planten
Geschiedenis en
organisaties
Geneeskunde en
natuurwetenschappen
Geneeskunde en
natuurwetenschappen
Punten Inzender
78
J.P. Suys
Tijdens de Palmares is door de 12 juryleden gekozen uit de kampioenen in de negen
klassen met een score van 81 punten de inzending met 95 punten (Groot Goud):
"Tauben, artenreich in der Natur - von Menschen genutzt und verehrt" van L. König.