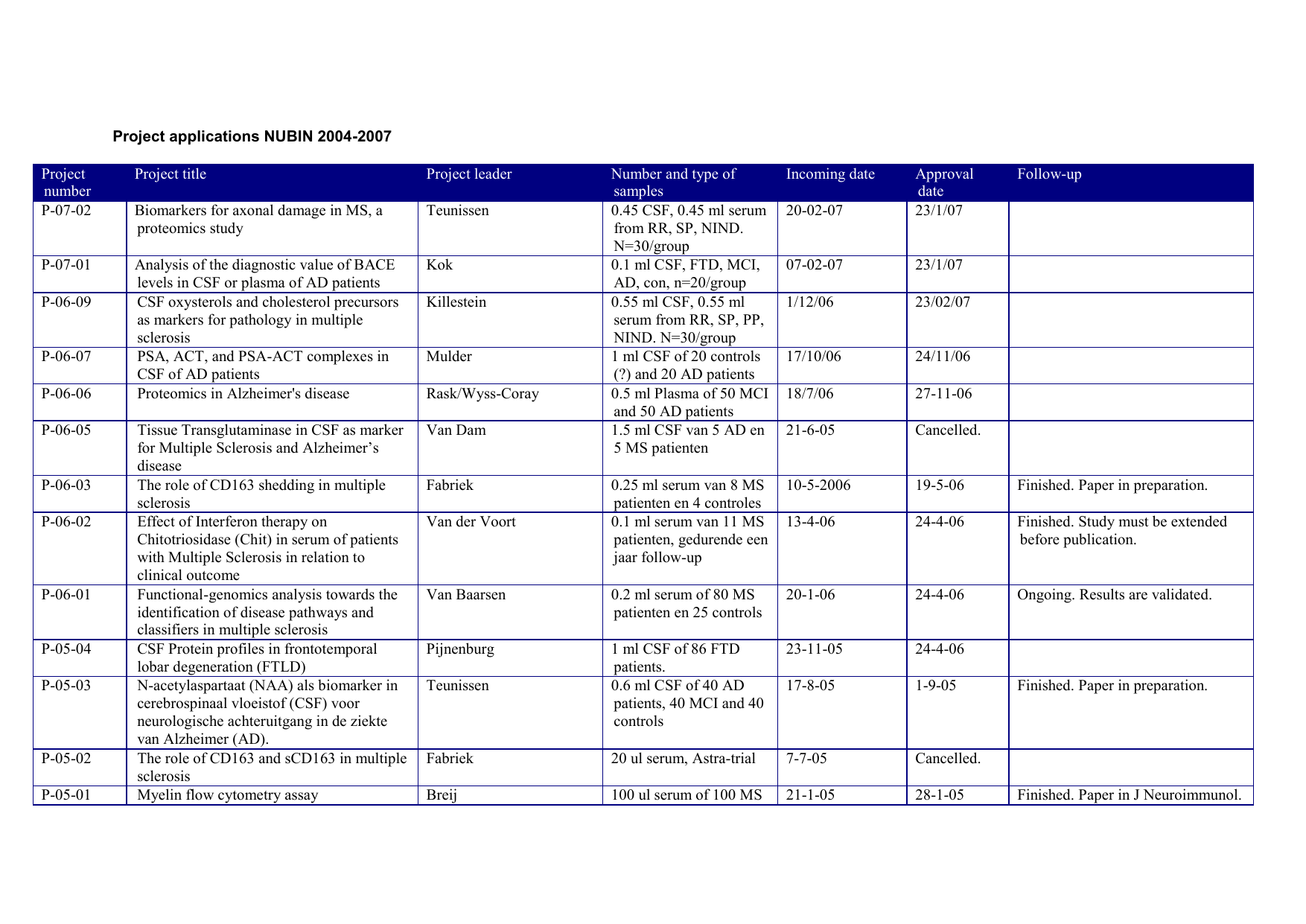 Project applications NUBIN 2004-2007
Project
number
P-07-02
Project title
Project leader
Biomarkers for axonal damage in MS, a
proteomics study
Teunissen
P-07-01
Analysis of the diagnostic value of BACE
levels in CSF or plasma of AD patients
CSF oxysterols and cholesterol precursors
as markers for pathology in multiple
sclerosis
PSA, ACT, and PSA-ACT complexes in
CSF of AD patients
Proteomics in Alzheimer's disease
Kok
Tissue Transglutaminase in CSF as marker
for Multiple Sclerosis and Alzheimer's
disease
The role of CD163 shedding in multiple
sclerosis
Effect of Interferon therapy on
Chitotriosidase (Chit) in serum of patients
with Multiple Sclerosis in relation to
clinical outcome
Functional-genomics analysis towards the
identification of disease pathways and
classifiers in multiple sclerosis
CSF Protein profiles in frontotemporal
lobar degeneration (FTLD)
N-acetylaspartaat (NAA) als biomarker in
cerebrospinaal vloeistof (CSF) voor
neurologische achteruitgang in de ziekte
van Alzheimer (AD).
The role of CD163 and sCD163 in multiple
sclerosis
Myelin flow cytometry assay
Van Dam
P-06-09
P-06-07
P-06-06
P-06-05
P-06-03
P-06-02
P-06-01
P-05-04
P-05-03
P-05-02
P-05-01
20-02-07
Approval
date
23/1/07
07-02-07
23/1/07
1/12/06
23/02/07
17/10/06
24/11/06
18/7/06
27-11-06
21-6-05
Cancelled.
0.25 ml serum van 8 MS
patienten en 4 controles
0.1 ml serum van 11 MS
patienten, gedurende een
jaar follow-up
10-5-2006
19-5-06
Finished. Paper in preparation.
13-4-06
24-4-06
Finished. Study must be extended
before publication.
Van Baarsen
0.2 ml serum of 80 MS
patienten en 25 controls
20-1-06
24-4-06
Ongoing. Results are validated.
Pijnenburg
23-11-05
24-4-06
Teunissen
1 ml CSF of 86 FTD
patients.
0.6 ml CSF of 40 AD
patients, 40 MCI and 40
controls
17-8-05
1-9-05
Fabriek
20 ul serum, Astra-trial
7-7-05
Cancelled.
Breij
100 ul serum of 100 MS
21-1-05
28-1-05
Killestein
Mulder
Rask/Wyss-Coray
Fabriek
Van der Voort
Number and type of
samples
0.45 CSF, 0.45 ml serum
from RR, SP, NIND.
N=30/group
0.1 ml CSF, FTD, MCI,
AD, con, n=20/group
0.55 ml CSF, 0.55 ml
serum from RR, SP, PP,
NIND. N=30/group
1 ml CSF of 20 controls
(?) and 20 AD patients
0.5 ml Plasma of 50 MCI
and 50 AD patients
1.5 ml CSF van 5 AD en
5 MS patienten
Incoming date
Follow-up
Finished. Paper in preparation.
Finished. Paper in J Neuroimmunol.
P-04-14
Proteomics in MS
Park/Teunissen
P-04-13
Inflammatory markers in CSF en serum bij
patiënten met MCI of de ziekte van
Alzheimer
A. Schuitemaker
P-04-12
I. van den Nieuwenhof
P-04-08
Development and validation of an EDRF
assay for the diagnosis of vCJD in human
blood
A new assay to detect antibodies
directed against myelin antigens;
prognostic value of anti-myelin
antibodies in early MS
Relevance of antibodies directed against
myelin component : capacity to induce
leukocyte effector functions
Correlation between AntiGlc(alpha1,4)Glc(alpha) serum antibodies
and MS disease activity.
Tau-haplotypering in tauopathieën
P-04-07
Homocysteine in serum of MS patients
C. Teunissen (MCBI
VUmc)
P-04-06
Karakterisering van amyloïd peptide
oligomeren en -1-antichymotrypsine in de
cerebrospinaal vloeistof van patienten met
de ziekte van Alzheimer
GJ van Kamp (KC VUmc)
P-04-05
Biomarkers for neurodegeneration in MS:
isoprostanes and proteomics
C. Teunissen (MCBI
VUmc)
P-04-04
Chemokines in CSF and serum from
patients with Mild Cognitive Impairment
Daniela Galimberti, N.
Schoonenboom (Neurol
P-04-11
P-04-10
P-04-09
J. Nielsen, E. Breij
(MCBI, Neurol VUmc)
E. Breij (MCBI VUmc)
J. Killestein (Neurol
VUmc)
Y. Pijnenburg (Neurol
Vumc)
patients
0.5 ml CSF and 0.5 ml
serum of 51 MS patients
and 30 controls
0.5 ml of Serum and
CSF of 100 AD, 50 MCI
en 40 nonMCI/nonAD
controls
0.5 ml of whole blood
(EDTA-plasma) of 5-8
AD patients
Serum of 89 MS
patients, 3-months
follow-up samples of 24
patients, 40 ul/sample.
Serum of 100 MS
patients (number
unclear), 100 ul/sample
Serum of 40 RR and 40
SP MS patients, 100
ul/sample
DNA of all patients in
the dementiabank, 10
ug/sample
Serum of 80 RR, 40 SP
and 40 PP MS patients,
300 ul/sample.
CSF/serum/DNA of 37
AD patients and 35
controls, 0.65 ml CSF;
0.15 ml serum; 50 ng
DNA
CSF/serum of 10 RR, 10
SP, 10 PP and 10 control
MS patients, 0.5 ml
serum/ 1 ml CSF
CSF/serum, number
unknown, 0.5 ml
28-12-04
28-1-05
2006 Jul;176(1-2):106-14.
Ongoing. No results provided by
Park yet.
9-11-04
26-11-04
Paper provisionally accepted.
9-11-04
26-11-04
? Track lost.
13-10-04
29-10-04
Finished. Paper in preparation.
Poster at ECTIMS 2006.
21-9-04
pending
31-8-04
29-10-04
Cancelled.
2-7-2004
5-7-04
20 April 2004
23 April
2004
Finished. Tau genotypes not a risk
factor for sporadic FTD. Will not
be published.
Finished. Manuscript on all data
currently in preparation.
19 March, 16
April and 10
May 2004
14 May 2004
Probably not performed.
15 March 2004
Approved
Isoprostanes-part finished. Paper in
preparation. Proteomics part
stoppped.
11 february 2004
Approved
Finished. Paper in Arch Neurol.
2006, 63(4):538-43.
P-04-03
Neurofilaments in FTD patients
P-04-02
Caspase-1 and il-18 in serum of MS
patients
P-04-01
Sequentieanalyse van het VR22 gen bij
late-onset Alzheimer patienten uit
maternale families
VUmc)
Y. Pijnenburg (Neurol
Vumc)
AMW van Dam (Pharm
VUmc)
CBM. Oudejans
(KC VUmc)
CSF/serum
CSF of 17 FTD, 20 AD,
20 controles, 0.5 ml?
Serum of 20-100 MS
patiënten of different
subtypes each group,
AD patients.
DNA of 20 LOAD
patients, 500ng DNA
23 january 2004
Approved
6 february 2004
Cancelled
3 february 2004
March 2004
Finished. Paper in Dement Geriatr
Cogn Disord. 2007;23(4):225-230.
Finished. Student report received.
Results will be included in other
(currently ongoing) study.