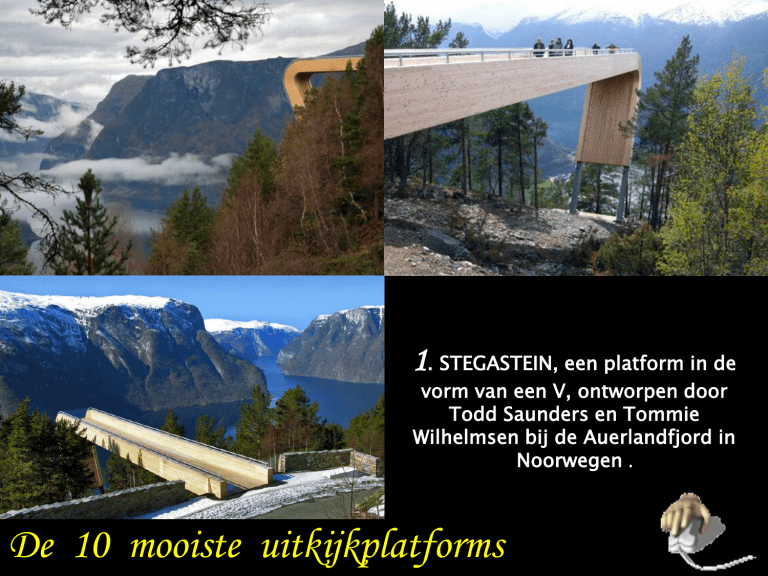 1. STEGASTEIN, een platform in de
vorm van een V, ontworpen door
Todd Saunders en Tommie
Wilhelmsen bij de Auerlandfjord in
Noorwegen .
De 10 mooiste uitkijkplatforms
2. TOP OF TYROL, een platform
op 3210 meter hoogte dat een
prachtig uitzicht biedt over de
Stubaier Alpen en de Italiaanse
Dolomieten. Ontworpen door
Laac architecten.
3. Platform boven de
Iguazu watervallen in
Brazilië.
4. DACHSTEIN SKYWALK.
Dit plateau op 2700 meter
hoogte behoort tot de
populairste
attracties in Steiermark in
het oosten van Oostenrijk.
5. WILLIS TOWER SKYDECK in Chicago, een glazen
observatieplatform op een hoogte van 412 meter aan de Willis
Tower, vroeger bekend als de Sears Tower.
6. IL BINOCOLO, een platform
in de vorm van een verrekijker
in de tuin van het
Trauttmansdorff kasteel in
Merano, ontworpen door
Matteo Thun.
7. Uitkijkplatform ontworpen door Paolo Bürgi op de berg Cardada in de buurt van het
8. INFINITY ROOM in het
House on the Rock in
Wisconsin, in 1959
ontworpen door
Alex
Jordan, Jr. Deze kamer loopt
60 meter door vanaf de rots.
9. 5 FINGERS. Zoals de
naam al zegt een platform
in de vorm van een hand in
Krippenstein, Oostenrijk.
10. GRAND CANYON
SKYWALK, een platform in
de vorm van een hoefijzer.
Het zweeft op een hoogte
van 1219 meter boven de
kloof.