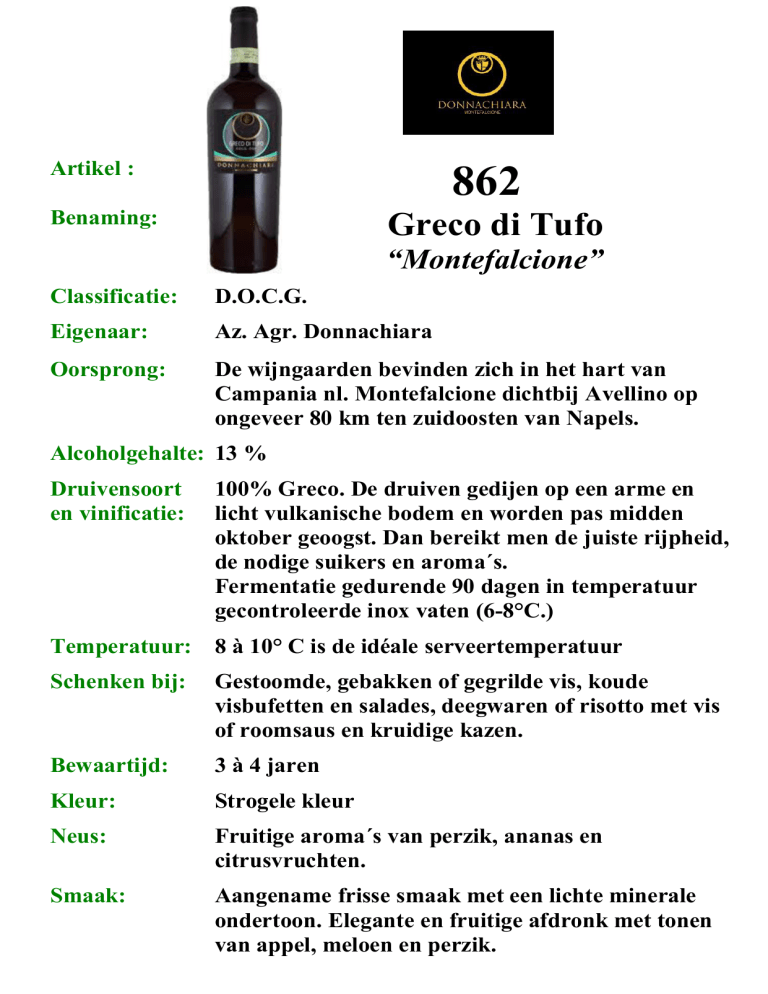 Artikel :
862
Benaming:
Greco di Tufo
"Montefalcione"
Classificatie:
D.O.C.G.
Eigenaar:
Az. Agr. Donnachiara
Oorsprong:
De wijngaarden bevinden zich in het hart van
Campania nl. Montefalcione dichtbij Avellino op
ongeveer 80 km ten zuidoosten van Napels.
Alcoholgehalte: 13 %
Druivensoort
en vinificatie:
100% Greco. De druiven gedijen op een arme en
licht vulkanische bodem en worden pas midden
oktober geoogst. Dan bereikt men de juiste rijpheid,
de nodige suikers en aroma´s.
Fermentatie gedurende 90 dagen in temperatuur
gecontroleerde inox vaten (6-8°C.)
Temperatuur: 8 à 10° C is de idéale serveertemperatuur
Schenken bij:
Gestoomde, gebakken of gegrilde vis, koude
visbufetten en salades, deegwaren of risotto met vis
of roomsaus en kruidige kazen.
Bewaartijd:
3 à 4 jaren
Kleur:
Strogele kleur
Neus:
Fruitige aroma´s van perzik, ananas en
citrusvruchten.
Smaak:
Aangename frisse smaak met een lichte minerale
ondertoon. Elegante en fruitige afdronk met tonen
van appel, meloen en perzik.